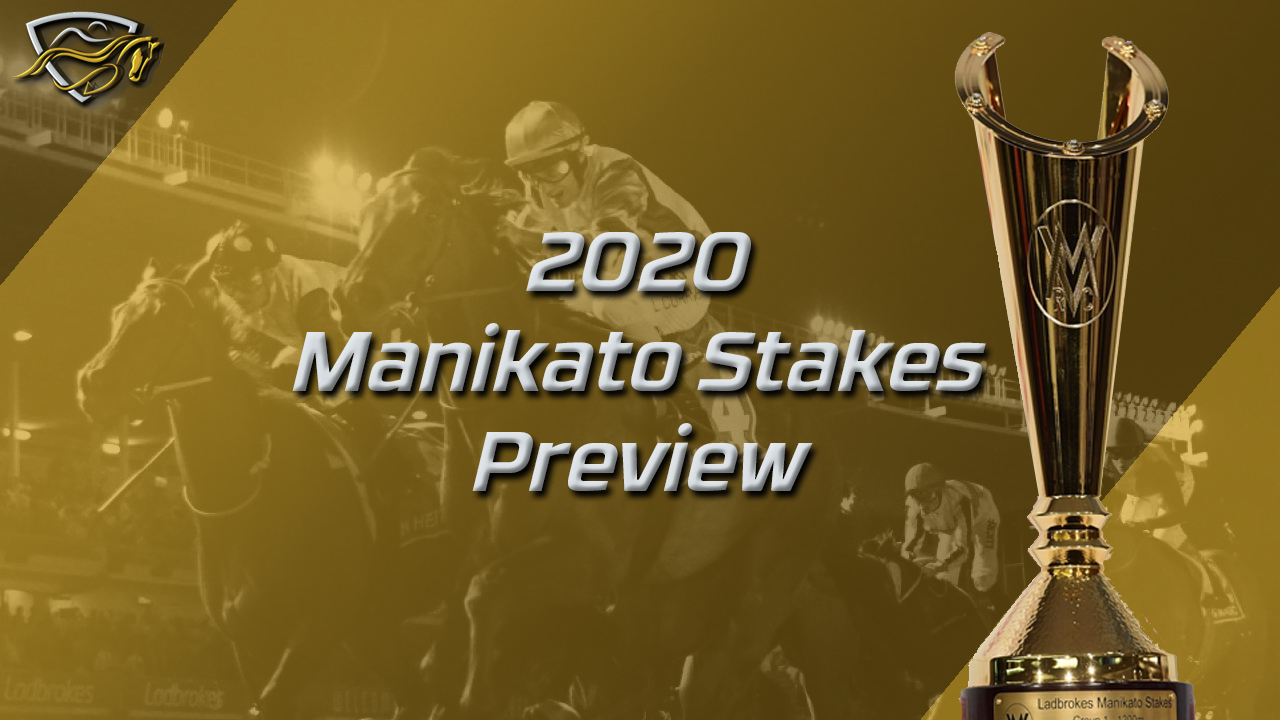 2020 Manikato Stakes Runner-by-Runner Preview
The 2020 Manikato Stakes is the highlight of racing at Moonee Valley on the eve of the Cox Plate and Trent Crebbin has assessed the chances of every runner in Friday night's $1million Group 1.
The weather could have a big impact on the race. The track is currently rated a Good 4 however there is up to 30mm of rain predicted in Melbourne on Friday, which would result in a significant downgrade. The rail will be in the true position.
Speed map
(8) Pippie will lead from barrier one. She's incredibly fast out of the gates and will have no trouble finding the front from barrier one. (4) Splintex and (9) Bella Vella are probably the two vying for the spot outside the leader. Drawn just inside I think Splintex will get there first. (2) Hey Doc might even look to hold the 1-1 from barrier 6 and force Bella Vella to sit three-wide early. (6) Dirty Work should lob three back the fence, (10) Diamond Effort four back, although she might try to position a touch closer, meaning Dirty Work covers her up. (3) Kementari and (5) Order Of Command should lob midfield, with (1) Trekking, (11) Brooklyn Hustle and (7) Lyre bringing up the rear.

Runner-by-runner analysis
1. Trekking
I was a bit shocked to see him here on the 6 day back up out of the brutally run Everest, in which he relished the suicidal tempo and ran on very strongly for 4th, beaten 3.1L by Classique Legend. He got a lovely run there from barrier 4 and probably gets a bit further back here, but he should get a strongly run 1200m which is his go in life. He is much better on a dry track which I'm not sure he'll get here, but even on a soft track he's a deserved favourite. He has run very well off a quick back up before heading into last year's Everest, but I have to wonder if he'll be a bit flat coming out of one of the fastest races in recent years. Hard to beat regardless.
2. Hey Doc
He's been my pick for this race since before the Moir and I think he'll be ready to peak here 3rd up. He was a pass mark in the Moir when caught wide and making ground when unsuited at 1000m before sticking on well in the Schillaci last start when perhaps going a touch too slow out in front. He'll be better suited again at 1200m and whilst he won't get his preferred leading role with Pippie in the race, I think Currie should be able to either sit on her back and wait for her to break up the field or sit 1-1. The prospect of a soft track is not in his favour however, but if we are on a good surface, I think he's a backable price.
3. Kementari
I didn't mind his run first up behind Zoutori when fitness just gave out late at 1200m, but I don't think that's the right lead up form with a bunched finish and somewhat questionable form heading into the Manikato. He does map nicely and strikes a fast race which is his preferred set up, but he still hasn't won in forever and simply isn't the horse he was as a 3yo. He did run a huge 3rd in this race two years ago before being gelded but his form since then hasn't been good enough in my opinion.
4. Splintex
He led them up in the Schillaci and ran okay, only beaten 1 length but like Hey Doc, he stuck on fairly well, perhaps not in the best going along the inside. He was well backed there too coming down from Sydney and started $5.50. If we do get the rain, I think he's a big price at $34 because he is very effective on wet tracks, whereas a few others will struggle. He'd much prefer Pippie not being in this race, but I think he can land outside her from barrier 9 which looks good. Kerrin Mcevoy takes the ride and off his SP last start I can certainly make a case for him, provided we are on a rain affected track.
5. Order Of Command
I thought he ran well first up behind Coruscate with 62kg, but his last start run in the Schillaci was poor when beaten 3.5L. He's never won 3rd up from a spell and is probably a touch outclassed at anything above group 3 WFA. Throw in a wide draw and he's hard to make a case for.
6. Dirty Work
The winner of the main lead up in impressive style, settling a fair way back under Pike but getting up on the line after running the meeting's fastest last 600m and 400m. Whilst he got a fair way back last start they didn't go overly hard up front and he had the best turn of foot in the race which allowed him to get over the top out wide. He steps up to 1200m here which could be a slight concern, with all three runs at the distance resulting in unplaced efforts. Pike seemed to have no issues stepping up in trip and thought he'd actually be better suited, but a fast run 1200m could be very different. He draws barrier 3 which isn't too bad on paper, but with plenty of early speed drawn around him he might end up 3 back the fence, which is never an ideal spot to be at The Valley. Throw in a potential soft track which has been a bit inconclusive but definitely not ideal, and there are a few knocks. Still a very good winning chance and definitely deserves to be under double figures.
7. Lyre
She sucked me in once this prep, two runs ago and she'll suck some more people in here after an unlucky run last start. My advice: jump off now. All this horse does is find bad luck or excuses, and the fact remains that she has run 6th and 4th in two mare's races at her last two runs. She steps up to WFA company and whilst she ran some credible races in this company earlier in the year, she doesn't win. Gets Jmac on board here but she should be beaten for early speed and will be midfield at the best, likely worse. At similar prices I'd honestly rather back the other non-winner in the race Kementari over her.
8. Pippie
She took up her usual role in the Moir and ran them into the ground, despite getting a bit wobbly late she held on to win by just under a length. She has won at 1200m twice in the past, but one was in a no metro wins race at Doomben, and the other was in a group 3 mare's race, all of whom would start close to $101 here. She's also much better first up, and whilst her 2nd up record is still solid, she is much better fresh. Soft ground will be no issue, but I can't get her anywhere near her current quote of $6. I'm confident a couple of horses turn the tables on her from the Moir, and when you throw in the Schillaci form, especially with Splintex eyeballing her, I'm happy to be against.
9. Bella Vella
She ran an honest 3rd in the Moir over her preferred track and distance, but like Pippie I think she's better suited over the shorter course. I know she won a group 1 Sangster over 1200m last prep, but she got an easy lead at a slow tempo and had the turn of foot to win. A fast 1200m drawn wide, she's going to need to work early and there's a big chance she gets caught 3 wide. Her two runs prior at the 6 furlongs she finished 4th in benchmark grade, albeit a long time ago now. I just can't see her getting the economical run required to run out the distance in a fast race and will be against here.
10. Diamond Effort
She's just so consistent and never runs poorly, with a win first up before running an incredibly unlucky 5th in the Moir when badly held up. She had no momentum coming around the turn yet still picked up and ran the 2nd fastest last 200m by 0.03 seconds. Last start she sat 3 wide as a $4 chance in the Schillaci, hit the front but was just done on the line by Dirty Work who had a nice cart into the race. The big positive for her is she handles all track conditions, and if the rain does come, she'll be much better suited. I do wish she'd drawn midfield, because I think she'll either be 3 back or even 4 back the fence, with Dirty Work possibly keeping her in a pocket. If the gaps come, she's going to be right in the finish and at the double figure quote she's value, provided we are on a wet track.
11. Brooklyn Hustle
She came from a mile back to run 4th in the Moir over 1000m, running the fastest last 600m and 400m of the race. I will say she did get the perfect run up along the fence, with Pippie breaking up the field enough to allow an uninterrupted passage through. She was flying late though, and I can't see 1200m being an issue. Despite most of her form being on good tracks, I think a soft track will be fine. She ran 5th, beaten 4.8L by Exceedance and Bivouac in an exceptionally high quality Coolmore on a wetter deck than she'll face here. I thought she'd be a bit longer in the market and looks well enough found at $10 considering how unlucky Diamond Effort was in the Moir, but I do think she's a winning hope with another good run.
Selections
Two things have thrown a spanner in the works here- the weather, and Trekking. I was originally keen on (2) Hey Doc and think he'll be peaking here, but a wet track is a concern for him, as it is for Trekking. If we're on a soft 5 or better, I'll be sticking with Hey Doc and hoping Trekking races flat just 6 days off a brutally run Everest. If the rain does come and we're on a 6 or worse, I'm happy to have something on (4) Splintex at big odds who looks suited and think (10) Diamond Effort despite drawing a touch awkwardly in barrier 2 will be right in the finish regardless of conditions.
Top Pick: (10) Diamond Effort $11 Bet365
Next best: (2) Hey Doc $9 Sportsbet
Value: (4) Splintex $34 Sportsbet
Betting Strategy
Assuming SOFT 6 OR WORSE – 0.5 units WIN Hey Doc, 2 units WIN Diamond Effort, 0.5 units WIN Splintex