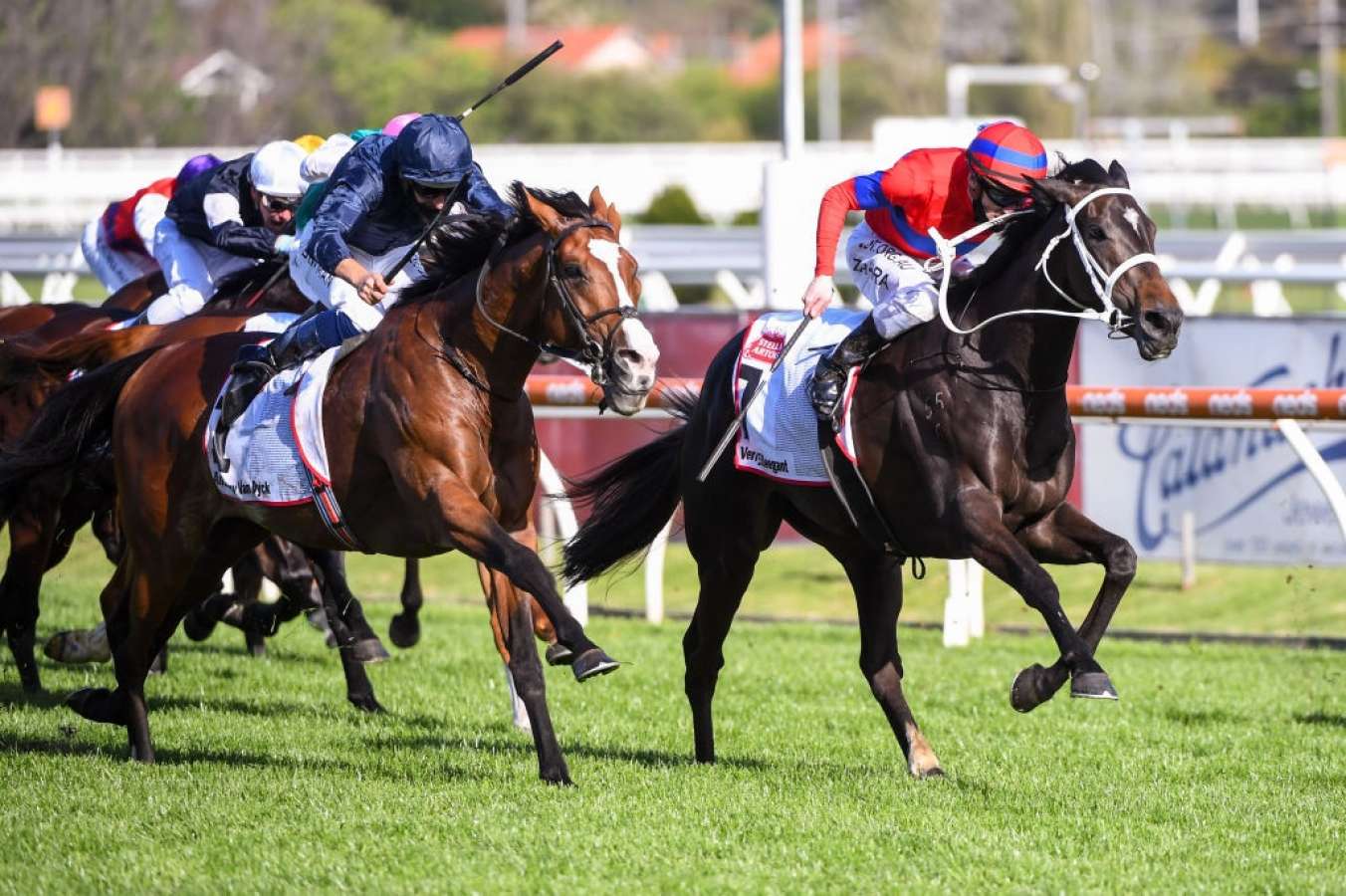 What a great edition of the Caulfield Cup. We saw two world class horses battle out the finish, and it was team Australia (and New Zealand) coming out on top with star mare Verry Elleegant holding off the late surge from international raider Anthony Van Dyck.
The race was run at a fairly slow tempo by Dashing Willoughby, who led them up from barrier 2. Perhaps the big early shock was Bowman on Anthony Van Dyck settling third-last, when many, myself included, thought he'd be in the first four in running. He didn't begin all that well and with the big weight it might have been too big an effort to fire him up and surge forward after many broke the line better than him.
Master Of Wine jumped very well and ended up outside the lead, which probably wasn't ideal, but he's still been well beaten and might not be at the A grade level, at least right now. I'd suggest he heads to the paddock now.
Verry Elleegant got into an okay position early, somehow finding the rail from barrier 8 and getting shuffled back a pair mid race, but she did have a head start on her main danger. She still has a tendency to travel fiercely, which may never go away, but it certainly doesn't stunt her finishing burst as it used to early in her career.
As the leader started to struggle and drop through the field quite early in the race, the runs started to come which can make for a messy Caulfield Cup. Zahra got the mare into the three-wide line behind Chapada, and you just notice at the 200m mark that she manages to slip a length away from Anthony Van Dyck, who has come the widest around the turn. He's there to beat her at the end, but she's a fighter and is definitely holding the 0.2L margin on and through the line.
The Chosen One has run enormous for 3rd off the quick backup where he was owned by Chapada, who did a fair bit of work mid race and approaching the turn, but was soundly beaten. Avilius was the eye catcher, getting badly held up just into the straight when building momentum nicely. He wouldn't have won but you could make a strong case he should've run 3rd.
Prince Of Arran went back from the gate as well, ending up dead last in run. He's put in a perfect Melbourne Cup trial, coming home strongly for 4th with Kah on board. He is right on track to figure in the finish for a third year in a row at Flemington.
Finche I thought had his chance despite racing a touch wide. He put in a similar run in last year's Caulfield Cup, and was a one-time favourite for the Melbourne Cup, but he just lacks the turn of foot required to win Group One races.
My top pick Buckhurst was a bit disappointing after getting a beautiful run in transit. I got the map right, with him lobbing in the 1-1 from barrier 9, but he's not the finished product and was all over the place coming around the turn. He veered right into Finche, then left into The Chosen One, and didn't really pick up again after that. He's backing up into a Cox Plate and whilst his overseas form around Sir Dragonet is good enough to win, I don't think you can back him off that run. I do think back to 2040m will help, but off that run he'd have to be an outsider.
On the soft track, Mustajeer has outrun his SP and if he strikes another wet deck, he'd have to be a chance in a race like the Lexus. Dalasan and Warning coming through the Turnbull were both just plain runs. I'd expect Dalasan to be spelled now, and whilst Warning has been set for the Melbourne Cup, I thought he had his chance to do a lot more here.
As I said pre-race, True Self is completely gone, I'd expect her to be retired very shortly, and Toffee Tongue had every chance but simply isn't good enough at this level. Vow And Declare could be done for the prep too; he hasn't shown much in his three starts and whilst I expect they'll press on for a shot at back to back Melbourne Cups, he's got none with the weight he'll carry.
Not sure what they do with Dashing Willoughby either who clearly hasn't pulled up well, beaten 27L in last, but he was an outsider of the internationals in the Melbourne Cup for mine anyway.
Verry Elleegant has received a 0.5kg penalty for the Melbourne Cup, which I think is perhaps a touch low. You could make a case that 1kg would be more appropriate, but she's still right in the game heading towards the first Tuesday in November. Anthony Van Dyck is pressing on to the Melbourne Cup as well and like Verry Elleegant has never raced past 2500m. Off their runs it's hard to say that neither will run out the trip, but we have seen that it is notoriously harder to win a Melbourne Cup over 3200m with big weights than it is to win a Caulfield Cup over 2400m.
If we get another soft or even heavy track, Verry Elleegant will be just as hard to beat again, but I can't recommend one over the other at this time. Prince Of Arran is the only other heading towards the Melbourne Cup from this race that I'd be considering, just ahead of Finche.
They'll be coming up against the likes of Russian Camelot, who runs this Saturday in the Cox Plate, Surprise Baby, who was the run of the race last year and is right on track again, and a few other intriguing internationals, namely Tiger Moth. He ran 2nd in an Irish Derby two starts ago and beat Buckhurst by 5L last start in a dominant performance over a mile and a half (2400m). It's shaping to be an outstanding Melbourne Cup and I think the Caulfield Cup form will hold its own come the first Tuesday in November.