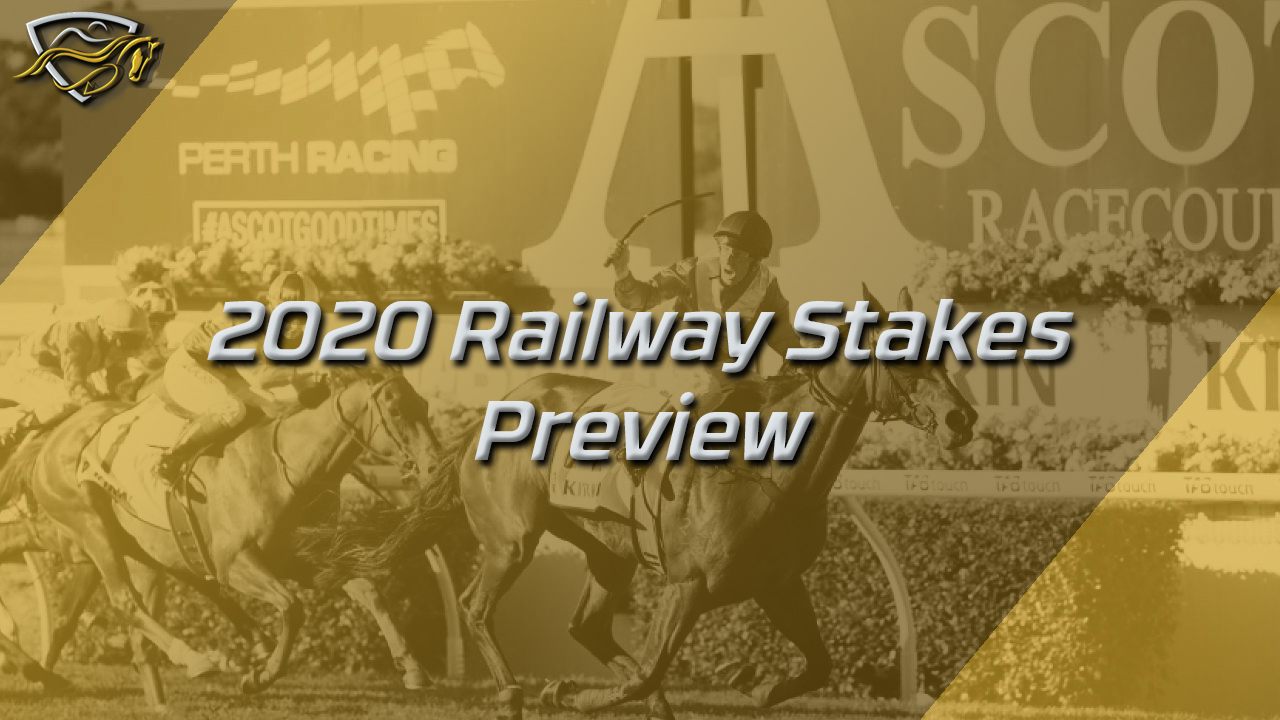 2020 Railway Stakes Runner-by-Runner Preview
The $1million Group 1 Railway Stakes is the first major of the Perth Masters Carnival, with a capacity field of 16 set to line up over the mile at Ascot.
The track copped an absolute belting from the weather last weekend, but should recover to be a Good 4 on Saturday, with the rail moving back to the 3m position. That leaves a 6m pad of fresh grass that hasn't been raced on for a few weeks, so it wouldn't surprise me to see horses on the inner part of the track favoured.
I've taken a look at the chances of every runner in Saturday's feature race below.
Speed map
The tempo looks pretty hot here, with a few noted frontrunners in the race, most of which are drawn out wide. (7) Great Shot looks out designated leader from barrier 3, with (3) Gailo Chop coming across from the widest draw. (14) Too Close The Sun should push forward from his wide gate and (10) Dance Music likewise, so already there's plenty going on up front.
(8) Red Can Man should start from barrier 7 after emergencies come out, so I suspect he'll be able to bag the rail right behind the leaders. (6) Taxagano can be prominent and (2) Material Man should be able to find a good spot just off the pace. (1) Kementari might find himself in a slightly tricky spot from barrier 1, potentially four-back the rail. (5) Spiritual Warrior will be midfield, along with (14) Platoon who may be in the three-wide running line.
(11) Inspirational Girl and (4) Kay Cee are both expected to be well back in the field, with (15) Truly Great also likely to go all the way back from his wide draw. (9) Cup Night, (16) Uni Time and (12) Missile Launch will be back with them.

Runner-by-runner analysis
1. Kementari
Special K carries top weight here and comes into this off a 3rd placing in the G2 Lee-Steere Stakes, beaten about 1.8L by Kay Cee. He sat three-wide the trip on that occasion, so his run was quite good, all things considered. However, that's the story of his career really. He always runs quite well but always manages to find a few better than him. His last win was in March 2018. I believe only four horses have carried more than 55kg to victory in this race since 1972, the last being Luckygray when he won his second Railway. He does receive a big jockey change with Chris Parnham taking over from Jade McNaught, but I'm not sure that's enough to get him across the line with his head in front. He'll run well but I'm happy to oppose him.
2. Material Man
Getting on now, Material Man. He's a nine-year-old and comes into this first up from a spell, which has worked in the past when Mr Moet won fresh in 2012 after winning the Strickland Stakes five months earlier, which is also what Material Man did this year. He raced once more after that Strickland Stakes, winning the Swan River Vase narrowly. The difference between Mr Moet and Material Man is Mr Moet was a five-year-old and carried 53.5kg when he won, whereas Material Man is a nine-year-old lumping top weight of 58kg. Has an outstanding record so can't completely rule him out of running well, but don't think he can win.
3. Gailo Chop
Drawn the extreme outside, unlikely to get his favoured position in front and looks unsuited under handicap conditions. He's better suited in the Kingston Town Stakes in a couple of weeks, but even so, he's now a 10-year-old and is unlikely to be a winning chance in this.
4. Kay Cee
Plenty of talk about this mare for a multitude of reasons leading into the Railway, most notably because her regular rider Steven Parnham fell on Wednesday and is ruled out of riding her through injury. Steven has ridden her in all 12 career starts, so she will have a new rider on for the first time. That rider has yet to be confirmed at the time of writing, but I would strongly tip Jason Brown to get the nod. Kay Cee resumed with a disappointing effort in the Northerly Stakes, where she was backed sensationally as if she was unbeatable. She atoned for that with victory in the Lee-Steere Stakes last start though, swooping home over the top to record an impressive win. That effort solidified her as the second-favourite in the Railway, but she has to overcome some serious negatives here. Only four horses have carried more than 55kg to victory since 1972, and if she were to win here, it would be the most weight a mare has ever carried to victory in the Railway. I love her, but I'm strongly against her in this race.
5. Spiritual Warrior
Dominated over staying trips in the Autumn, posting victories in the South West Autumn Cup at Bunbury, the Pinjarra Cup and the WA Cup. Is yet to place in three starts when first up and has never finished in the money from four starts at this distance. Blinkers go on first up but hard to see him being competitive over this distance.
6. Taxagano
Surprise winner first up in the Northerly Stakes over 1400m, but that was a case of last man standing given how hard they ran the race. He's since been only average in his past two starts. Draws nicely and should settle midfield at worst, but looks outclassed in this field.
7. Great Shot
Winner of this race in 2017 when he led all the way with 53.5kg on his back. He's had 20 starts since then and hasn't registered a single win, though he has placed in 11 of them. He looks the likely leader in the race and the winkers go on for the first time, but he's an eight-year-old now and isn't going well enough these days.
8. Red Can Man
I think this horse is a red-hot chance in this race. He reminds me of Great Shot when he won in 2017. Both horses put themselves on speed and both ran 2nd in the Lee-Steere Stakes leading into the Railway. Red Can Man was beaten just under a length by Inspirational Girl and Too Close The Sun two starts back in the Asian Beau Stakes. He meets those horses 1.5kg and 1kg better at the weights respectively. Last start he was run down late by Kay Cee carrying 59kg, and he meets her 4.5kg better at the weights here as he drops down to 53.5kg. His set up, his profile and his racing pattern make him a huge chance today.
9. Cup Night
I think Cup Night could be a blowout chance and I'll be including him in all my numbers. He was very good first up from a short break behind Stageman in the Black Heart Bart Stakes, and was good again closing hard late in the Northerly Stakes two starts back. Completely forget he went around in the Asian Beau last start, when they dropped anchor up front and he was badly checked. He also suffered a laceration from being galloped on in the process. That's the biggest concern for him coming into this, because from all reports he was a bit sore after that incident. Notable that he started $5.50 in that race though. They're going to go hard here and that will allow him to swoop home, so with 53kg on his back, he looks one at value at around $27.
10. Dance Music
Was completely gifted the Northam Cup last start on a leaders-biased track, but prior to that he was well-beaten in the Northerly Stakes. Don't think she's good enough at this level and the map also appears tricky for her with the wide draw.
11. Inspirational Girl
Winner of eight races from 10 starts and looks the obvious horse to beat. She profiles similarly to Galaxy Star who won this race for the same connections two years ago. She was a six-year-old mare (Inspirational Girl is five) and won the Asian Beau Stakes leading into her Railway win. Gets in with the right weight with 53kg and she's undefeated at this track and distance. William Pike gave up the ride on Arcadia Queen in the Mackinnon to be back in time to ride Inspirational Girl in the Railway, which tells you all you need to know about her chances. She comes into barrier 8 if emergencies come out, so she should be able to settle worse than midfield and launch home over the top. Clearly the horse to beat.
12. Missile Launch
The Kalgoorlie Cup winner two starts ago ran well dropping back to the mile in the Northam Cup last start. He did get a rails run and the track played heavily to those on the rails throughout the day, but it was still a decent effort. He has two wins from three starts at the track and distance, but he's just not good enough at this level in my opinion.
13. Platoon
Was beaten less than a length in 3rd in last year's Railway behind Regal Power and Best Of Days. He gets in with the same weight this time around, so on that basis alone, he isn't without a chance here. His first up run in the Northerly Stakes was very good, but he was a touch flat last time out in the Lee-Steere Stakes. He gets a nice weight drop from 59kg tom 53kg so that will help, and a strong tempo also helps, so expect him to improve third up today.
14. Too Close The Sun
Probably the runner I've found most difficult to assess. I've ended up going against him, despite him absolutely trouncing the field in last weekend's Ascot Gold Cup as my best bet. His first up run behind Inspirational Girl was outstanding and he's going to be spot on third up, but I just think he needs more ground than the mile at this stage of his preparation. He got absolutely perfect conditions last weekend, because he loves the wet – he's undefeated from four starts on rain-affected ground. He also is unlikely to be able to dictate the tempo of the race with a bit of speed engaged.  If this were on a wet track, I'd be keener to be with him, but dropping from 1800m to 1600m and back onto a firm deck has me willing to take him on. Scary prospect though!
15. Truly Great
Another horse that's hard to assess. He's a winner of six of his 10 career starts and is undefeated from three starts this prep. He resumed over the mile, then stepped up to 1800m second up, before dropping back to 1500m last weekend. Now he steps back up to the mile on the one-week back up. He profiles well for this race and carries the right weight with 53kg, but the draw makes it tough. If he goes back to last like I think he might, he's going to find it tough to run past the likes of Inspirational Girl. I think he'll be motoring home late but might just set himself too big a task. Wouldn't surprise me at all to see him win though.
16. Uni Time
Hasn't been all that far away in three starts this prep but I don't see any scenario where he turns the tables on the likes of Kay Cee, Red Can Man, Kementari, Too Close The Sun or Inspirational Girl.
17e. Arctic Stream
Ran second last first up and although the step up to the mile helps, he's not good enough.
18e. Media Baron
Not going well enough.
19e. Pym's Royal
Outclassed.
20e. True Attraction
Disappointing last week but may not have handled the bog track. Very unlikely to get a run and not good enough in any case.
Selections
There's really only two horses I'm keen to back here. (11) Inspirational Girl looks the obvious choice and clearly the horse to beat. The Peters/Williams/Pike combination are looking to make it three victories in a row in this race, and she profiles very well. Pike giving up the ride on Arcadia Queen over East in order to get back for this race tells you all you need to know. I do think the value and a horse I'm very keen to be with is (8) Red Can Man. His set up is ideal for this and he profiles exceptionally well. He should put himself right up on speed and camp behind those in front, and with 53kg on his back I expect him to find the front at about the 200m mark. It's just going to be a question of whether he can hold off the swoopers, including Inspirational Girl. (13) Platoon can spike here and go well, just as he did last year. (9) Cup Night is a blowout chance, and while I'm keen to oppose (1) Kementari and (4) Kay Cee, they should both run well. (14) Too Close The Sun and (15) Truly Great can win without surprise but I have to be against them.
Tip: (8) Red Can Man $9.00 Bet365
Also backing: (11) Inspirational Girl $3.80 Sportsbet
Betting strategy
1 unit WIN Red Can Man, 2 units WIN Inspirational Girl