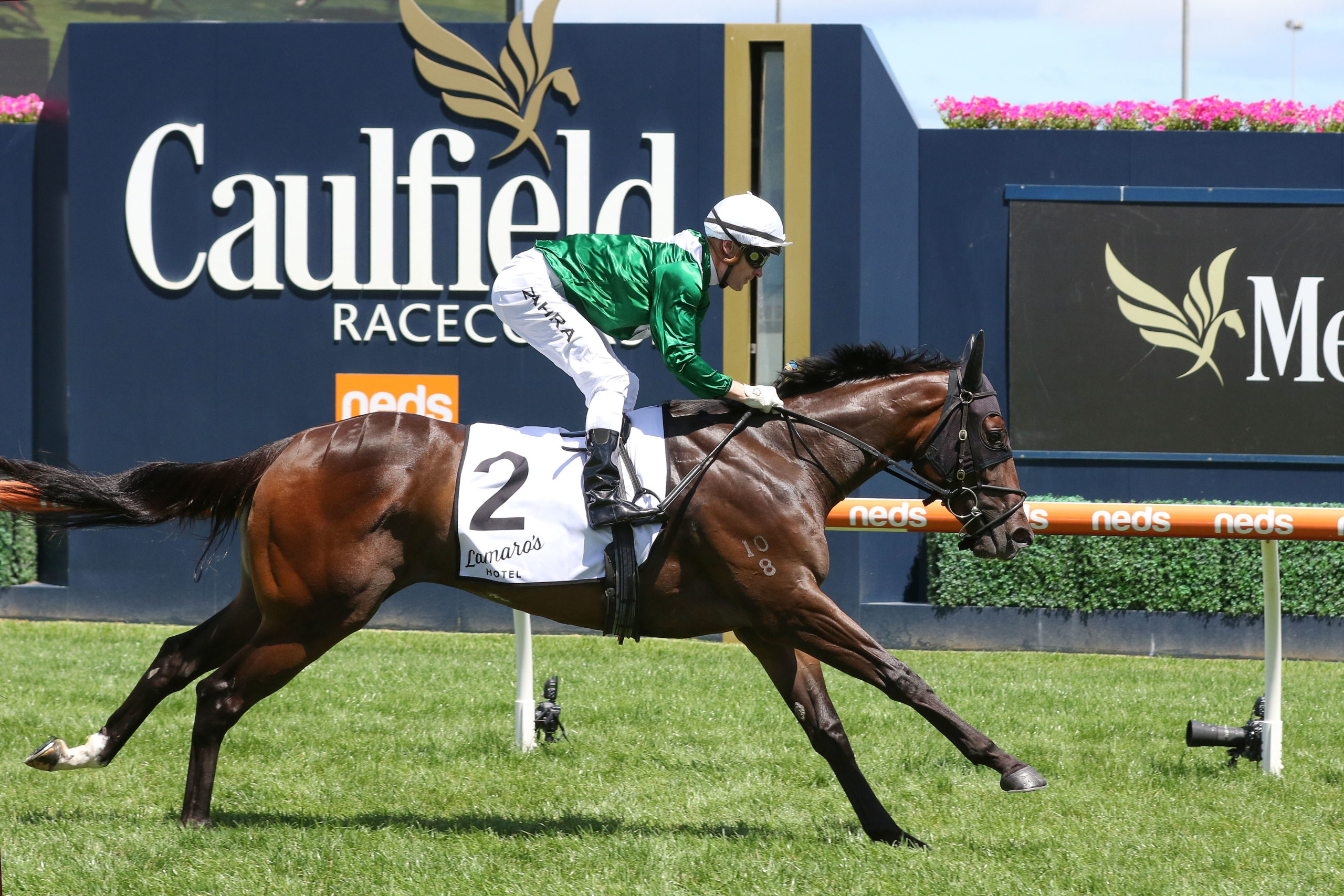 Speed Map
Obviously a very tricky race to map. Abseiler led the boy's preview over 1000m and draws barrier 16 here- he has to cross fast to have any hope. Enthaar is drawn just inside him and has to come across too. I think Abseiler crosses her so she may be caught wide early. General Beau kicks up from 3, initially holding them out but might take a sit soon after. Dosh can be right there from 8, perhaps in the 1-1, with Jigsaw leader's back. Pegasi is fairly quick early but draws awkwardly- he might even try to press for OSL. Finance Tycoon and Ingratiating map nicely off the speed from 6 and 7 respectively, with Arcaded likely 3 back the fence. Construct settles midfield with Ginibi, not sure what they do with Wolves who has never drawn out but looks tactically versatile. Hitotsu showed good speed in jumpouts but was ridden back on debut- I'd think they find their feet early with Marine One and Anamoe all drawn out, followed by Artorius who likely gets back to last.

Analysis
(1) General Beau
He's the professional colt of the field, having won both traditional lead ups in strong fashion. He puts himself on speed and races tractably, which makes him tough to get past and counts for a lot as a young horse. He's got the SP out of the prelude, clinging on to win at $3.10, but the query here has to be 1200m and whether the closers bridge the gap with the extra 100m. Kah seems to think he'll be better having something to chase, so perhaps they take a sit from barrier 3, which could mean he ends up on the back of the leaders and will need a touch of luck. He's a hard horse to knock, but I think at single figures, there are others that make better appeal.
(2) Ingratiating
On the quick backup from the Talindert last Saturday where he won nicely over 1100m down the straight. He didn't beat a very strong exposed field with quite a few on debut and whilst he was always in control, he didn't exactly savage the line. He was no match for Enthaar in the Chairman's but did beat General Beau on debut before splitting Finance Tycoon and Marine One. The quick backup should help up to 1200m and I think he gets a lovely run from the map, but I was prepared to be against him here.
(3) Finance Tycoon
Comes down from the Gold Coast Magic Millions where he endured a torrid run after drawing very wide and getting a long way back. All things considered, his run was quite good, and he did beat Ingratiating when they met at Flemington, although Ingratiating started $1.85. I'm not sure the Gold Coast form is the right lead up, and 5 weeks between runs now, after he was already set for a grand final, the price looks about right.
(4) Pegasi
Went to Sydney last start for the Inglis Millennium where he tried hard but was smashed into 3rd by Profiteer, who would be close to favourite if here. The win prior in a maiden at Geelong was solid over a subsequent winner when leading, but this is much harder. If he'd managed to stay in touch with the eased down Profiteer, I'd have given him serious thought, but the horses he finished around aren't much good and he'll have plenty of pressure here to find a spot on speed.
(5) Anamoe
 He's been my Blue Diamond horse since the Prelude- I loved his run there first up along the inside after being held up briefly and taking a while to pick up. Once he did flatten out his final 200m was outstanding (6th fastest of day) to miss General Beau by a hair. He was the only horse in the race to break 23 seconds for his final 400m there, and he's always looked like a horse who would eat 1200m. I like the fact that he's drawn out because I think he'll let down ever better on the outside of horses, and from all reports he paraded terribly first up. He improved nicely 2nd up last prep and if he improves here, he'll be very hard to hold out late. Olly sticks over Ingratiating and if he can get into the 3 wide line with a back to follow, watch out.
(6) Abseiler
Looks one of the key speed influences here after leading General Beau over 1000m in the Preview. He was out on his feet a bit late there, so I have to think the 1200m is a concern. He's got no choice but to burn across from the outside barrier and hope he cops no pressure, which I can't see happening. Not a winning hope in my opinion.
(7) Artorius
Very interesting horse at his 3rd start, and the only horse in the field that's raced beyond 1200m. He just got too far back on debut behind Jigsaw, who got a slow, easy lead, but improved off that to win very impressively at Sandown, motoring clear by 4.5L from near last. This is obviously much harder, as the 3rd horse there Picarones was beaten over 4L by Arcaded in the filly's Prelude, but the win screamed group 1 horse. My question is whether this is his group 1, over 1200m. He really profiles as a 1400-1600m horse already, and I can't see him settling anywhere but right at the tail of the field. He'll hope that they set a suicidal tempo up front which will bring out the best stamina, which I've got no doubt that he has. Unless they do that, I think he could just get too far back and find them just a touch sharp back to the 1200m but look out for him late because he will be charging. Looks a real Sires/Champagne horse over further.
(8) Jigsaw
Beat Artorius easily on debut when getting the perfect run out in front as the $2.50 favourite, which resulted in strong backing in the Prelude over 1100m where he ran very well. He was caught wide on speed (not a big issue at Caulfield) but battled on well for 3rd behind General Beau and Anamoe. I'm obviously respecting that form line greatly and therefore respecting Jigsaw greatly, especially from the map. Barrier 4 should mean he lands in a beautiful spot with cover just behind the leaders, and he'll get every chance. I think Anamoe's run was better in the Prelude, but this horse hasn't done much wrong and gets an economical run. Not backing but a must for exotics.
(9) Construct
Another out of the Prelude and I thought his run was much better than it looked on paper. He was given a pretty awful ride by Mcneil when snicked back to last from a wide gate, then strung up in traffic for most of the straight. He eventually eased off heels and got to the outside, but the race was well and truly over. Despite having basically no momentum he ran the 3rd fastest last 200m of the race and really picked up through the line. He's still only had two starts so the upside is definitely there, and he was a good run for 2nd on debut behind Shaquero which ties in Finance Tycoon and co. The map is a bit tricky- it wouldn't shock me to see him find a midfield spot off the rails from barrier 5, but there are about 6 horses looking to do the same so it will be interesting. Regardless, he can improve lengths off his run last start and at $41 (perhaps bigger BSP) you don't need much on.
(10) Marine One
Always around the mark this horse and hasn't been beaten far in all three starts. I thought he had his chance in the Prelude when blending into the race 3 wide with cover, whereas Construct was stuck behind him and only really got off his heels late. Despite this, Construct's final 200m was 0.2 seconds quicker and I'm not sure he'll be able to turn the tables on a few of those runners. He's some rough hope with the right run because he'll give his all as usual, but I'd much rather be with Construct at the prices.
(11) Hitotsu
Only had the one career start in the Prelude and I thought his run was very good in such a hot race. He finished 7th, splitting Marine One and Construct but ran through the line very nicely in the 2nd fastest last 200m of the race behind Anamoe. He showed plenty of speed in jumpouts prior to his debut so there is a chance that he could go forward from barrier 13 if he jumps better, because he got a bit lost at the start on debut. Either way, I can't work out why this horse is $251 given his last 200m in the Prelude. He'll definitely appreciate 1200m and with the race experience he can only improve off what he did. Should be closer to $51 in my opinion and despite being the absolute outsider of the race, I'll be having something on at the cricket score odds and hoping he gets out even further on Betfair.
(12) Dosh
She's a nice filly having won both career starts. She was incredibly green on debut down the straight and nearly threw the race away, but raced better in the filly's Preview over 1000m, leading all the way. The boy's Preview on the same day rated better in a faster overall time and she was a bit out on her feet late. Frost Flowers was the $1.65 favourite there after a strong debut but couldn't reel her in, and that filly was beaten 5L by Ingratiating in the Talindert, so the form looks quite weak. Happy to be against the entire filly's Preview/Prelude form here.
(13) Enthaar
Very, very exciting filly who has been ultra-impressive in two 1000m runs, one in Sydney and one in Melbourne. She started $1.60 on debut off a hot trial and walked in by 3L, backing it up in the Chairman's Stakes with a dominant 2.3L win over Ingratiating as the $1.24 favourite. She did get absolutely every favour there- it was a small field, they went very slowly early and she was able to reel off a huge last 600m which made it impossible for anything to chase her down. On what we've seen, she clearly looks the most talented 2yo in the field, but there are some queries. She steps past 1000m for the first time straight up to the 1200m and will cop a much faster race shape- no easy lead here. Now, this might just bring out the best horse in the race and she could go to a new level again (a scary thought), but at $2.30, I don't think she's a bet. Drawn out wide I can't see her having an easy time early with Abseiler drawn outside her and needing to cross, with a few other fast horses inside her kicking up. If she can somehow lob into the 1-1 or similar from barrier 14, she'll be exceptionally hard to beat, but I'm going to predict that she gets softened up early, looks the winner at the 100m but the closers really motor late and she just falls short. She's the clear horse to beat, don't get me wrong, but I'll be trying to get her beat.
(14) Arcaded
A bit like Dosh, she's done nothing wrong and has won impressively at both starts. She got a beautiful run last start in the filly's Prelude and put them away, seemingly with another gear. The boy's Prelude was run much faster and they came home stronger too, so whether she can take the step up against the boys and Enthaar remains to be seen. D Lane sticks with her and she draws barrier one which I think could be a positive, and if the gaps come, she could be saved for one final burst, which may be her best chance. Like I said, I'm taking on all of that filly's form so she's not for me but all you can do is win and we don't know how good she is yet.
(15) Wolves
Been solid in two career runs, the first behind Dosh in the Preview and the second behind Arcaded in the Prelude where she finished 3rd. It's hard to see her turning the 4.3L margin on Arcaded from that effort, although I do think the 1200m will suit. She draws out here after getting cosy runs at both starts but does get D Dunn in the saddle, who knows how to win a Blue Diamond. Be shocked if she won, would be a moral in a maiden.
(16) Ginibi
Ran 5th behind Arcaded and like Wolves I can't see her turning the tables. Open to improvement with that race experience under her belt but I think she should be the outsider of the field and I can't entertain her whatsoever. Would also be very hard to beat in a maiden.
Selections
I'm taking on the hotpot Enthaar. The 1200m is an obvious query and whilst she smashed the clock late last start, she was afforded every chance to do so by getting an easy lead off a very slow tempo. This is a completely different scenario, so whilst she'll be hard to beat, there's no value.
Anamoe is the horse for me. I think he has lengths of improvement from his first up run where he charged late behind General Beau, and a fast run 1200m where he can get to the outside and build momentum looks perfect. I think he should be a clear 2nd favourite and at $10 he's a great bet.
Construct was the unlucky runner in the Preview- he never got to build momentum and should've finished much closer. He can settle closer from barrier 5 and was only getting warmed up late last start. He's been $61 into $41 but I don't think he'll start a whole lot shorter and I think he's good value.
Speaking of value, Hitotsu shouldn't be $251. He had it all before him there and didn't really know what to do, but I can't ignore the 2nd fastest last 200m of the race behind Anamoe. He'll appreciate the 1200m and at the cricket score odds I'll be cheering him home.
Tip: (5) Anamoe $10.00 Sportsbet
Also Backing: (9) Construct $41.00 Sportsbet
Value: (11) Hitotsu $251.00 Sportsbet
Betting Strategy – 1 unit WIN Anamoe, 0.25 units E/W Construct, 0.25 units E/W Hitotsu