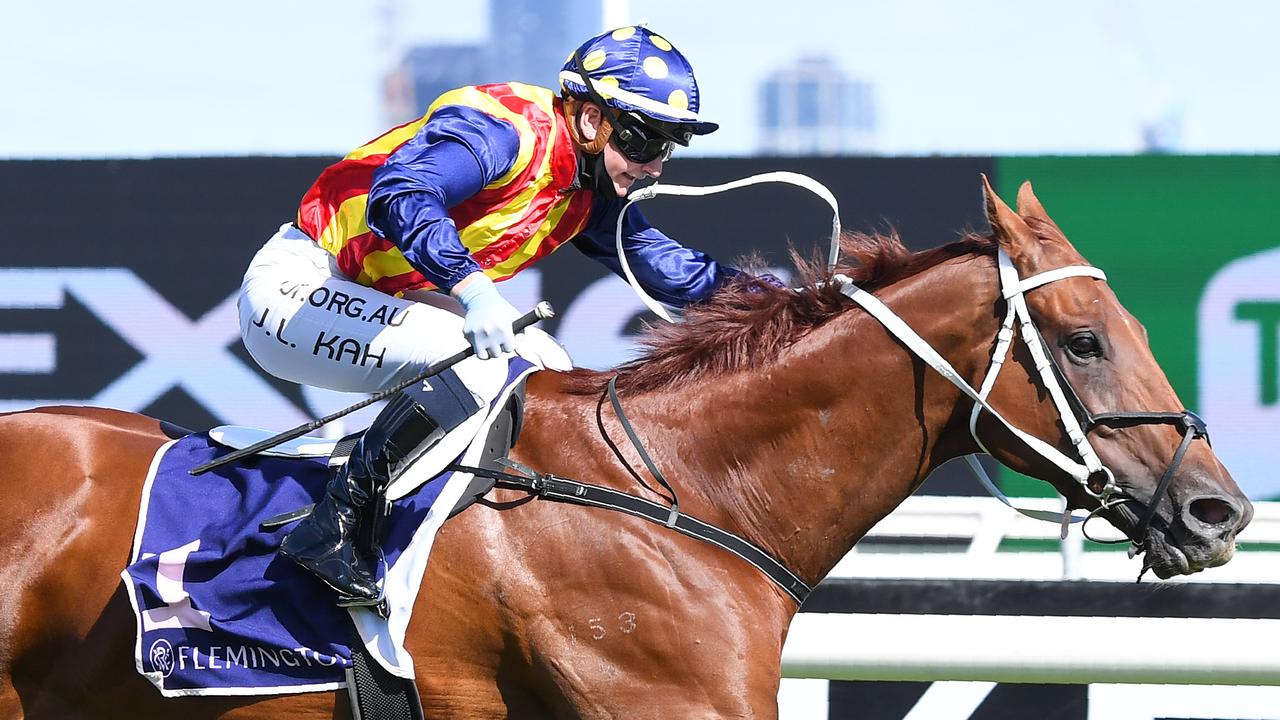 Nature Strip regained his position at the top of the Australian sprinting ranks with victory in the G1 Lightning Stakes, September Run put the writing on the wall for the Newmarket Handicap, while Colette upset a few of her more favoured rivals in the Apollo Stakes at Randwick.
Tim Geers and Trent Crebbin review some of the key races at Flemington and Randwick and provide their horses to follow from the weekend's racing below!
Flemington
Race 2 – Talindert Stakes
Very professional performance from the Godolphin 2yo Ingratiating. He shared the lead out wide with the blinkers on and never looked like losing. Olly looked supremely confident and the horse always travelled beautifully to hold a comfortable 0.5L margin. From all reports he will back up in the Blue Diamond this Saturday after chasing Enthaar in the Chairman's Stakes the start prior. No word on who rides yet with Olly set to choose between him and Anamoe.
The second horse Gimmie Par ran very well on debut, just bumping into a professional, up and running 2yo who had straight track experience. She ran the fastest sectionals of the race and will be going very close at her next start.
Race 3 – Seppelt Wines Plate
Regardsmaree continued the picket fence here, winning his 3rd race in a row. It was beautiful placement by the Nick Ryan camp, who have this horse flying. This was clearly the best run of his career and he had to chase down a serious horse in Buffalo River. His 33.13 last 600m was the 4th fastest of the day.
Buffalo River was excellent in 2nd, going down by a nose on the line and conceding the winner 5kg first up. He was a noted drifter on the day but has clearly come back very well. He heads to the group 2 Blamey Stakes at his next start, in order to try and get a ballot free ticket into the All Star Mile, and off that run I'd expect him to be one of the hardest to beat in the Blamey.
Mahamedeis was beaten 4L in 8th but did more than enough first up, coming home in the race fastest last 400/200m. His 11.06 final 200m was the fastest of the entire meeting, which is huge considering what September Run did late in the Lightning. No idea what they target with Mahamedeis but he's definitely one to follow 3rd/4th up over a bit further.
Race 5 – The Vanity
Not a stack to talk about here- the winner Zou Dancer was absolutely dominant under J Kah, controlling the race and putting a space on her rivals, who I don't think are much good bar Personal. There was talk after the race that she could step up to the 1600m in the Australian Guineas, and I'd be happy to be against her there. The other option is the group 1 Surround Stakes over 1400m against her own age/sex, which is likely to feature Dame Giselle, Hungry Heart and co.
Personal was sound in 2nd, boxing on late from midfield. I believe her target still remains the ATC Oaks, so wait until she gets over a trip to find her as the 1400m clearly looked too short for the Fastnet Rock filly.
Race 7 – CS Hayes Stakes
This was some return to form by Tagaloa here, and I think they've found the key to this horse- fast run races. This was the 2nd fastest CS Hayes in history and it brought out the best in him. He made the leader work early and kept up the gallop from barrier one with 59.5kg, holding them late to win by 1L. He's into $6 favourite for the Guineas off that run, where he'll meet the field at level weights. Off that run the 1600m won't be an issue, he just needs ensure it's a fast race. 
Aysar had every possible chance behind him and once again loomed like he'd go past the leader but couldn't. Not sure what to make of him but he's a very hard horse to back going forward because I think some of the first uppers ran just as well, if not better.
Mo'unga and Cherry Tortoni have both gone very well first up, with a slight leaning to the former who ran 3rd, beaten 1.75L and ran the race fastest last 200m. He hit a bit of a flat spot between the 600-400m, running the 7th fastest split, but once he picked up again his work late and through the line was outstanding. He clearly appreciated Flemington more than the Caulfield guineas, and I'd expect he probably stays in Melbourne for the Australian Guineas before targeting the Rosehill Guineas 3rd up at 2000m- I think that's his race and no surprise to see him backed into $10.
Cherry Tortoni got a bit tight for room trying to follow Mo'unga through and has gone excellently, running the meeting's fastest 400-200m split. He probably just peaked on his run over the final 200m but he's right on track for the Australian Guineas before either heading to Sydney or perhaps targeting a group 2 Alistair Clark over 2040m at The Valley if they want to keep him in Melbourne.
Dom To Shoot just got too far back from a wide gate but did run the fastest 800/600m of the race coming down the outside. If he can draw a gate in the Guineas, he can definitely settle closer and be a big player.
I think this is the Guineas lead up- they've gone fast and the horse that bounces out of it the best in 2 weeks will be very hard to beat. Any of Tagaloa, Mo'unga, Cherry Tortoni or Dom To Shoot wouldn't shock.
Race 8 – Lightning Stakes
Great to see Nature Strip return to winning form, proving too fast over the 1000m. They went out very fast early as expected, with Pippie holding the front from Nature Strip sitting just inside/off her and Fabergino travelling solo out wide. J Kah ambled up on Nature Strip at the 400m and despite rolling into the rail he'd pinched enough of a break to go out a 0.5L winner. He'll head to Sydney next to likely run in the group 2 Challenge Stakes over 1000m before targeting the TJ Smith 3rd up over 1200m- I think he's absolutely back and if we get a wet track in the TJ he's the horse to beat.
September Run was enormous in 2nd, flying home late in the day's fastest last 600/400m. Put simply, she'll be extremely hard to beat in the Newmarket over 1200m and it's no surprise to see her as short as $2.50 in some futures markets. With Nature Strip and Bivouac bypassing the handicap, she'll likely start odds on.
Swats That was very solid in 3rd but from reports could miss the Newmarket and be set to target the group 1 William Reid at WFA at The Valley, a track where she's already a group 3 winner.
Fabergino ran up to her level and wasn't disgraced whatsoever in 4th, beaten 2.5L. I think she heads back to WA now after a very successful campaign.
Bivouac was clearly the disappointment of the race after being hammered in betting to start $2.15. The market clearly took note of his straight track record and win over Nature Strip in the VRC Sprint, but he was no match. The 1000m clearly didn't suit and he was chasing a long way out. I think Dubai is unlikely given the Covid situation, so he likely runs in Sydney next and could clash with Nature Strip in the TJ Smith again. From reports he had a stack of improvement to come from the mounting yard so he can be forgiven in a race not really run to suit.
Randwick
Race 2 – Pierro Plate
Stay Inside was our best bet of the day at Randwick following his dominant performance on debut, and he backed that up with another effortless victory here. He was put into the perfect position on speed behind the leaders from James McDonald, and when asked the question, he exploded away to score by 4L eased down. He has some very likable attributes, such as tactical speed and a devastating turn of acceleration. We could see him back up this weekend in the Todman Stakes against Profiteer, which makes for a mouthwatering contest. If Profiteer races like he did when he won last start, the acid test for Stay Inside will be how he responds in a race with high pressure.
Outside the winner, the second and third horses were also very good, for different reasons. Vianello was given a torrid time of things in the straight. She was knocked around on a number of occasions, had to stop and change course more than once, and still finished off powerfully to run 2nd. There is a very good case to be made that she could have finished 1-2L closer to the winner. That's interesting to note, because she was 1.5L behind Mallory first up. That could suggest there may not be a huge amount between Mallory and Stay Inside, even though one is $26 in Golden Slipper betting and the other is $8.00.  Mallory only ran down Total Babe though, while Stay Inside beat her by 7.1L, but obviously they were far different race shapes. Of course, there is still Profiteer an Enthaar to consider.
Giannis was very well backed in early betting on debut but was a bit plain. He showed clear signs on the weekend that he has a fair bit of talent though. He was taken back to sit three-wide at the back of the field before pulling to the outside and working home strongly for 3rd. He's ready to win if he can find a suitable race down in grade.
Race 4 – Triscay Stakes
Tailleur took her record to six wins and two 2nds from eight starts with a fighting victory in the Triscay Stakes. It wasn't as dominant as what some may have expected, but she got the job done and that's what good horses do. I do have a little query on the strength of her form and what that might mean when she tackles some of the good races; I actually think she's just been exceptionally well-placed by the Godolphin team. Snapdancer beat her first up and hasn't won in two starts since (albeit in some decent races). Tailleur has then beat the likes of Lashes and Academy, and just held off Tricky Gal here despite that horse being three-wide the trip. She obviously has quality, and tactical versatility (can lead or take a sit), but if she comes up a very short price in a race of depth, it might be a chance to play around her.
Tricky Gal was enormous, stuck three-wide the trip first up on a wet deck, but her first run back is normally the best of her campaign. She's now four starts when first up, for three wins and a 2nd. With that said, she didn't get much luck second and third up last prep, before running well in some decent races. She's always around the mark and judging on the weekend's performance, that will be no different this prep.
Icebath was sound first up at 1200m. She's in need of 1400m-1600m, and she of course does her best racing on wet ground.
Race 6 – Southern Cross Stakes
It was terrific to see Masked Crusader bounce back to his very best here, recording an 11.60sec final 200m sectional (0.04sec outside the best of the day) to run down Southern Lad. I thought they might ride him aggressively from the barrier, but they elected to once again take a sit. He looked to be under the pump early in the straight but once he really balanced up, he put the race to bed very quickly. Interesting to see where they head next with him, but wherever it is, I suspect he'll be winning.
Roheryn was the big disappointment in the race, failing to make any impression and eventually clocking in second last. I've always thought he was a 'fresh' horse, and his 5/5 record first up would suggest as much. Happy to let him go for the rest of this prep.
Race 7 – Apollo Stakes
We saw an upset result here with Colette taking out the Apollo Stakes first up. I underestimated how good this girl is on wet ground. She's borderline unbeatable! She's now had five starts for five wins on rain-affected ground: a 6L maiden win, a G3, a G2, a G1 and a Golden Eagle. Fair to say she can be followed in any race on a wet track ranging from 1400m to 3200m (she's nominated for the Sydney Cup).
Verry Elleegant may have looked a bit disappointing on face value, but she still recorded the fastest final 200m of the entire meeting. She was about as good as she could be first up from a spell.
Mugatoo also finished off hard from the back of the field and looks to have returned well.
Race 8 – Light Fingers Stakes
The horse to follow out of the meeting is Never Talk, who was enormous in defeat behind Every Rose in the Light Fingers. She came from well back in the field and had to change course in the straight, but she stormed home between runners to get very close. She had no luck the start prior to that when held up the entire straight at Rosehill. Her record now reads eight starts for five wins and a 2nd. She's nominated for the Surround Stakes in a fortnight, where she should be very competitive.
Away Game ran 3rd and I think she's probably reached her ceiling. She was a beast of a 2YO but hasn't grown much physically as a 3YO, so it's no real surprise that she's struggled to go on with it. I as happy to take her on as favourite on the weekend and I'll be happy to oppose her just about anywhere going forward.
The jury is out on Hungry Heart after a plain effort.
Horses to follow
Flemington
Gimmie Par just bumped into a professional, talented 2yo on debut in the Talindert Stakes. No idea where she heads next, but I'd be looking to back her in almost whatever she lines up in aside from perhaps a Todman in Sydney.
Buffalo River went very well with 59kg first up behind Regardsmaree, who is airborne. He heads to the Blamey Stakes over 1600m next start and should be very hard to beat. He'd be close to a moral if he struck a wet track there.
Mahamedeis was a sneaky run in the same race and has come back very well for something over further this prep.
Mo'unga was a huge run first up and can win the Australian Guineas on his way to the Rosehill Guineas where he will be very hard to beat over 2000m.
Cherry Tortoni was excellent in the same race and can also win the Australian Guineas off that.
September Run could be an absolute moral in the Newmarket. She really surprised me by how well she went behind Nature Strip and in an easier race at her favourite T/D she'll be exceptionally hard to beat.
Randwick
Vianello – no luck at all and is bursting to win a race, just needs to avoid the stars.
Giannis – think he has some talent and his was a much better run from the back of the field on the weekend. Needs to avoid the stars but will be hard to beat in easier grade.
Masked Crusader – back to his absolute best and will be winning wherever he goes.
Never Talk – underrated filly that was enormous in defeat. Look for her in a couple of weeks.
Horses to sack
Roheryn – disappointing on the weekend and always starts short in the market for a horse with a negative racing pattern. Prefer to back him fresh so will be waiting for next prep now.
Away Game – will always be short in the market but might keep finding one or two better. Her dominance as a 2YO was partly because of her physicality, but they've caught up to her now.