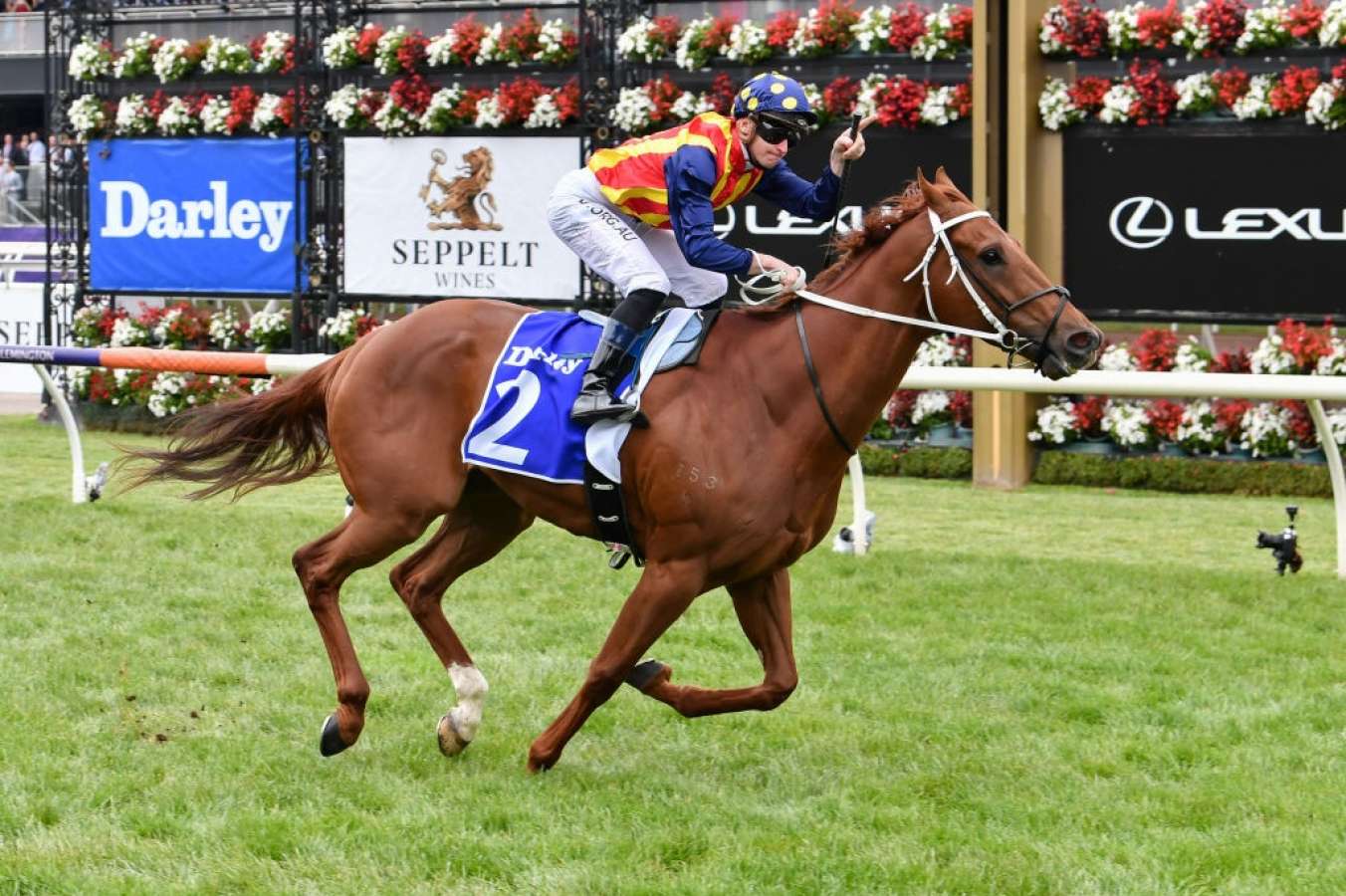 Speed Map
Speed aplenty here. I think (5) Pippie is the quickest horse early- she's led her last three comfortably and jumps very fast. (1) Nature Strip draws inside her and is obviously a speed machine himself but isn't the quickest beginner and generally takes 100m to really hunt up. (6) Fabergino draws out and likely leads/sits outside Pippie closer to the middle of the track. (8) Swats That and (2) Bivouac sit off them just ahead of (7) September Run with (3) Elite Street and (4) Halvorsen likely to be run off their feet early out the back.
Analysis
(1) Nature Strip- One of the most polarising horses in the country- he's one of the most talented sprinters the world has ever seen on his day but has the tendency to go under as favourite. His 1000m record is very good, however he's lost 2 of his last 3 at the trip, one in this race last year when 4th to Gytrash. He loves the Flemington straight, the Sydney trials were very good and the Flemington jumpout was excellent. I love the booking of J Kah, she profiles as the perfect rider to harness his ability and his best form clearly makes him one of the hardest to beat.
(2) Bivouac- Emerged as the dominant sprinter in Australia once Classique Legend left. He was huge in The Everest coming from a long way back, and his win here in the VRC Sprint was perhaps the win of the year. He won by 3.2L but it could've been 5 given how far Boss nursed him. He loves the straight- his only defeat was on a very wet track to Exceedance in an outstanding Coolmore. It's his first up record that leaves a bit to be desired- he generally improves later in the prep, although he seems to really be furnishing into the full product now. The trial behind Nature Strip was outstanding- that horse put in a 10/10 trial and Bivouac somehow put in an 11/10, cruising into 2nd under a hold. He proved last prep that he's just as effective off past tempos, which he'll face here.
(3) Elite Street- Fascinating runner from WA who has effectively won his last 6 (DQ'd in one win), culminating in a group 1 Winterbottom win, 1.75L ahead of Trekking, who probably wasn't at his best but was coming off a 4th in The Everest. His 1000m record is very good and I think the straight track will suit, but this is a whole different test. I'd look for him over 1200m in the Newmarket which could be a slightly easier field.
(4) Halvorsen- Ran okay first up behind Fabergino over this T/D, finishing 2.5L away in 5th. He does have an affinity for the Flemington straight, but he's probably better suited over 1200m. His best win came in the group 3 Standish over Bold Star, which isn't bad form but is certainly a few lengths off these. It's hard to see him the getting close to Fabergino given he meets that horse 5.5kg worse for a 2.5L defeat.
(5) Pippie- Very, very fast mare that I think has the speed to lead this field, at least over the opening stages. She's unbeaten (4/4) when first up which is an ominous record, including an all the way group 1 Moir Stakes win last prep over Trekking, with Fabergino a complete forget run there. If this was at The Valley or even Caulfield, I'd be very interested in her, but she won't be able to find the rail and kick off a bend here. More likely she'll have Fabergino eyeballing her from one side and Nature Strip breathing fire on her inside. Her one run here was a 2nd to Tofane over 1100m which isn't bad form, but I'm just not sure this race sets up well for her.
(6) Fabergino- Gun mare who like Pippie, races exceptionally well fresh. She's been racing over the summer and is coming off back to back wins over this T/D when leading all the way. She's had to carry big weights there too, 61.5kg and 60kg in Handicap and Listed company respectively. She's undefeated at the T/D and drops to 56.5kg here under WFA. She did meet Nature Strip and Bivouac here in the VRC Sprint but couldn't go on, dropping out over the 1200m. She's obviously much better suited over the short course but this is much harder. I'd love to see her win because she one of my favourites, but this might just be a couple of lengths too hard.
(7) September Run- Last year's Coolmore winner who has built a very strong Flemington record. She's a prototype straight track horse who generally settles off the speed but has that big, booming, straight line acceleration. Her win in the Coolmore was very good and she's put up some fast closing splits, but I think that race was just fair. The big boys from Sydney (Anders, Farnan) were coming off prep derailing issues and she was the horse with the right prep suited on the day. That's not to say she isn't a very good filly, but $5.50 over 1000m away from her own age group, up against two of the best sprinters since Black Caviar, she seems short.
(8) Swats That- She ran 2nd to September Run in the Coolmore after putting a very strong prep together, with 2 wins and 2 seconds from 4 starts. Like September Run, this is her first run outside of her own age group and even with the weight pull I just can't see it being enough to trouble the big guns. I think she'll make a good group class sprinter in time, perhaps a Sangster in Adelaide for mares would be more her go.
Selections
I'm keen to be against the 3yo's- they were both good against their own age group, but this is way harder. September Run loves the straight but a race of this pace over 1000m she will struggle to even get into it. Bivouac has to be the horse to beat- his win in the VRC Sprint was that of an elite, world class sprinter. The issue is 1000m fresh- he generally peaks later on over 1200. To counter that, he loves the straight and has clearly come back just as well as he went out. Nature Strip has gone under in his last 2 first up runs, losing to Gytrash both times. I love the booking of Kah however and whilst he's become better over a bit further too, he's still a very fast horse to catch over the short course, and the jumpout here (where he gapped September Run) was excellent. The speed mares, Fabergino and Pippie have to be respected. The former loves this T/D and plummets in weight for this much harder assignment, whilst the latter is unbeaten first up, but the straight track is some concern. I found it very hard to split the two big guns but if either of them show up near their best, the others won't get near them. I love J Kah on Nature Strip and think he could be better suited at 1000m. He's had the extra trial and jumpout (which was outstanding) and he just gets the nod. Saving on Bivouac.
Numbers: 2, 1, 6, 5
Tip: (1) Nature Strip $4.20 Sportsbet
Saver: (2) Bivouac $2.90 Unibet
Betting Strategy- 2.5 units WIN Nature Strip, 1.5 units WIN Bivouac