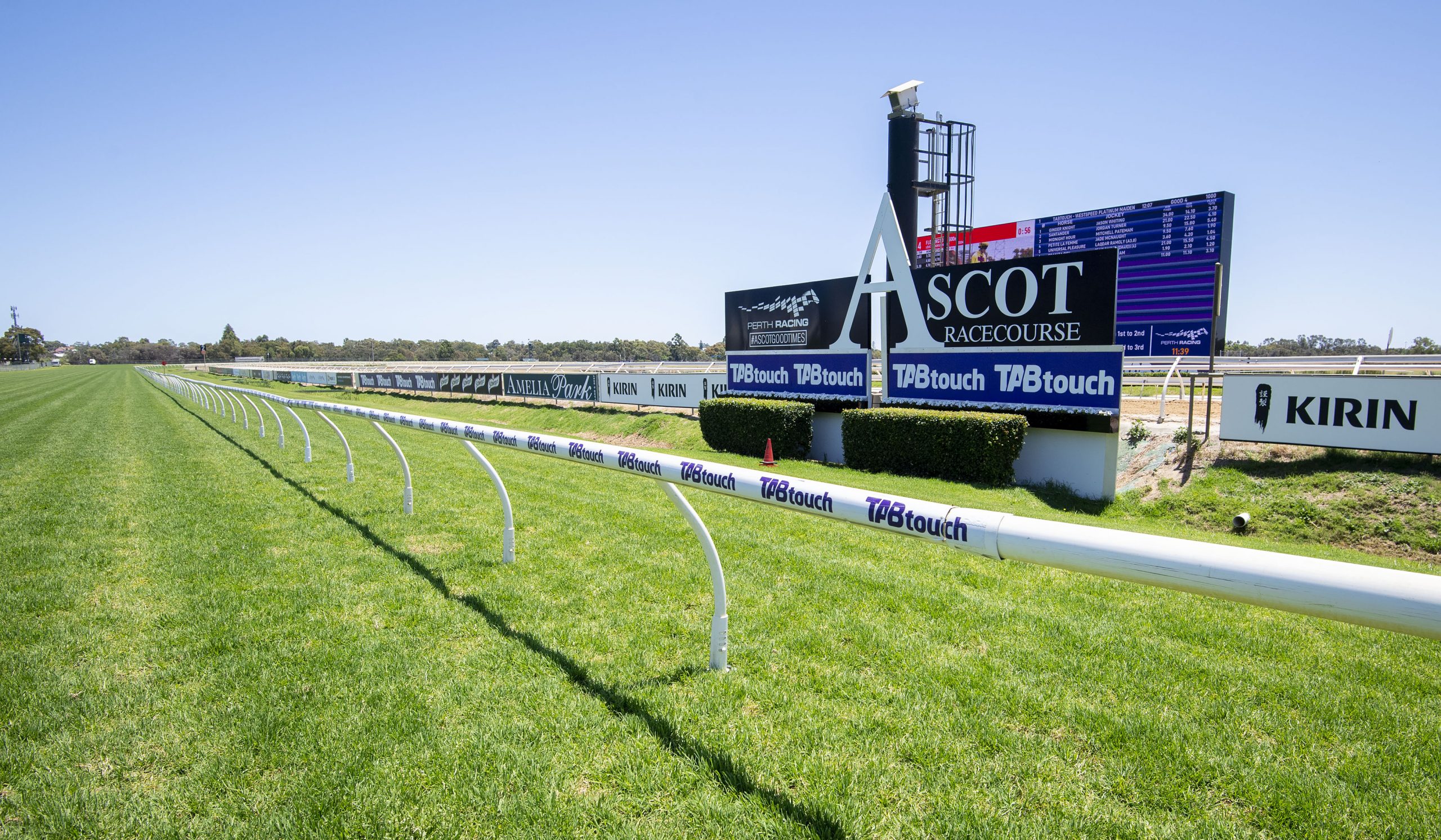 Midweek racing returns to Ascot in WA today, with seven races set t be run earlier than normal due to extreme heat.
The first race will jump at 10.17am AWST, with the track rated a Good 4 and the rail out 11m.
Tim Geers has previewed every race below, along with his best bets for the meeting.
Best Bet: Race 3 – (1) Trevern
Best Value: Race 6 – (11) Merivale Magic

Race 1 – Maiden 1800m
Just a very ordinary way to start a meeting this.
(4) Hoist The Colours was fairly useless over the shorter trips but has started to show something over the longer journeys. He's had no luck in running at his past two starts but has battled on well into 4th on both occasions. Drawn much better today, can figure.
(3) Freedomofthepress gets up in trip after consecutive placings and should go well.
(6) Not A Word did it tough on his WA debut but he's drawn the inside pole and goes straight from 1200m to 1800m second. Could show improvement at huge odds.
(12) Cafe Nera has been sound in her two runs this prep but has a tricky gate to overcome.
(15) Rommel's War was disappointing last start but form prior was good.
Tip: (4) Hoist The Colours $6.00 TAB
Betting strategy: No bet
Race 2 – 3YO No Metro Wins LY 1200m
(1) Ponyo drops out of Listed company back to a NMW race and gets a 3kg claim to bring her down to 56kg. She has some trouble seeing out the 1200m but she won't get a better chance than this with the track set to be firm and conditions hot, which could make it hard to make up ground.
(2) Probity will be suited if the rails are the place to be, especially during the run. She beat Buzzoom on debut and that form has proved very strong, while the form behind Red Fifty Three and Let'sdeal also looks good.
(8) Seduce Me and (9) The Velvet Queen will have to come from off the speed but the latter's form has stood up with the horse she beat last start since winning quite easily.
Betting strategy: No bet
Race 3 – No Metro Wins LY 1200m
(1) Trevern just continues to be beautifully placed by the Taylor stable. He's progressed through his grades very well this preparation, going from maiden, to class 1, class 3 and now a No-Metro-Win race. He never looked like getting beat after finding the front last start and I suspect it will be a similar story today.
(4) Requisition looks some value on the quick back up. Won in similar grade to this two starts ago and then didn't get clear running until the 200m mark last start. That's a handy form reference behind Eeyore Wayz and Go Forward.
(6) Llessur was a good run on WA debut behind Trevern, but just couldn't bridge the gap. Does meet that horse 2kg better at the weights today but is likely to be giving him a start again.
(2) Mantelli next best.
Betting strategy: 1.5 units WIN Trevern

Race 4 – Class 3 Handicap 1200m
Looks a nice race for (8) Cold Shizzle who was backed off the map first up and got the cash. Should enjoy a lovely run from barrier 4 here and will take some beating again.
There are a couple that you can make a case for a big odds though. (6) Mr Causeway was very well backed last start at Albany after a first up win, but dropped out to fail badly. Pulled up with a slow recovery so worth forgiving.
(4) Life For A Life didn't do much first up at Narrogin but produced a similar run first up last prep before winning second up.
Tip: (8) Cold Shizzle $2.00 Sportsbet
Value: (6) Mr Causeway $21 & (4) Life For A Life $21 Sportsbet
Betting strategy: 0.5 units WIN Cold Shizzle, 0.25 units WIN Mr Causeway, 0.25 units WIN Life For A Life

Race 5 – Class 1 Handicap C&G 1400m
Good little race.
(1) Westriver Miracle broke through for a deserved win last start. Prior to that had no luck at all when held up for the majority of the straight in a class 1 similar to this. Has to carry the full 60kg today but has a terrific final sectional on him so can continue winning.
(6) Hot Blooded should come across to either lead or sit outside the leader. Was good without a whole lot of luck first up but went straight to the front and bolted in last start. That was a day where the rail played very favourably which is the only little query.
(4) Almaher Man ran 2nd to Westriver Miracle last start after working hard to find the lead. Racing out of his grade given he's still a maiden but does meet Westriver Miracle better at the weights and isn't hopeless. Some chance he gets posted three-wide which won't help.
(5) Elite Fighter and (8) Hilton are capable, while (9) Soulsana trialled well ahead of his stable debut for Roy Rogers.
Tip: (1) Westriver Miracle $3.10 BlueBet
Value: (9) Soulsana $10 Sportsbet
Betting strategy: No bet
Race 6 – Class 1 Handicap F&M 1400m
(11) Merivale Magic is no star but did run well first up from a spell. Went back to last and reeled off some decent closing splits, and gets senior jockey Shaun O'Donnell on today from an inside draw. Knockout chance in a race like this.
(10) Star Of Rosie did a good job to win on debut at York despite encountering a few traffic issues. The Durrant stable is absolutely flying at the moment so she has to be considered a leading chance.
(3) Midnight Mystery is a maiden racing in a class 1 but is knocking on the door with consecutive placings.
Tip: (11) Merivale Magic E/W $15/$3.90 Bet365
Betting strategy: 0.5 units E/W Merivale Magic

Race 7 – Class 3 Handicap 2150m
Not an easy way to finish, could make a case for plenty of these, but not strong cases.
(3) Ima Sly Fox ran well first up and then started a well-backed favourite last start at Northam but was hampered and eased out of the race after a horse fell in front of him. Now we're getting $12.
(9) Sunset Cruise appears for an in-form Holly Taylor stable. Did nothing first up but appreciated the drop in class at Narrogin last start.
(2) Black Chips has returned in good order this prep, with a win three starts ago before a couple of sound efforts.
(5) Dancing Jack runs the same sort of race every time but tends to find a few better.
Chances don't end there.
Tip: (3) Ima Sly Fox $12 Bet365
Betting strategy: No bet
Race 2
Crown Towers Mdn (1800m)
1:17pm (AEDT)
Race 2

Crown Towers Mdn (1800m)
1:17pm (AEDT)

1. Rocaroyale

(8)

J: Troy Turner

(58kg)

T: Anthony Oram

18

2. Thehuntsmen

(10)

J: Ms K Yuill

(58kg)

T: Sharon Miller

3. Freedomofthepress

(15)

J: Mitchell Pateman

(58kg)

T: Kieran Mcdonagh

9.5

4. Hoist The Colours

(4)

J: Jason Whiting

(58kg)

T: G P Evans

4.4

5. Art Warrior

(7)

J: Laqdar Ramoly

(58kg)

T: Brock Lewthwaite

5.5

6. Not A Word

(1)

J: Ben Kennedy

(58kg)

T: Roy Rogers

51

7. Wounded Trooper

(9)

J: Brad Rawiller

(58kg)

T: Ms T Itzstein

19

8. Crooked Carrot

(6)

J: Ms Beaux Banovic-Edwards

(58kg)

T: G A Crispin

67

9. I Can See Clara

(11)

J: Joseph Azzopardi

(56.5kg)

T: T M Andrews

21

10. Xcavate

(14)

J: Ms Victoria Corver

(56kg)

T: C G Willis

15

11. Sembello

(12)

J: Brad Parnham

(56kg)

T: Jade Tangaroa

12. Cafe Nera

(16)

J: Clint Johnston-Porter

(56kg)

T: Robert Gulberti

6

13. Mia Nobile

(2)

J: Taj Dyson

(56kg)

T: G N Davies

8.5

14. Miss Rona

(3)

J: Shaun O'donnell

(56kg)

T: Ray Miller

17

15. Rommel's War

(5)

J: Steven Parnham

(54.5kg)

T: N D Parnham

8

16. Kempy Gold

(17)

J: Ms Lucy Warwick

(54.5kg)

T: Michael Grantham

41

17. Bell Lap

(13)

J: Unknown

(56.5kg)

T: S J Miller

18. Rommel's War

(5)

J: Steven Parnham

(54.5kg)

T: N D Parnham

19. Rommel's War

(5)

J: Steven Parnham

(54.5kg)

T: N D Parnham

20. Rommel's War

(5)

J: Steven Parnham

(54.5kg)

T: N D Parnham

21. Rommel's War

(5)

J: Steven Parnham

(54.5kg)

T: N D Parnham

22. Rommel's War

(5)

J: Steven Parnham

(54.5kg)

T: N D Parnham

23. Rommel's War

(5)

J: Steven Parnham

(54.5kg)

T: N D Parnham

24. Rommel's War

(5)

J: Steven Parnham

(54.5kg)

T: N D Parnham

25. Rommel's War

(5)

J: Steven Parnham

(54.5kg)

T: N D Parnham
Odds Last Updated: December 8, 2021, 10:39pm (AEDT)
Race 3
Byron Bay Premium Lager-Rs0ly (1200m)
1:52pm (AEDT)
Race 3

Byron Bay Premium Lager-Rs0ly (1200m)
1:52pm (AEDT)

1. Ponyo

(3)

J: Ms Kate Southam

(60kg)

T: T R Harvey

4.5

2. Probity

(1)

J: Ms Holly Watson

(60kg)

T: D & B Pearce

7.5

3. Wuhan Warrior

(6)

J: Shaun Mcgruddy

(60kg)

T: Hayden Ballantyne

4. Thomas Magnum

(9)

J: Clint Johnston-Porter

(58.5kg)

T: C & M Gangemi

5. Border Force

(2)

J: Troy Turner

(57.5kg)

T: S & J Casey

26

6. Tenacious Reward

(10)

J: Ms Lucy Warwick

(57.5kg)

T: P E Roberts

7. Marinsky Ballet

(4)

J: Ben Kennedy

(56.5kg)

T: J F Miller

21

8. Seduce Me

(8)

J: Brad Parnham

(56.5kg)

T: Simon Miller

9

9. The Velvet Queen

(7)

J: Chris Parnham

(56.5kg)

T: D T Mcauliffe

1.75

10. Hart Trader

(5)

J: Ms Beaux Banovic-Edwards

(55kg)

T: F R Kersley

26
Odds Last Updated: December 8, 2021, 10:39pm (AEDT)
Race 4
Tabtouch Better Your Bet-Rs0ly (1100m)
2:27pm (AEDT)
Race 4

Tabtouch Better Your Bet-Rs0ly (1100m)
2:27pm (AEDT)

1. Trevern

(4)

J: Laqdar Ramoly

(59kg)

T: J P Taylor

1.8

2. Mantelli

(7)

J: Shaun O'donnell

(58.5kg)

T: C & M Gangemi

6

3. Speedy Miss

(5)

J: Joseph Azzopardi

(58kg)

T: D & B Pearce

26

4. Requisition

(3)

J: Ms Lucy Warwick

(56.5kg)

T: Brett Pope

11

5. Semigel

(2)

J: Clint Johnston-Porter

(56.5kg)

T: Luke Fernie

8.5

6. Llessur

(8)

J: Chris Parnham

(55.5kg)

T: M L Lane

5.5

7. Gessato

(6)

J: Peter Knuckey

(54.5kg)

T: S & J Casey

61

8. Boyish

(9)

J: Chris Nicoll

(54kg)

T: Ms K Farrell

126

9. Foo Trouble

(1)

J: Ms Jessica Gray

(54kg)

T: Ms K Farrell

67
Odds Last Updated: December 8, 2021, 10:39pm (AEDT)
Race 5
Seacorp Hcp (C3) (1200m)
3:02pm (AEDT)
Race 5

Seacorp Hcp (C3) (1200m)
3:02pm (AEDT)

1. Trevello

(3)

J: Keshaw Dhurun

(60.5kg)

T: G & A Williams

7.5

2. Blazing Away

(2)

J: Ms Kristy Bennett

(60kg)

T: D R Harrison

9.5

3. Kick A Goal Son

(5)

J: Joseph Azzopardi

(59kg)

T: J F Miller

14

4. Life For A Life

(6)

J: Ms Holly Watson

(59kg)

T: D & B Pearce

18

5. So Sway

(10)

J: Brad Rawiller

(58.5kg)

T: Tiarnna Robertson

18

6. Mr Causeway

(1)

J: Ben Kennedy

(57kg)

T: Roy Rogers

26

7. The Haitian Poet

(9)

J: Ms Beaux Banovic-Edwards

(57kg)

T: P J Naylor

8. Cold Shizzle

(4)

J: Chris Parnham

(56.5kg)

T: D T Mcauliffe

1.75

9. She's Got Merit

(8)

J:

(56.5kg)

T: Ashley Maley

10. Star Present

(7)

J: Laqdar Ramoly

(56.5kg)

T: Brock Lewthwaite

6.5

11. She's Got Merit

(8)

J:

(56.5kg)

T: Ashley Maley

12. She's Got Merit

(8)

J:

(56.5kg)

T: Ashley Maley

13. She's Got Merit

(8)

J:

(56.5kg)

T: Ashley Maley

14. She's Got Merit

(8)

J:

(56.5kg)

T: Ashley Maley

15. She's Got Merit

(8)

J:

(56.5kg)

T: Ashley Maley

16. She's Got Merit

(8)

J:

(56.5kg)

T: Ashley Maley

17. She's Got Merit

(8)

J:

(56.5kg)

T: Ashley Maley

18. She's Got Merit

(8)

J:

(56.5kg)

T: Ashley Maley
Odds Last Updated: December 8, 2021, 10:39pm (AEDT)
Race 6
Amelia Park Hcp (C1) (1400m)
3:34pm (AEDT)
Race 6

Amelia Park Hcp (C1) (1400m)
3:34pm (AEDT)

1. Westriver Miracle

(5)

J: Ms Lucy Warwick

(60kg)

T: Ms A King

2.7

2. Comealilbitcloser

(3)

J: Shaun Mcgruddy

(59kg)

T: L P Luciani

8.5

3. Soviet Spy

(4)

J: Clint Johnston-Porter

(59kg)

T: A G Durrant

20

4. Almaher Man

(8)

J: Brad Parnham

(58.5kg)

T: F R Kersley

7

5. Elite Fighter

(9)

J: Patrick Carbery

(58.5kg)

T: Holly Taylor

8.5

6. Hot Blooded

(7)

J: Chris Parnham

(58.5kg)

T: L P Luciani

10

7. I'm Not For Sale

(6)

J: Troy Turner

(58.5kg)

T: C H Webster

9.5

8. Hilton

(1)

J: Joseph Azzopardi

(57.5kg)

T: D T Mcauliffe

8.5

9. Soulsana

(2)

J: Ben Kennedy

(56.5kg)

T: Roy Rogers

11

10. Bangcrash

(10)

J: Taj Dyson

(54kg)

T: A W Maley

126

11. I'm Not For Sale

(6)

J: Troy Turner

(58.5kg)

T: C H Webster

12. I'm Not For Sale

(6)

J: Troy Turner

(58.5kg)

T: C H Webster

13. I'm Not For Sale

(6)

J: Troy Turner

(58.5kg)

T: C H Webster

14. I'm Not For Sale

(6)

J: Troy Turner

(58.5kg)

T: C H Webster

15. I'm Not For Sale

(6)

J: Troy Turner

(58.5kg)

T: C H Webster

16. I'm Not For Sale

(6)

J: Troy Turner

(58.5kg)

T: C H Webster

17. I'm Not For Sale

(6)

J: Troy Turner

(58.5kg)

T: C H Webster

18. I'm Not For Sale

(6)

J: Troy Turner

(58.5kg)

T: C H Webster
Odds Last Updated: December 8, 2021, 10:39pm (AEDT)
Race 7
All Flags Signs & Banners (C1) (1400m)
4:09pm (AEDT)
Race 7

All Flags Signs & Banners (C1) (1400m)
4:09pm (AEDT)

1. Kardashian Klass

(5)

J: Mitchell Pateman

(59.5kg)

T: Kieran Mcdonagh

18

2. Titian Queen

(8)

J: Ms Holly Watson

(59.5kg)

T: Ms S L Miller

14

3. Midnight Mystery

(1)

J: Patrick Carbery

(59kg)

T: A D Mathews

4

4. Miner Addiction

(6)

J: Ms Lucy Warwick

(59kg)

T: Darren Taylor

16

5. The White Witch

(12)

J: Brad Parnham

(58.5kg)

T: Ms S Evans

13

6. Izzy May

(4)

J: Steven Parnham

(58kg)

T: Jade Tangaroa

31

7. Footsteps

(9)

J: Ben Kennedy

(57.5kg)

T: A G Durrant

67

8. Jay Dee

(11)

J: Keshaw Dhurun

(57.5kg)

T: G J Mcpherson

5

9. Ninetyone Dwyer

(10)

J: Paul Harvey

(57.5kg)

T: Michael Grantham

13

10. Star Of Rosie

(7)

J: Clint Johnston-Porter

(57.5kg)

T: A G Durrant

11. Merivale Magic

(2)

J: Shaun O'donnell

(55kg)

T: B H Hyde

9.5

12. Tabella

(3)

J: Peter Knuckey

(55kg)

T: A H Mortimer

126
Odds Last Updated: December 8, 2021, 10:39pm (AEDT)
Race 8
Morley Growers Market Hcp (C3) (2150m)
4:44pm (AEDT)
Race 8

Morley Growers Market Hcp (C3) (2150m)
4:44pm (AEDT)

1. Admired

(7)

J: Jason Whiting

(59kg)

T: G A Crispin

6.5

2. Black Chips

(2)

J: Ms Lucy Warwick

(59kg)

T: Tony Giglietta

5

3. Ima Sly Fox

(1)

J: Ms Kyra Yuill

(58kg)

T: Ms S L Miller

12

4. Night Session

(6)

J: Clint Johnston-Porter

(57kg)

T: R W Price

10

5. Dancing Jack

(9)

J: Ben Kennedy

(56.5kg)

T: Anthony Oram

6

6. Choose Freedom

(4)

J: Brad Parnham

(56kg)

T: Jade Tangaroa

6

7. Casa Rosada

(5)

J: Ms Kate Witten

(55kg)

T: R W Williams

31

8. Holyoake

(10)

J: Steven Parnham

(55kg)

T: Brett Pope

13

9. Sunset Cruise

(12)

J: Troy Turner

(55kg)

T: Holly Taylor

14

10. Taxi

(3)

J: Shaun O'donnell

(55kg)

T: R C Mcpherson

9.5

11. Bryce Road

(11)

J: Ms Natasha Faithfull

(54kg)

T: K J Reeves

12. Missalfie

(8)

J: Ms Fiona Bell

(54kg)

T: W J Bradshaw

101

13. Royal Choisir

(13)

J: Ms Kristy Bennett

(54kg)

T: Vaughn Sigley

41
Odds Last Updated: December 8, 2021, 10:39pm (AEDT)