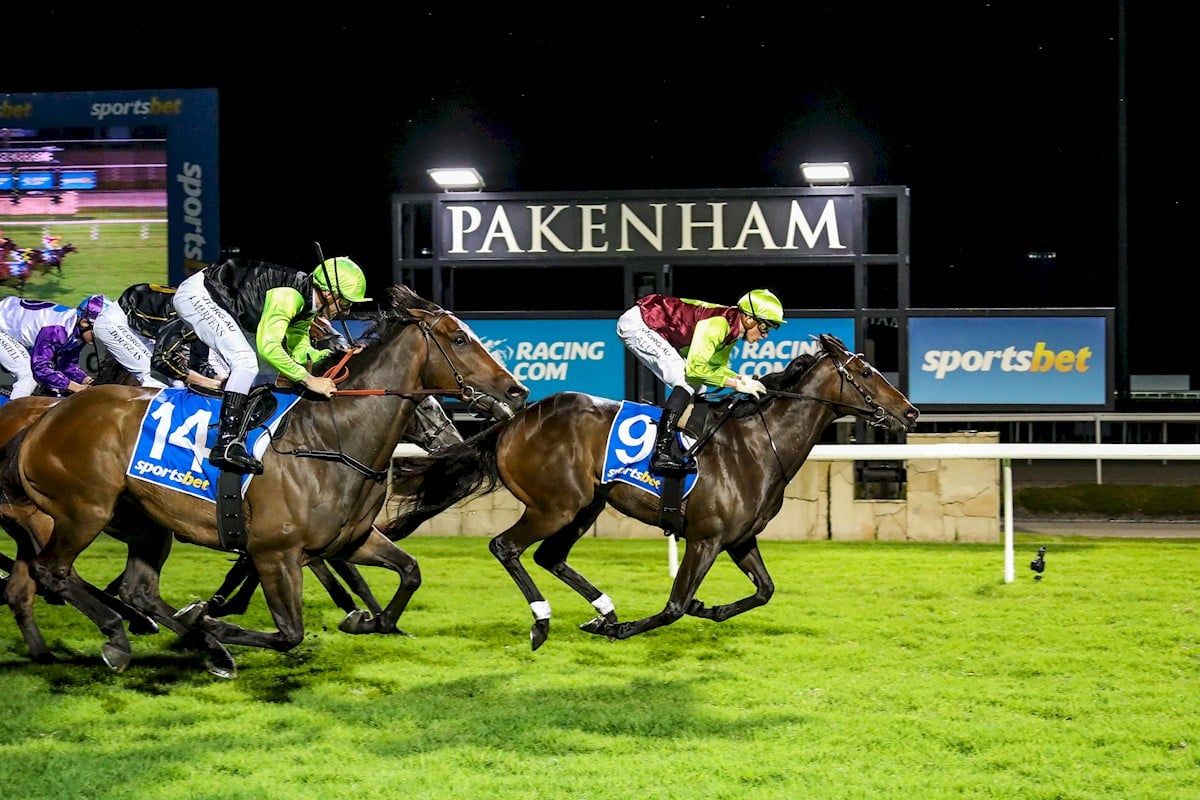 Race 1
Iron Jack Australian Lager Mdn (1200m)
6:00pm (AEDT)
Race 1

Iron Jack Australian Lager Mdn (1200m)
6:00pm (AEDT)

1. Addenda

(8)

J: Damien Thornton

(57kg)

T: G Eurell

5
6.5
4.9
4.8

2. Caught In A Trap

(6)

J: Jordan Childs

(57kg)

T: M D Moroney

9
10
8.5
9

3. Chavanne

(7)

J: Brian Higgins

(57kg)

T: Grant & Peter Dalziel

9
11
9.6
8.5

4. Djounie

(4)

J: Daniel Stackhouse

(57kg)

T: M Ellerton & S Zahra

5.5
5.5
5
4.6

5. Haveyouzeena

(3)

J: Michael Poy

(57kg)

T: Charlotte Littlefield

17
20
17.2
18

6. I Feel Fine

(9)

J: Daniel Moor

(57kg)

T: S Morrish

7. Let's Get Rowdy

(10)

J: Patrick Moloney

(57kg)

T: Tim Hughes

27
41
33
34

8. Miss Current

(5)

J: Matthew Cartwright

(57kg)

T: R Cluning

71
151
93
41

9. Ol' Dollor

(2)

J: Jamie Mott

(57kg)

T: Logan Mcgill

6
5.5
5.7
4.6

10. Wild Spree

(1)

J: Billy Egan

(57kg)

T: Patrick Payne

3.3
2.8
3.2
3.2
Odds Last Updated: January 15, 2021, 12:53am (AEDT)
Race 2
Sportsbet Same Race Multi Mdn (1200m)
6:30pm (AEDT)
Race 2

Sportsbet Same Race Multi Mdn (1200m)
6:30pm (AEDT)

1. Cop That

(3)

J: Arron Lynch

(59.5kg)

T: M Farrugia

15
16
17.2
13

2. Crafty Eyes

(7)

J: Joe Bowditch

(59.5kg)

T: B J Mccarthy

91
71
101
61

3. Bellinger

(4)

J: Jamie Mott

(58kg)

T: T Dabernig & B Hayes

3.3
3.2
3.1
3

4. Big Flash

(8)

J: Jye Mcneil

(58kg)

T: Ms C Alderson

3.7
3.9
3.5
3.8

5. Fields Of Aquada

(1)

J: Daniel Stackhouse

(58kg)

T: G B Andrews

2.7
2.8
2.65
2.9

6. Free To Act

(5)

J: Rhys Mcleod

(58kg)

T: N J Harnett

34
51
36
41

7. Turf Flyer

(10)

J: Brian Higgins

(58kg)

T: Ms L Shand

26
26
26.5
26

8. Dane Spirit

(6)

J: Jason Benbow

(57.5kg)

T: Ebony Tucker

71
101
93
71

9. Darra Linen

(2)

J: Beau Mertens

(57.5kg)

T: P E Kramer

34
51
43
41

10. I Am Beautiful

(9)

J: Daniel Moor

(57.5kg)

T: G Eurell

21
20
21.5
19
Odds Last Updated: January 15, 2021, 12:53am (AEDT)
Race 3
Superior Food Services Mdn (1600m)
7:00pm (AEDT)
Race 3

Superior Food Services Mdn (1600m)
7:00pm (AEDT)

1. Tak Ne

(4)

J: Clayton Douglas

(59.5kg)

T: Michelle Huddart

2. Angelic Amour

(6)

J: Jamie Mott

(58kg)

T: L Xuereb

14
15
13.2
13

3. Bonamassa

(2)

J: Jordan Childs

(58kg)

T: Archie Alexander

5
4.8
4.65
4.8

4. Calaveras

(10)

J: Jye Mcneil

(58kg)

T: James Cummings

26
26
22.5
26

5. Lucky Lad

(1)

J: Arron Lynch

(58kg)

T: Caroline Jennings

4
4.4
4.7
4.6

6. Omoide

(9)

J: Daniel Moor

(58kg)

T: D T O'brien

6.5
6
5.8
6.5

7. Pacific Rim

(5)

J: Ben Allen

(58kg)

T: P Stokes

5
4.6
5.3
4.4

8. Yuanno

(7)

J: Damien Thornton

(58kg)

T: T Rogers

21
21
19.6
23

9. Yulong Shout

(8)

J: Daniel Stackhouse

(58kg)

T: T Dabernig & B Hayes

5.5
6
5.5
5.5

10. Speed Cube

(12)

J: Matthew Cartwright

(57.5kg)

T: Ms J E Taylor

34
51
35
34

11. The Nella Maris

(11)

J: Ms Celine Gaudray

(57.5kg)

T: P G Carey

35
41
43
34

12. All Day Chardonnay

(3)

J: Lachlan King

(56kg)

T: T Busuttin & N Young
Odds Last Updated: January 15, 2021, 12:53am (AEDT)
Race 4
John Duff & Co Mdn Plate (1400m)
7:30pm (AEDT)
Race 4

John Duff & Co Mdn Plate (1400m)
7:30pm (AEDT)

1. Aristo Missile

(1)

J: Daniel Stackhouse

(59.5kg)

T: T Dabernig & B Hayes

2.5
2.35
2.65
2.3

2. Herzl

(14)

J: Arron Lynch

(59.5kg)

T: G R Mallinson

126
201
241
151

3. Victory Colours

(13)

J: Michael Walker

(59.5kg)

T: Ms L Shand

14
15
14.6
15

4. Amfissa

(2)

J: Damien Thornton

(58kg)

T: C J Waller

4.4
4.4
4
4

5. Argonauts

(3)

J: Fred W Kersley

(58kg)

T: D T O'brien

12
11
11.4
12

6. Bullarook Boy

(5)

J: Lewis German

(58kg)

T: Dale Short

101
151
161
151

7. Gold Vee Eye Pea

(10)

J: Ben Allen

(58kg)

T: D R Brideoake

27
26
27.5
26

8. Moon Dog

(11)

J: Lachlan King

(58kg)

T: Mark Sues

46
61
57
51

9. Politicalinfluence

(7)

J: Clayton Douglas

(58kg)

T: S P Nichols

27
26
29.5
34

10. Through Irish Eyes

(6)

J: Jye Mcneil

(58kg)

T: C Maher & D Eustace

12
15
12.4
15

11. Firecat

(15)

J: Jordan Childs

(56kg)

T: Mitchell Freedman

6.5
7
6
7

12. I Am Chickasaw

(9)

J: Joe Bowditch

(56kg)

T: Lloyd Kennewell

19
18
19.2
18

13. Yensir

(8)

J: Unknown

(59.5kg)

T: C Maher & D Eustace

14. Techno Awards

(4)

J: Michael Poy

(58kg)

T: K & K Keys

15. Lochend Rocky Roy

(12)

J: Unknown

(59.5kg)

T: Paul Worthington
Odds Last Updated: January 15, 2021, 12:53am (AEDT)
The Dabernig/Hayes trained (1) Aristo Missile appears to be the one to beat after some improving performances at Moonee Valley & Sandown. He has been competing against the best company, and his last two races have produced some quality horses—such as Sayumi and Rising Sphere. I am happy to continue following those lead-in races and have him on top here.
Outside of him it's a difficult race to figure. (4) Amfissa looks the obvious danger, while there is some interest in the former UK runner (13) Yensir.
Tip: (1) Aristo Missile $2.10 Sportsbet
Race 5
Gippsland Premium Quarries-C1 (1400m)
8:00pm (AEDT)
Race 5

Gippsland Premium Quarries-C1 (1400m)
8:00pm (AEDT)

1. Aragon

(2)

J: Daniel Moor

(60kg)

T: T Busuttin & N Young

3.4
3.6
3.55
3.7

2. Big Acheeva

(3)

J: Michael Poy

(59kg)

T: Charlotte Littlefield

11
11
9.7
11

3. Crafty Effort

(7)

J: Brian Park

(59kg)

T: M Croston & G Gilmour

23
26
26.5
23

4. Vantastic

(6)

J: Lachlan King

(59kg)

T: M D Moroney

8
7.5
7.9
6.5

5. Fighting Whiskey

(1)

J: Beau Mertens

(58kg)

T: M C Kent

4
4.2
4.1
4.4

6. Judestar

(5)

J: Daniel Stackhouse

(57.5kg)

T: Ms W Kelly

2.7
2.7
2.8
2.6

7. One Little Kiss

(4)

J: Matthew Cartwright

(56.5kg)

T: Ms C Alderson
Odds Last Updated: January 15, 2021, 12:53am (AEDT)
The market is pretty tight with 4 of 6 runners under $5.00, the favourite is (6) Judestar who won by a length in a maiden last start. She has been racing well enough last preparation without winning, but this time in she managed to pull away nicely to win by over a length. I have a query on the company, and whether that maiden form stacks up against the others here … yet to be seen.
The runner who has competed in the best company is (4) Vantastic who won a maiden then jumped into BM64 grade—and proceeded to be pretty competitive placing second in his last start. His first up form is pretty solid, although there is a slight query in terms of doing his best work on Soft conditions. At the better odds, keen to have him on top.
Tip: (4) Vantastic $4.00 Sportsbetting
Race 6
Ontoit (Bm64) (1400m)
8:30pm (AEDT)
Race 6

Ontoit (Bm64) (1400m)
8:30pm (AEDT)

1. Schweinsteiger

(8)

J: Arron Lynch

(62.5kg)

T: D J Walkley

41
41
51
41

2. Seafield Road

(2)

J: Ben Allen

(61kg)

T: N J Harnett

5
4.8
5.2
4.8

3. Iowa Hawkeye

(7)

J: Jye Mcneil

(59.5kg)

T: M D Moroney

7.5
8
7.2
7

4. Force

(6)

J: Daniel Stackhouse

(58.5kg)

T: T Dabernig & B Hayes

8
7.5
8
9.5

5. Summer Heat

(4)

J: Ms Celine Gaudray

(58.5kg)

T: D J Walkley

31
31
35
34

6. Ameliaranne

(1)

J: Matthew Cartwright

(58kg)

T: N J Harnett

3.8
3.9
3.85
4

7. Zee Hoarder

(3)

J: Billy Egan

(57.5kg)

T: Ms C Alderson

15
13
14.2
13

8. Hendrika

(5)

J: Fred W Kersley

(57kg)

T: Matthew Cumani

3
3
3
2.9
Odds Last Updated: February 19, 2021, 2:12pm (AEDT)
Race 7
Wise Choice Catering (Bm58) (1600m)
9:00pm (AEDT)
Race 7

Wise Choice Catering (Bm58) (1600m)
9:00pm (AEDT)

1. Oh So Skeptical

(1)

J: Ms Celine Gaudray

(65kg)

T: Matthew Brown

10
8
10.8
7

2. Little Phoenix

(11)

J: Michael Walker

(63.5kg)

T: E V Musgrove

23
18
26.5
17

3. Toorak Playboy

(6)

J: Ben Allen

(63kg)

T: John R Allen

6.5
7
6.9
7

4. Full Of Theories

(4)

J: Jamie Mott

(62.5kg)

T: Ebony Tucker

7.5
7
7.6
7.5

5. Kiptanui

(10)

J: Daniel Stackhouse

(62kg)

T: Ms W Kelly

4.2
4
4.15
4

6. So It Is

(7)

J: Dylan Dunn

(61kg)

T: Jackson Pallot

13
13
13
12

7. Rajpipla

(2)

J: Lachlan King

(60.5kg)

T: Brian Mcgrath

16
16
16.6
14

8. Billet Doux

(12)

J: Matthew Allen

(60kg)

T: D J Arnold

8
8
7.3
8.5

9. Give Me Ten

(13)

J: Jason Benbow

(60kg)

T: P G Moody

9
9.5
8.2
9.5

10. Victory In Paris

(9)

J: Beau Mertens

(59.5kg)

T: C J Mciver

10
12
11
11

11. Moshe Pit Gem

(3)

J: Remi Tremsal

(57.5kg)

T: D Binaisse

31
41
29
34

12. Atomic Charge

(5)

J: Lewis German

(55kg)

T: Ms H Stephens

46
51
41
51

13. Riley's Rocket

(8)

J: Ms Jade Darose

(55.5kg)

T: Tabitha Cunningham
Odds Last Updated: January 15, 2021, 12:53am (AEDT)
Race 8
Sportsbet - Three Wide Nc-Bm58 (1200m)
9:30pm (AEDT)
Race 8

Sportsbet - Three Wide Nc-Bm58 (1200m)
9:30pm (AEDT)

1. Fudging

(13)

J: Ms Celine Gaudray

(65.5kg)

T: Jerome Hunter

2. Laybuy

(2)

J: Jordan Childs

(63.5kg)

T: M D Moroney

3.7
3.5
3.6
4

3. Rushford

(7)

J: Ben Allen

(63.5kg)

T: P E Kramer

12
16
12.8
13

4. Rutherford

(8)

J: Jye Mcneil

(63.5kg)

T: R Griffiths & M De Kock

7
7
6.7
7

5. Unique Bambino

(1)

J: Arron Lynch

(63kg)

T: F Stockdale

18
19
19.2
18

6. Over There

(5)

J: Brian Higgins

(62.5kg)

T: Shane Stockdale

10
11
10.4
10

7. Pershing

(10)

J: Matthew Cartwright

(62.5kg)

T: Ms L Tolson & Ms L Proctor

11
13
11.4
10

8. Gambeson

(12)

J: Mrs Jackie Horner

(62kg)

T: Ms J Beriman

46
51
51
61

9. Real Reason

(3)

J: Jamie Mott

(62kg)

T: P Stokes

9
8
9.2
6.5

10. Count Of Carford

(9)

J: Daniel Stackhouse

(61.5kg)

T: B J Mccarthy

15
16
15.6
16

11. Reward

(15)

J: Ethan Brown

(61.5kg)

T: M C Kent

26
26
23.5
26

12. Ryan's Girl

(6)

J: Matthew Allen

(59.5kg)

T: R Pecora

6.5
6.5
6.6
6.5

13. Mischievous Lad

(4)

J: Jason Benbow

(61.5kg)

T: G B Andrews

14. Storm Boss

(14)

J: Michael Poy

(61.5kg)

T: R J Besanko

16
18
15.8
17

15. Ultimate Shock

(11)

J: Ms Jade Darose

(60kg)

T: Simone Walker
Odds Last Updated: January 15, 2021, 12:53am (AEDT)