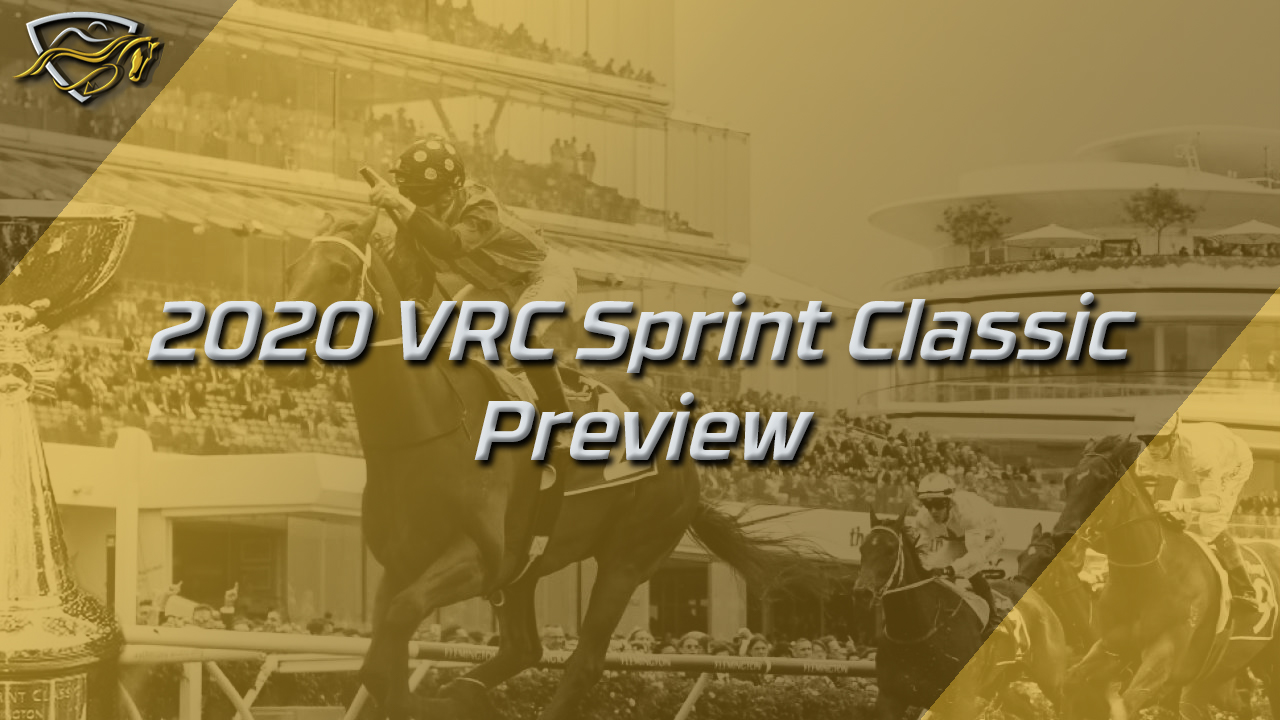 2020 VRC Sprint Classic Runner-by-Runner Preview
The 2020 VRC Sprint Classic is one of two Group 1s on the final day of the Flemington carnival, with 10 of the country's elite sprinters lining up down the 1200m straight.
Trent Crebbin has assessed the chances of every runner and offered his selections and betting strategy for the feature sprint.
Speed Map
Expecting Nature Strip to get control here from barrier 9. Ideally, he'll try and get to the outside rail ahead of Fabergino, who may try and kick up to keep Nature Strip outside her. Hey Doc will sit just off them nearer the inside, with Zoutori and Standout lobbing into nice spots. I've got Bivouac and Libertini just behind them from Graff drawn awkwardly in barrier 1 and Tofane and Santa Ana Lane bringing up the rear.

Runner-by-Runner Analysis
1. Santa Ana Lane
The 2018 winner comes here third up after a good run in the Everest, settling a long way off them but running on strongly for 6th, recording the fastest late splits. Whilst his run was good, he was flattered a bit by the race shape. They went out very, very quickly in front and he was able to do no work early out the back before rattling home. He beat Nature Strip home by a head there even though he had a big 'flashing light' run, I think Nature Strip's run was better given the circumstances. Santa's first up run was only okay, and I do think he's a few lengths off his best. He started favourite in this race last year coming off an excellent Everest run and was belted up by Nature Strip to the tune of 5.8L. Happy enough to oppose as a genuine winning hope here.
2. Nature Strip
What Nature Strip is going to turn up? At his best, he is in the top 3 sprinters in the world. I'm convinced of that. It's been well documented that this prep hasn't gone to plan however, with barrier mishaps and issues with the horse resulting in a winless campaign so far. I thought his run first up in the Concorde was actually very good when running 2nd to Gytrash over 1000m. Since then he's been disappointing for a horse of his quality, starting $7 in the Everest and chasing Eduardo, who set a suicidal pace in front. He looked the winner for a stride or two, but the swoopers came. The first three across the line were 7th, 10th and 9th at the 400m mark, so I thought he actually stuck on very well. He put in a similar run in last year's Everest when doing a stack of work early for 4th, before bolting in with this race. The key he got there was he was able to get a couple of cheap splits very early in the race, meaning he was able to continually build his speed for 800m, making him impossible to catch. He absolutely loves straight track racing, with 4 wins from 5 starts at the track and 2/2 at the T/D, and he's 3/4 when 4th up. All the stats point to him running the best performance of this prep, and if he does that, he's the horse to beat.
3. Bivouac
He proved me wrong in the Everest. I've always held the idea that in a brutally run race, he's far less effective. All his best runs prior have been off even tempos where he was able to sit on speed and power away. We saw that in the Newmarket at this T/D last year, but his run last start was very good. He settled 10th of 12th there and ran on strongly for 2nd behind Classique Legend. If he's finally turned the corner and is able to produce his best off fast tempos when having to chase a long way out, he'll be hard to beat here. I think Nature Strip is a better horse than Bivouac, but if that horse doesn't show up, Bivouac very likely wins.
4. Hey Doc
Big soft spot for this guy, which was only amplified when he won the Manikato last start. He was there to be beaten by Trekking, but he was simply too strong sitting just behind a fast tempo. Trekking was coming off a very good run in the Everest, so it obviously ties in nicely, but I do think Trekking was just a touch flat on the 6 day backup in the Manikato. He has won down the straight in an Aurie's Star, but that field was lengths inferior to what he faces here. He'll run well but I can't see him winning this and he looks well enough found at single figures. Look for a solid run coming out of his grand final en route to the Winterbottom, which looks a very suitable target.
5. Graff
Danny O'Brien has done it again. This horse was a complete non-winner after promising so much as a 3yo, but his win first up for the new stable in the Caulfield Sprint was very good. He sat back off a decent tempo and reeled off some outstanding late splits to win comfortably. That was over 1000m and for a horse of his talent he did get in well with 57kg there. Up to WFA, at 1200m down the straight is a whole different beast. If he can translate his last start performance into this set up, then he'll be somewhere in the finish, but from barrier 1 when I do think they'll be coming towards the outside fence, I'm happy enough to just watch at the moment, but he is a knockout chance.
6. Zoutori
Great straight track horse coming off back to back wins at this T/D, but I've got serious queries on the form. He beat Banquo by a nose first up, who was belted up in a group 2 at his next start, and then beat Dollar For Dollar by a nose second up, who started $101 in the Everest and finished last. Tofane should've beaten him with any luck in the Gilgai yet is longer in the market here. He should be triple his price and would need a lot of other horses not to show up to have any chance.
7. Standout
His run in the Shorts first up would give him a rough hope here, but he's been a touch disappointing in his last two. Dirty Work still beat him home there (and was unlucky) and whilst he won the Caulfield Sprint, that was an easier race and he had every chance in the Manikato. Standout then tried to take on Nature Strip for the lead and was beaten 7 lengths, before an unlucky run that he really should've won last start in the Sydney Stakes behind Trumbull. I still think that's below what is required to win here and have quite a few ahead of him.
8. Tofane
She was a moral beaten in the Gilgai in my opinion when never really seeing clear air behind Zoutori, but I thought her run in the Everest was only fair. She got a long way back but so did Bivouac and Santa Ana Lane, and both went straight past her. Maybe she's looking for 1400m now, the distance of her group 1 All Aged win, maybe she's not going as well as last prep, or maybe she simply isn't as good as a few of these. I'm not sure, but I don't rate the Gilgai form at all, so even if she had won that I'd be wary, and her run in the Everest wasn't good enough to warrant backing here.
9. Libertini
Very interesting runner. Her win first up in the Premiere was outstanding when beating Classique Legend by 2 lengths, and she did have excuses in the Everest when sitting wide without cover near the rear for most of the race. She finished 8th there, beaten 4.1L which wasn't a bad effort given the run she had. I just have a slight query that she's a much better fresh horse. She did get the dream run first up whereas Classique Legend raced wide no cover on a hot speed, and really aside from that run, there's nothing to suggest that she's a genuine group 1 WFA sprinter. She was lame in the Newmarket but was beaten nearly 10 lengths by Bivouac and was again beaten by Exceedance and Bivouac in the Coolmore. I thought Bivouac, despite having cover, was a far better run in the Everest, and she still finished behind Nature Strip who did all the work. She's at an awkward price where I don't want to lay her completely, but she's not any value in my book, so I'll have to risk.
10. Fabergino
Not a whole lot has gone right for the WA speedster. She jumped slowly in the Moir and it was race over after 50m, before striking a soft track and not getting the most ideal run at Caulfield last start. I thought she ran very well with 58kg and does meet Graff 3kg better at WFA, but this is a much tougher race. The big query has to be 1200m for Fabergino- her one run at the trip was a failure in WA as the $1.85 favourite, with no excuse. The positive is the straight track- her one run down the straight earlier this year was very good, albeit over 1000m and in much weaker grade. I think she'll appreciate getting back onto a good surface and down the straight, but the last 100m is going to be a whole new pain barrier with Nature Strip eyeballing her, Hey Doc breathing down her neck, and big stallion Bivouac charging late. I'm a huge fan of the horse and hope she runs well, but this might just be too tough at 1200m.
Selections
I honestly think there are only two genuine winning chances, those being Nature Strip and Bivouac. If Nature Strip gets a similar race shape to last year, good luck beating him. He's had his issues this prep, but his run in the Everest was arguably just as good as Bivouac's. He absolutely loves the straight and it wouldn't shock me if he won this by 3 lengths. Bivouac is the clear danger. I'd like to see him do it again down the straight off a fast tempo. His win in the Newmarket was visually outstanding, but he got his ideal set up there and faces a different scenario here. If he can reproduce his closing splits off a fast tempo down the straight and Nature Strip isn't at his best, he probably wins. Libertini obvious 3rd pick but I think she might be a bit better fresh, and Bivouac has had her measure in the past. Graff and Fabergino bring the different form and can fill a first 4 spot. I'm an absolute sucker for pain, but I just love Nature Strip down the straight, drawn out wide, fourth up. I'm happy to back him and save/chop on Bivouac, because I can't see anything else winning.
Top Pick: (2) Nature Strip $4.5 Sportsbet
Danger: (3) Bivouac $3.75 Bet365 
Betting Strategy
3 units WIN Nature Strip, 1 unit WIN Bivouac