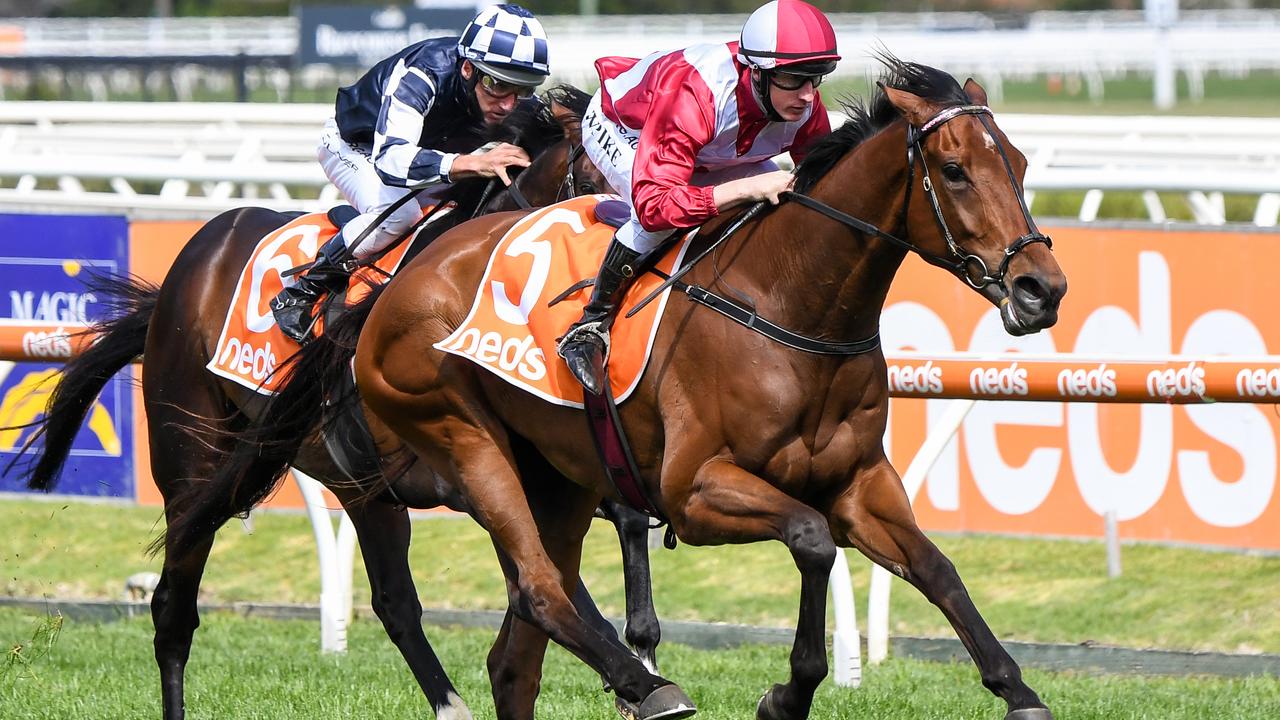 Speed Map


Looks a genuine pace. Greysful Glamour likes to roll along and drawn out wide I think she crosses and keeps them running. Streets Of Avalon likely takes a sit with Shout The Bar. Still A Star maps very awkwardly out wide, with Behemoth and Russian Camelot likely buried on the fence, unless Shout The Bar pushes up to sit OSL. Probabeel and Arcadia Queen could race together just off midfield, with Mugatoo on their back and Mr Quckie and Sir Dragonet out the back.

Analysis
1. Sir Dragonet
Tough horse to assess. He was absolutely awful in the Orr first up on a good track over 1400m. He's clearly better suited at 1600m despite never having raced below 2000m before that race. The key to him is a wet track- he didn't let down whatsoever on the good track and will be hoping every inch of rain arrives. He did beat all of the main chances in the Cox Plate, but that was close to a heavy track in a fast run 2040m. I just wonder if some of these might be sharper at the mile, but if we are on a soft 7 or worse, I'll probably have something on.
2. Behemoth
Started favourite in the Futurity which has to be worth something given he's $14 here. He did have some excuses that day- he got a bit keen and was in the worst part of the track, but he was beaten nearly 3L by Probabeel. The query here is the 1600m. His only run past 1400m was in the Golden Eagle at 1500m in a slowly run race, so a fast run mile has to be some concern. Willo jumps back on which is a big tick and he could get a similar run that he did in the Rupert Clark.
3. Streets Of Avalon
Struggled in the Futurity after working too hard early, finishing 6th to Probabeel. That was at his preferred 1400m at Caulfield, and the 1600m just looks a bridge too far, given he's placed once from 7 attempts at the trip. He'll follow Greysful Glamour across and probably take a sit, but he'll struggle late and if we do get rain, he barely goes a yard on soft ground.
4. Mr Quickie
Very good miler with a big finish on his day, and did finish 3rd in the Futurity, 2.5L off Probabeel. The big issue is the map here- drawn barrier 13 he's got no option but to be last and needing to circle the field, which won't be easy at The Valley. Kah sticks but he'd need them to absolutely overdo it up front and the pattern to be getting off the fence to be a hope.
5. Star Of The Seas
Impressive winner of the Blamey two weeks ago which earnt his wildcard into the race. Very good record at the mile including an Epsom win and a narrow 2nd to Kolding, beating Verry Elleegant in a George Main. Off that he has to be considered a hope, and he's another that will be praying for rain. The map is sticky because I think he'll have to get further back than he'd have liked, but he should be at peak fitness and it wouldn't shock if he ran a huge race.
6. Mugatoo
Very good horse, especially 2nd up where he's 3 from 4 (2/2 in Aus). Good run first up over 1400m, running on nicely late behind Colette. He smashed Fifty Stars there who finished just off Star Of The Seas in the Blamey, and he handles all track conditions. His run in the Cox Plate was excellent, getting caught wide the duration and finishing 4th, beating home both Probabeel and Arcadia Queen. The 1600m is as short as he wants it and he likely gets a fair way back, but he's certainly a winning chance.
7. The Harrovian
Cult Queensland galloper that won 11 straight before getting beaten by Morvada at Flemington last start. Whilst that was a much easier race than what he faces here, he does love wet ground and didn't appreciate the limited galloping room there. Even still, he's just not good enough at this level.
8. Regalo Di Gaetano
Likely starts $501 on betfair coming off a 5th placed run (beaten 0.9L) in a bm86 in Adelaide. The 1600m suits and the map is nice, but he'll be under pressure and beaten a long way.
9. Russian Camelot
Big chance first up, especially if the rain comes. This has always been the target fresh, and O'Brien will have him fit. Going off his SP's last prep, he's a big price here. He started $4.60 in a Makybe Diva, $1.55 in an Underwood, $1.40 in a Caulfield Stakes and $3.50 in the Cox Plate, beating home Arcadia Queen, Probabeel and Mugatoo. His soft track record is very good, and he technically did it as a 3yo being bred in the Northern Hemisphere. Barrier 2 is definitely sticky- if Shout The Bar is happy to sit leader's back, he's probably going to be 4 pairs back on the rail and needing luck, but if we're on a genuinely rain affected track, I think he's a horse you want onside.
10. Arcadia Queen
No secret that I love this mare. I think she's close to, if not the best horse in Australia and I loved her first up run in the Futurity. Probabeel gave her the slip 300m from home but she really attacked the line late, getting within half a length on the line and running the best sectionals of the race. She was only first up there so has potentially the most improvement to come, and her Bendigo jumpout since was electric. She draws well in 5 which gives Pike options to sit closer, and all things equal I think she'll win; however all things are not equal. The rain forecast is a problem- she's clearly better on good tracks although her three soft track runs can be forgiven. She had bar plates on in two and was beaten 2.5L, and she nearly fell at the 1000m in the Cox Plate and still picked herself up and hit the line, beating Probabeel by 0.5L. The other huge query is the vet's report from Thursday where she was found to be 1/5 lame. The stable is confident she'll be fine, and she should be reshod, not requiring bar plates, but it's never ideal going into such a big race. I've been with her for months and still think she's the horse to beat, but we might get a bigger price given the potential knocks.
Update: Arcadia Queen presented 2/5 lame on Friday and will wear bar plates should be take her place in the race.
11. Probabeel
She was great in the Futurity to make it 2/2 this prep and is the bombproof horse here. Much has been made of her wet track form, but at the end of the day she's been in the quinella 9 times from 11 starts on rain affected ground so she's definitely not out of the race on a wet track. She's had the best prep leading in- a blowout win over 1200m, a strong win at 1400m and comes into this 3rd up at her best distance. The map is a touch sticky- I doubt she wants to get back worse than midfield and potentially even spot Arcadia Queen a head start, but if she can slot in off the pace, I've no doubt she'll look the winner at the 250m. If Arcadia Queen was 100% and it was a dry track, I'd be confident the WA mare turns the tables from the Futurity, but like I said, Probabeel is the box ticker and a huge chance.
12. Shout The Bar
Good run first up behind Chaillot when caught wide and she's better suited here at 1600m second up. The map looks beautiful from barrier 3- she could try and hold them out for the lead otherwise gets a lovely trail behind Greysful Glamour which should see her somewhat competitive. She did beat Probabeel as a 3yo over 2000m, but Arcadia Queen gave her windburn off an easy lead in the Mackinnon. A wet track will be no issue whatsoever and if there's any on pace advantage she'll be there a long time. Probably lacks a bit of class but will run well, if she takes her place as she was found unfit to race Thursday but will be re-examined Friday. Behemoth and Russian Camelot likely benefit if she comes out as they should settle a spot closer.
13. Greysful Glamour
One of my favourites but she was awful first up at Flemington after leading and dropping out. No doubt she'll try and adopt the same tactics here, but she's not up to these and she needs a dry track to run well, which she might not get. Would need no rain and a bias track to win.
14. Still A Star
Never missed the quinella in 13 starts which is an impressive feat, but this is obviously a huge step up. Unbeaten in 1 attempt from the mile but the map is very sticky from out wide given she generally likes to be better than midfield. Another that will try hard but looks outclassed.
15. Lunar Fox
Won the guineas at $301 getting a beautiful run and maps for a good run again from barrier 4, but I don't think the 3yo's are good enough to beat these WFA stars. They do have a good record in this race with Mystic Journey winning and Superstorm running 2nd, but they were better 3yo's in weaker editions of this race. Don't think he can win.
16. Fifty Stars
Three runs in three weeks back to the 1600m seems a big ask if he makes the field and he's unplaced from 2 runs at The Valley. Would be more of an afterthought and happy to oppose.
Selections
With Arcadia Queen scratched, Russian Camelot goes on top. He had the SP over all of these in the Cox Plate and ran very well. No knock Probabeel who ticks a lot of boxes and comes here off a perfect prep. If it gets into the heavy range Star Of The Seas could be the best roughie.
Tip: g: (9) Russian Camelot- $4.60 at Ladbrokes
Betting Strategy – 1 unit WIN Russian Camelot