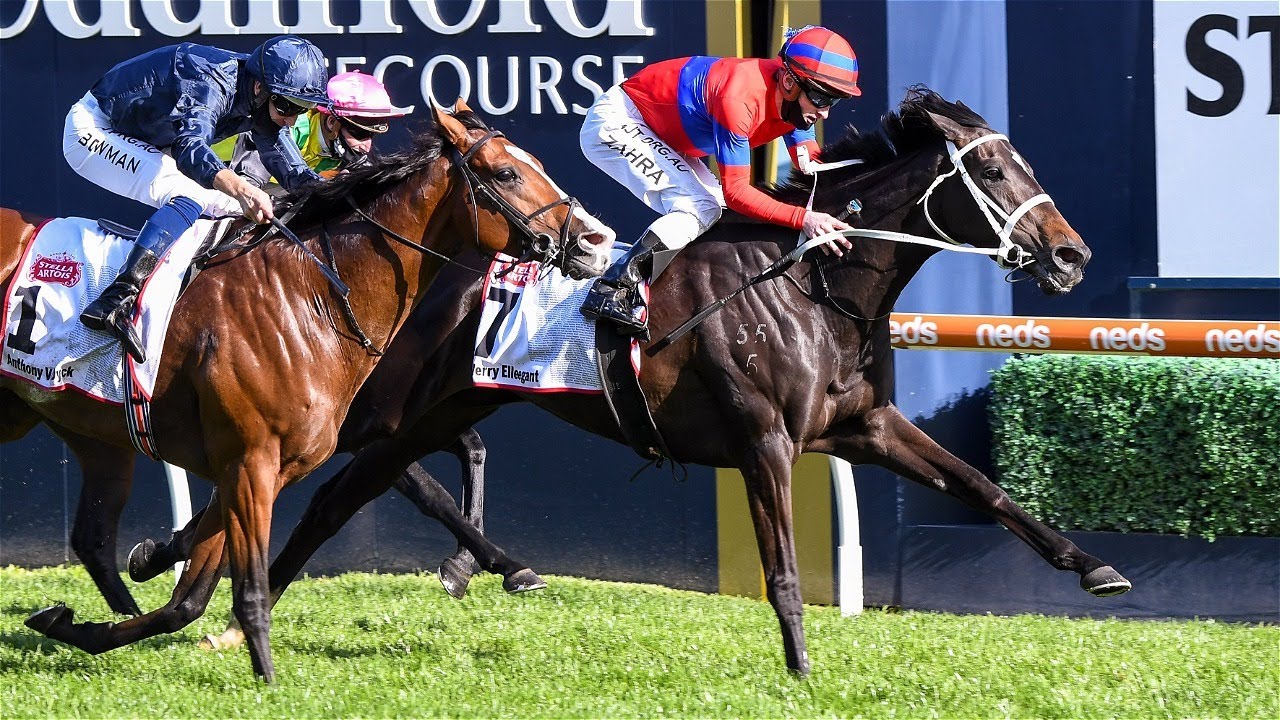 The Caulfield Cup is one of the biggest races on the Australian racing calendar, over 2400m under handicap conditions.
We've got a dominant favourite this year with Incentivise to jump from the widest draw.
Trent Crebbin has previewed the chances of every runner, including his speed map and betting strategy below.

Speed Map

No mucking around here. I think Prebble comes out swinging and takes Incentivise to the front, either crossing Homesman or sitting OSL with Delphi following him everywhere. After that, it's a mess. Duais got end up next pair from barrier 3, Persan has enough early speed to be handy, Chapada could even push forward from 18, Young Werther and Charms Star can be closer, Nonconformist wide/midfield from The Chosen One, Master Of Wine, Montefilia, Explosive Jack awkwardly on the rails.
Runners
1. Homesman – Ran 2nd in this race back in 2018 to Best Solution and has shown a high level of racing this year. He won a very messy Australian Cup in the Autumn and ran very well for 2nd behind Zaaki in the Q22. The first up 2nd to Secret Blaze in the JRA Cup was solid with 60kg, although that horse did fail in the Coongy on Wednesday. He was solid again in the Might And Power but Nonconformist went straight past him and meets him 4kg better at the weights. Could potentially lead if he jumps well and isn't the worst, although a wet track potentially isn't in his favour.
2. Incentivise – What a remarkable story it is. Since a Toowoomba maiden defeat earlier this year he's won 8 in a row, the last two at group 1 level in Melbourne. I was sceptic about him in the Makybe Diva at a mile and looked to be beaten for all money, but refused to lie down and beat a quality field including Tofane, Mo'unga and Sir Dragonet. The Turnbull win was of a very good horse. They rode to beat him, Mount Popa tried to lead him and was beaten 20L. Verry Elleegant, last year's Caulfield Cup winner, sat 3L off him and couldn't get near him, and he was holding the backmarkers, who had the race run to suit, comfortably on the line. He's better suited at 2400m- his win in the Tatts Cup by 12L was ridiculous, the only thing that could bring him unstuck is a very wet track. He is 3/3 on soft but the wettest was a soft 7 in a Sunshine Coast class 2 win. If he handles the track, which the stable and breeding suggest he will, he could run these into the ground.
"A NEW GROUP 1 STAR."

INCENTIVISE WINS THE GROUP 1 TURNBULL STAKES. pic.twitter.com/C5DHDCzemA

— 7HorseRacing 🐎 (@7horseracing) October 2, 2021
3. Explosive Jack – Been ticking over very nicely for a staying trip which he gets to now. He was home well in the Turnbull running the 3rd fastest last 200m of the race and does meet Incentivise 2kg better, but there are a couple of knocks. I think he's going to be better over 3200m which is what the stable have set him for, and barrier 1 isn't ideal at all for a horse without much early speed or a turn of foot. I think the Melbourne Cup is where we'll see this horse peak and I'm prepared to risk him here, although any rain would help.
4. The Chosen One – Another ticking over very nicely for this having placed behind Verry Elleegant and Anthony Van Dyck last year. He always seems to pull out a solid fresh run, which he did in the Feehan over a mile before regressing in the Underwood. He was good last week in the Herbert Power behind Delphi who was given a great ride and the 2400m, especially on a wet track, is ideal. Looks a strong place chance and if he can settle midfield with cover rather than give the leaders a big start, which is possible, he'll be running on well.
5. Ocean Billy – New Zealander having his first Australian start. He's a proper stayer this horse- he won the group 1 Auckland Cup over 3200m in March this year, getting back in the field and given a fantastic mid race move to sustain a big finish. The line we can take from that run is Sound, who he beat by a couple of lengths. He's a solid group 2 benchmark stayer who finished 9th in the JRA Cup 2 weeks ago. Ocean Billy goes 1600m up to 2400m which doesn't look ideal, and I think he'd need further and easier to feature.
6. Selino – The shock Sydney Cup winner of this year improved lengths last start in a proper staying contest, the Bart Cummings. His last 200m was the third fastest of the race with topweight of 58kg and I think he can be some hope in a Melbourne Cup over 3200m, but he's a real grinding stayer that I think will need further than the 2400m. If it's a brutally run race and a couple want to take Incentivise on, he can run well, although I don't think a wet track will be to his liking.
7. Persan – His first up run was very good with 61kg, only beaten 1.5L by Floating Artist who despite failing in the Coongy did start $1.60. He looked a bit outclassed in the Turnbull but certainly wasn't disgraced behind Incentivise and that should bring him on nicely for this. Up to 2400m suits but he's another that might be better suited in the Melbourne Cup and I struggle to see how he'll beat Incentivise off last start.
9. Chapada – Great run last start behind Incentivise in the Turnbull from back in the field and does meet him 2kg better at the weights, but he was one of a few that were advantaged by being back in that fast run race conserving their energy. He also started $101 and was coming off two fairly average runs, albeit 1st and 2nd up when not fit. I don't think he's going any better than last prep where he ran 9th beaten 4.2L again and whilst he's a solid horse and will run well, I can't see him winning.
10. Delphi – Always been a huge fan of this horse, having touted him as my Melbourne Cup horse for a while, and his last two runs have been excellent. He charged late breaking 12 seconds in the Naturalism behind Nonconformist, looked like he wanted 2400m, got it in the Herbert Power last week and he was very good taking off early and full of running to and through the line. Oliver will ride at 53kg, he looks to roll forward on the quick backup and sit in the first 4 and will be primed for this. A very wet track is a bit of a query- the wettest he's seen is classified as a soft 7 in Ireland where he won beating a couple of handy stayers, but he's a big chance.
Next stop, the Caulfield Cup.

Delphi wins easily in the Herbert Power. pic.twitter.com/wrcC2I0aVO

— 7HorseRacing 🐎 (@7horseracing) October 9, 2021
11. Master Of Wine – He started single figures in this race last year and failed. It's been a long time between drinks after promising a lot in the Autumn of 2020, but he wasn't bad last start in the Bart Cummings, finishing strongly in a fast race for 3rd. Prior to that he was beaten a long way by She's Ideel and Montefilia who are just half chances here. His best would be competitive, and he does like wet tracks, but I don't think the Bart Cummings is the right lead up for this race, despite being a strong race.
12. Montefilia – She ticked the 2400m box last start in the Metrop in a strong performance carrying 55.5kg as a mare and it was a good performance to overhaul a rock hard fit Entente. She's obviously a classy mare and going very well this prep, but the Metrop doesn't look the right form race for this in my opinion. She drops 3kg from that run and has the perfect platform, but this is much stronger and I don't think she'll be winning.
13. Port Guillaume – I quite liked his run two back in the Naturalism behind Nonconformist and Delphi at $101, hitting the line for 6th, but he was awful in the Bart Cummings, finishing last. Potentially the track was too firm for him as he does have a few soundness issues, but he'd need to improve dramatically here, even with conditions to suit. He's got the talent, but I think that's a lifetime ago.
14. She's Ideel – She ran okay in the Metrop last start behind Montefilia and did beat her in the Kingston Town two back when getting a gun ride. She's a good stayer and will be strong late as usual, but I can't see her winning. Wouldn't be shocked if she turned the tables on Montefilia from last start on a wet track at a price.
15. Young Werther – Huge run 2nd up in the Turnbull, coming from back in the field, looming as the winner at the 200m but Incentivise kicked back and held him late. Regardless it was a very good run and should top him off perfectly for 2400m. He's always shown very good ability having gone close in the VRC and ATC Derby's, but it all seemed to come a bit soon and looks to have come back a more furnished horse. He actually meets Incentivise 0.5kg worse at the weights and whilst I think he maps well midfield, he had every chance given the race shape last start and Incentivise was pulling away through the line. Huge place chance, but I don't know if he can turn the tables.
16. Nonconformist – He's absolutely flying this horse. Always promised group 1 talent and he's delivered this prep. The Lawrence/Feehan runs to start the prep were very good and the Naturalism win was very strong off a good tempo. He went to the Might and Power last week and charged home to somehow just miss Probabeel at WFA, clearly beating home Zaaki. There are two queries here however- 2400m and a wet track. His one run at 2400m was in the Mornington Cup and it was such a slow tempo won by Mount Popa it was barely a guide, but Delphi would've got him in another stride in the Naturalism. I do think he's better on good tracks so anything soft 6 or worse would worry me. To counter that, he drops 7.5kg from last start, is in career best form and has an ideal platform on the quick backup.
PROBABEEL KNOCKS OFF ZAAKI IN THE GROUP 1 MIGHT AND POWER STAKES… pic.twitter.com/naomjd1rA1

— 7HorseRacing 🐎 (@7horseracing) October 9, 2021
17. Duais – Handy staying mare, winner of the Queensland Oaks last prep. Her first up run at Newcastle was very good before a muddling race behind Think It Over. Going to the Coongy to give her another run was a great decision, coming from a fair way back in a slowly run race and winning nicely. That's the ideal lead up for a 3 day back up and sets up well for the 2400m, dropping 6kg in weight. She should be able to position up midfield from barrier 3 and run well, I think she's more of a place chance and have a couple ahead of her, but she's some chance.
18. Charms Star – Not really sure how she's made the field having won 1 race, and she's up against it here. She was just fair behind Montefilia in the Metrop and meets her 2.5kg worse at the weights. Duais clearly had her measure in the Queensland Oaks and I can't see her featuring.
19. Great House – Sneaks a run after a solid run in the Metrop. Meets Montefilia worse at the weights despite being beaten fair and square, but the Newcastle Cup win wasn't bad. He'd need absolutely everything to go his way to figure but I don't think he's up to these.
Selections
That was about 2000 words to come to the conclusion that if Incentivise runs to his Turnbull effort, or his Tatts Cup win in Queensland, he'll just be too good here. I wasn't 100% sold on him in the Turnbull, but the win was herculean. To absorb that level of pressure and still be so strong through the line, where last year's winner Verry Elleegant did less work behind the speed and couldn't get near him was elite. A very wet track would be a query but nothing he's done suggests he won't handle a heavy track so I'm happy to back him in. The gate isn't perfect, but it allows Prebble to roll forward, sit outside the lead or take it up if he wants and stay out of trouble. It will force a solid tempo and he's the one that will break their hearts again. Delphi is the main danger, I really like him as a stayer and he's had the perfect platform on the backup. Likely tags Incentivise across and should make a race of it. The Chosen One hit the line well and we know his level is up to this race. Young Werther had his chance to beat Incentivise last start given the race shape but maps well and will be hitting the line again.
Backing Incentivise but watch the market, there could be a few keen to oppose from the draw and a wet track. I'd love $3, hope for $2.80 but take $2.50. Saving on Delphi. 
Top Pick: (2) Incentivise – $2.70 at BoomBet
Danger: (10) Delphi – $8.50 at PlayUp
Betting Strategy
 2.5 units WIN Incentivise, 0.5 units WIN Delphi