Give Fantasy Betting Tournaments a try at SportChamps!
We're pleased to welcome SportChamps on board with RacingBet this Spring!
SportChamps are an innovative Australian-owned company that offer a unique way to bet on racing and sports where punters compete against each other for thousands of dollars in prize money every single day!
If you've never heard of SportChamps before then we suggest you read on as we give you a rundown on what SportChamps is all about.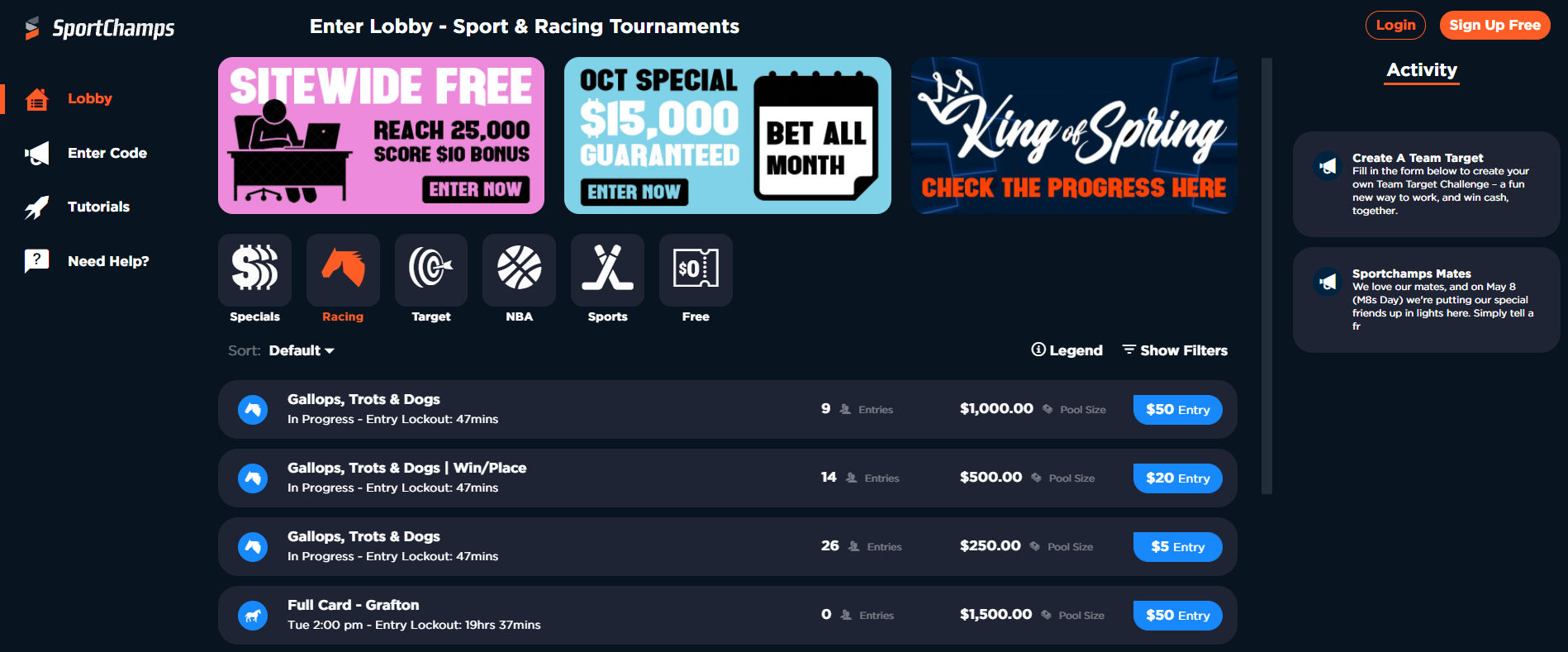 What are Fantasy Betting Tournaments? 
Fantasy Betting Tournaments allow punters to compete against each other in a fun and sometimes fierce competition!
When you enter a contest at SportChamps, you'll receive a fantasy bank balance, known as ChampCash, that you can bet on the races or sporting events offered in that contest. You can bet on all the typical horse racing markets such as win/place or each way, quinellas and trifectas, as well as the quaddie to try to make some profit. Your balance will rise (or fall) based on the real life outcomes and whoever can amass the largest balance at the end of the contest will receive the lion's share of the prize pool.
The great thing is that if you bust your ChampCash balance you can often rebuy and jump straight back into the action!
There's always a tremendous variety of racing contests on offer every day, especially on Saturdays and big race days where some serious prize pools can build. Some contests may cover all races at all tracks, others are just focussed on one track. Some will be all day contests while others will be turbo charged and might just last for an hour. There's also harness racing and greyhound contests available! There's heaps of options, no matter if you're looking for a quick hit or you're ready to grind all day.
How much does it cost?
SportChamps contests are an amazing way to potentially win a big pay day for a small outlay. Buy-in can range from freerolls right up to High Roller events that may cost a few hundred to enter, with the most popular contests in the $20-50 buy-in range attracting prize pools in the vicinity of $20,000. There's something for everyone!
Larger prize pools are common during the Spring Carnival, with the recent "King of Spring" promotion offering a juicy $50,000 prize pool.
SportChamps feature over 500 tournaments every week, with over 12 different sports to choose from and give away over $1 million in prize money every month!
And you can do it all from the comfort of your favourite mobile device with the awesome SportChamps mobile app!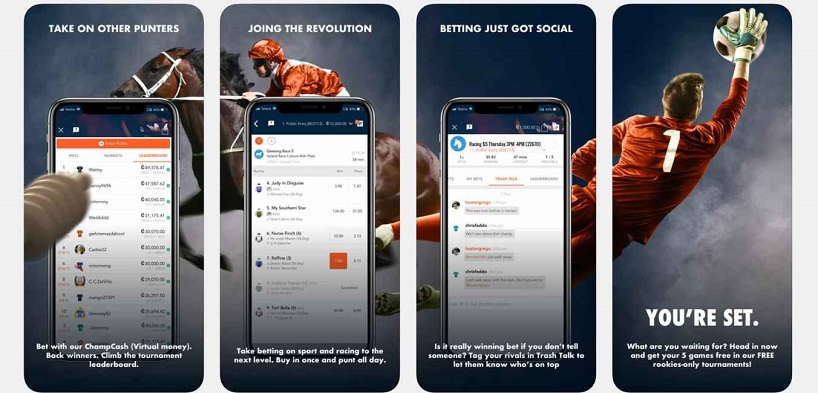 Need some tips for Saturday's contests?
Later on this week our horse racing expert Tim Geers will bring you a video preview of this weekend's SportChamps contests, including his best bets for Saturday, to help you build your bank balance! You can subscribe to our YouTube channel so you don't miss the video.
Also don't forget that we have race-by-race previews from the major tracks every Saturday right here on RacingBet, so help is only a mouse click away!
SportChamps Strategy 
Besides just picking winners, there are some nuances to fantasy tournament betting that you'll learn as you gain more experience. You'll want to keep one eye on the leaderboard throughout the tournament to know if you need to bet harder or sit tight to keep with the leaders. You'll also want to plan ahead for the final race of the contest – that will make or break your results!
Remember, you're playing against other punters, so you only need to do enough to stay ahead of them to win!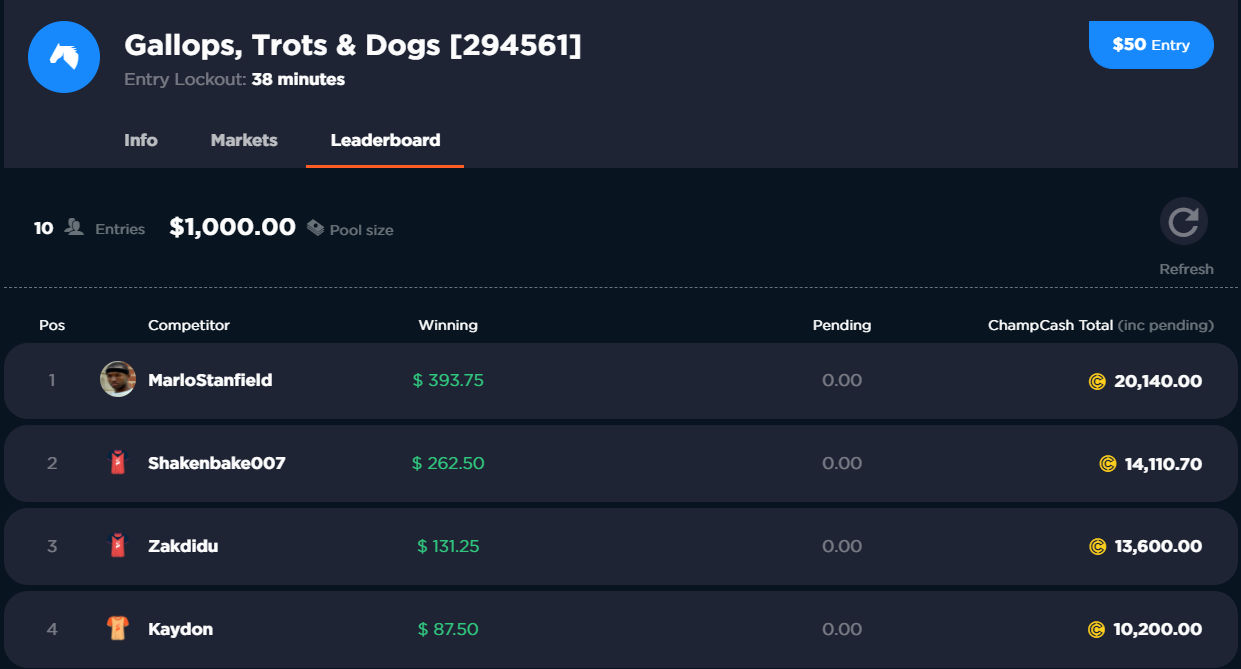 Join SportChamps Today!
If you're ready to jump in then make sure you support our site by clicking on the links or banners here on RacingBet to join SportChamps. It's free to create an account and funding your account is easy via credit card or bank transfer. That's all you'll need to jump in and start competing with the best champs in the land!
Good luck!