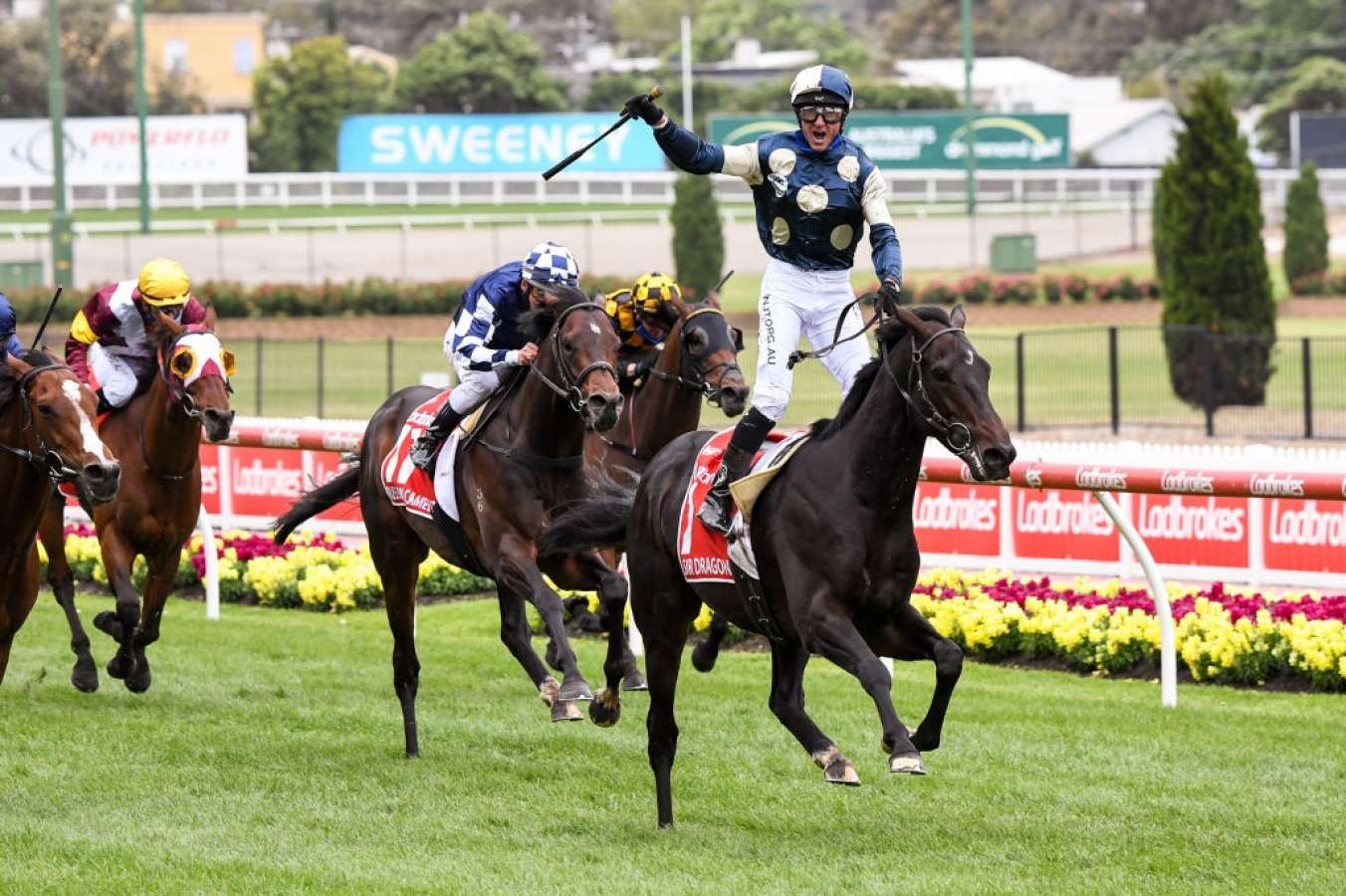 2020 Cox Plate Weekend Review
It was a huge weekend of racing for the Moonee Valley carnival, with plenty of big results and twists, none more so than the weather. The rain predicted on Friday night held off until after the Manikato meeting, meaning we raced on what was close to a Firm 2 track.
Records were broken left, right and center, on a track with a distinct leader's/fence advantage. The pattern continued Saturday for Cox Plate day; however the track was significantly rain affected, with many jockeys suggesting the track was in the heavy range.
Take a look at how some of the key races were run and won, along with horses to follow heading towards Flemington.
Friday night
Race 6
Granted the track was playing very fast, but you'd have been laughed at if you said that Written Beauty was going to break Nature Strip's 1000m course record here. She posted a sizzling 56.92 and probably could've done it even quicker if able to lead at a fast tempo.
Pike was forced to ease back after a few inside began well, but the powerful Written Tycoon filly showed a huge turn of foot to cut them down, winning by 3.5L and easily posting the best late splits of the entire meeting. She ran her final 600m in 33.07sec, her final 400m in 22.11sec and her final 200m in a blistering 10.97sec.
She has been nominated to back up in the Coolmore, but at this stage I believe it's unlikely, and the Hawkes camp will wait for an 1100m race the week after. She'll be very hard to beat in anything going through the grades and will be a very exciting prospect if she stays healthy.

Race 8 –Manikato Stakes
As expected, this was a brutally run 1200m, with Pippie leading as usual and Bella Vella really pouring on the pressure from out wide. They've been beaten 6.3L and 12.6L respectively, with Bella Vella showing signs of a slow recovery – no wonder!
The win of Hey Doc was outstanding in my opinion. He sat just behind the hot speed, peeled out 3 wide early when the leaders began to tire and was there to be beaten by Trekking but was coming away from him on the line to win by 0.75L. The McEvoy camp had set him for this race, and he was the horse with form beyond 1200m. Compared to a couple of speedy types, he was the strongest at the end of the brutal 6 furlongs. The stable have indicated Hey Doc's next run will be the VRC Sprint on the final day of the Flemington carnival, which they hope will be followed by a trip West to defend his Winterbottom Stakes crown three weeks later.
Trekking has run very well coming out of a brutally run Everest, on the 6 day backup and straight into another gut buster. The word is that he's heading to Perth for the Winterbottom, a race in which he ran 4th as favourite last year.
Dirty Work was given a peach by Pike, who could not have given his mount any better chance of winning, but a strong 1200m perhaps sees him out at this level.
Brooklyn Hustle keeps running well and will find another race at some point. Lyre and Kementari simply don't win and the quicker you jump off the Godolphin pair, the better of you'll be. The latter is set to join stablemate Trekking on the flight to Perth.
Saturday
With the rain overnight, the track was very wet, but that didn't stop the on pace bias. We saw last time The Valley was a heavy track (before the meeting was called off) that leaders were winning by huge margins, and whilst it wasn't as pronounced here, it was a definite advantage to be on speed and close to the rail. Going through the 10 races, the winner's position in run at the 800m was as follows: 1st, 3rd, 1st, 1st, 1st, 7th, 1st, 12th, 8th, 3rd. I'll touch on a few key races and talking points leading up to the Flemington carnival.

Race 3
Great ride by Melham here on Portland Sky, kicking up from barrier one to avoid any traffic issues, leading the field and effectively keeping Bella Nipotina three-wide on speed. I thought Rodd had the option to drop back on Bella Nipotina and find cover just off the speed. She probably should've won and can be followed in similar grade, especially on wet ground. Portland Sky ran very well and will be better suited on a dry deck.
Race 5
Jamie Kah owned this race on Sovereign Award. Unlike a few of the leaders on the day, they went out very quick in this. Kah was on a fit horse and made it a strong test, catching a couple of jockeys behind her napping. The leader has come home in 13.58 for her last 200m, which is incredibly slow, but the damage was done well before then.
I Am Eloquent ran well and really had every chance. Paradee was very good against the pattern, closing strongly from worse than midfield to grab 3rd. I'd expect Paradee to push towards a Matriarch on Stakes Day over 2000m, where she'll be a leading contender. I think the 1600m sees out Sovereign Award and this is around her mark, but she puts herself on speed and can find the post.
If Greysful Glamour can find a dry track, ideally at 2000m next start, she's going to improve sharply. We saw her fail in the Stock Stakes when off the map on a soft track before bouncing back in Sydney, going down narrowly in Group 3. She could potentially head to a Matriarch too and will run well on a good track.
Race 6
The 7th position in run belonged to Cherry Tortoni, who was given an outstanding ride by Billy Egan to make an early move off a slow tempo, and he was actually in front at the 400m back nearer the inside. In hindsight, the opposition simply wasn't good enough in that race with big margins back to 3rd.
The big talking point from this race was the scratching of Young Werther due to the track downgrade. He was one of the best backed runners all day and could've potentially started odds on. He'll now go straight to the Derby on Saturday, 4 weeks between runs with just two career starts under his belt. Even for the O'Brien camp, that has to be a huge query. It's not like he's lengths better than his age group and it'd be a very good training performance to get him to win the Derby.
Provided he pulls up fine, Cherry Tortoni will back up in the Derby. The key to him seems to be a wet track but I've got queries on this race going forwards. Johnny Get Angry will appreciate every bit of the 2500m and the long Flemington straight but has a lot of ground to make up. Khoekhoe won't be pressing on and will now spell.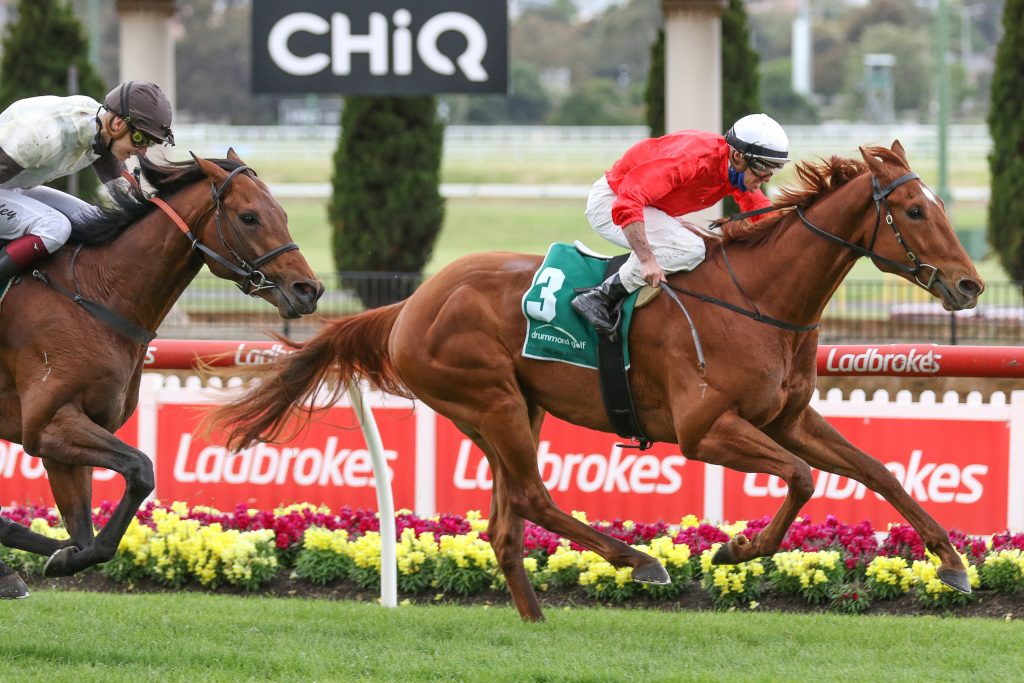 Race 7
Fascinating market for this, with Age Of Chivalry very well backed late to start equal favourite with Kings Will Dream, however it was Homesman and Melham that were too strong. He's a gun horse fresh and once he found the rail with minimal pressure from Age Of Chivalry, he was going to be very hard to run down. The winner heads to the Mackinnon Stakes next over 2000m and will be a chance, but that's shaping up to be a hot field with a couple of Cox Plate runners set to go around again on the last day of the carnival.

Race 8
The 12th position in run belonged to Miami Bound in the MV Gold Cup, and she was the beneficiary of a very fast tempo. They went out very quickly, with a few jockeys probably riding their horse out of their comfort zone in order to overcome the track pattern. Nearly every meeting with a bias, there is one race that they overdo it and set it up for the backmarkers, which is what occurred here.
Trap For Fools led them up and was beaten over 14L, whilst Hush Writer who vied for the lead early was beaten over 30L.
Miami Bound was given a peach by Jamie Kah, who rode four winners on Saturday and is in red-hot form heading into her first Melbourne Cup on Tuesday, where she rides Prince Of Arran. Her poise and balance have never been questioned, but her decision making and tactical awareness has gone to the next level this season.
She managed to get onto the back of JMac on Shared Ambition in the run and peel out at the right time, putting the race away. Getting back onto a genuinely rain affected track clearly helped her, and the Oaks winner's staying prowess clearly came to the fore here. She'll head to the Melbourne Cup with 51kg on her back, and if she strikes another wet track she has to be in the game.
Shared Ambition was beaten by a better horse on the day and could head to the Hotham Handicap on Derby Day as another last ditch attempt to make the Melbourne Cup field. Nothing has really gone right this prep and whilst he put in another good effort, I'll be jumping off.
Oceanex has bounced back to form and was clearly the best of the on pacers. She did plenty of work mid race and stuck on very well. She's still a huge outsider in the Cup field, but the camp have been able to set her to peak next Tuesday.
Race 9- Cox Plate
Another very strongly run race, as Cox Plate's often are. The 3yo Grandslam went out very hard and tried to use the light weight, but simply wasn't good enough and was a beaten force at the 400m.
All honours with the winner Sir Dragonet, who was probably the best credentialed horse over a staying trip, and that engine really showed late. He was able to sustain a long, powerful finish and it was a soft victory in the end. The market was absolutely spot on with this horse too – he was trading at around $16-17 only 10 minutes out from the race, but was truck loaded late to start $7.50.
Sir Dragonet will clash with 3rd placed Russian Camelot again in the Melbourne Cup. I can't see the longer trip being an issue for either of those horses and it should be fascinating again. I think Russian Camelot had potentially had one too many 2000m runs leading into the Cox Plate, suggesting to me that they wanted to build a better fitness base with the Melbourne Cup as the main goal.
Armory has run a great race and looked the winner on the corner, but he simply wasn't as strong late for a horse that has done most of his racing at 1600m. I believe he will race again in the Mackinnon and will be very hard to beat there, especially if he gets a slightly softer tempo, before going to Hong Kong for the HK Cup in December.
Arcadia Queen is another that could race again in the Mackinnon, provided she pulls up okay. I don't think she enjoyed the heavy conditions whatsoever, and nearly came down midway through the race when clipping Nettoyer's heels. She picked herself up and I thought she ran very well for 5th. Both her and Armory will be suited by a dry track at Flemington and if both line up there will start 1-2 in the market.
Mugatoo has run a huge race after covering ground. The form was a bit suspect but he's a good horse and proved he belongs at WFA G1 level. He's a competitor who attacks the line every start. I would've thought they'd spell him now off a long campaign, but he'll get his group 1 next year, I'm certain.
Everything else in the race was probably outclassed, with a few pulling up with EIPH after such a taxing effort and I'd think most other horses in the field would spell now, perhaps excluding Probabeel who ran a credible race and was only 4th up. I think the Cox Plate is going to stack up very well in the Melbourne Cup with Sir Dragonet and Russian Camelot, and in the Mackinnon with Armory and Arcadia Queen.
Horses To Follow
Written Beauty – I suspect she'll line up in the Group 3 Red Roses on Oaks day for 3yo fillies. She'll be very, very hard to beat there.
Bella Nipotina – She can win in similar grade again.
Paradee – The Matriarch at 2000m on Stakes Day looks ideal now.
Greysful Glamour – Needs a dry track but is going better than her two Melbourne runs suggest. Could also head to the Matriarch.
Armory – He'll be very hard to beat in the Mackinnon, especially if Arcadia Queen doesn't line up.
Sir Dragonet/Russian Camelot – Expect both to run big races in the Melbourne Cup. Both get in fairly at the weights compared to the Caulfield Cup horses.
RacingBet Account Required
All of our content is available for free – all you need is a RacingBet account. It only takes a minute to register and then you'll be off and racing!
To access this page, please click here to login or create an account.