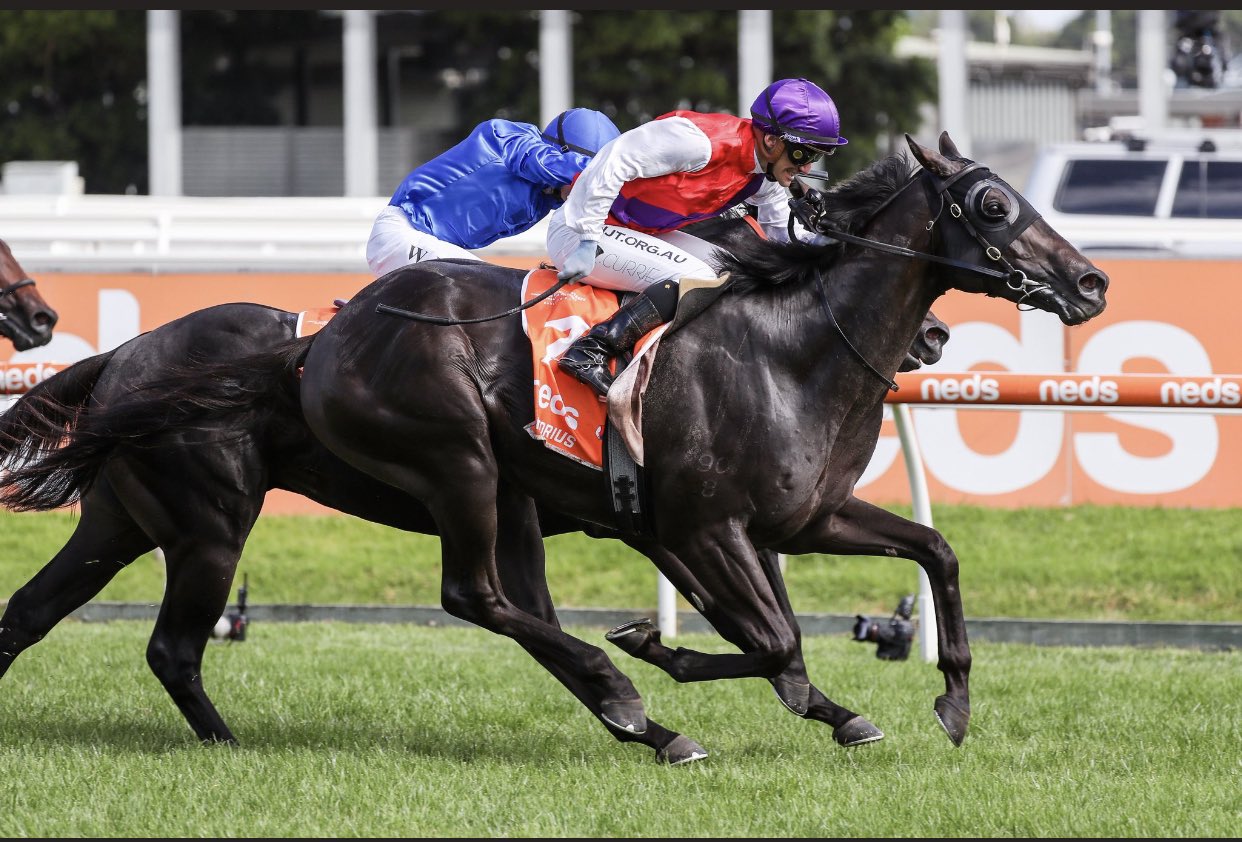 It's a huge day of racing at Caulfield with three Group 1's on the card for Blue Diamond Stakes day.
A full field of 16 2yo's over the 1200m and Trent Crebbin has previewed the chances of every runner.

Speed Map
English Riviera and Miss Roseiano have good early speed and provided they use it will lead from Semillion out wide. Daumier gets a beautiful run, Counttheheadlights can settle forward of midfield, Jacquinot will be worse than midfield but hopefully not last, Lofty Strike (if he takes his place) will be back with Revolutionary Miss perhaps trying to slot in just off midfield. 
Runners
1. Semillion- Won well on debut in the 1000m Inglis race last year although didn't beat much at all and the time wasn't great. I thought he was solid first up in the Prelude sitting outside the leader which was probably a good spot to be. With improvement he's right in this, but if the fillies kick up and he has to work he might be all out late. 
2. Lofty Strike- Has to be respected having won the Prelude in good style. I think he got a decent run there out wide given the pattern of the day and will have to swoop again from a slightly awkward draw, perhaps wanting a middle draw rather than outside. The main query is the lameness issue on Thursday morning. Not ideal heading into a grand final, especially as a 2yo and if he takes his place I'm risking.
3. Daumier- The value runner in the race. I really liked his debut win over Rampant Lion before a good run in the worst ground in the Prelude. He's crying out for 1200m and will be strong late with a beautiful map from barrier 5. I think he maps the best of any runner in the race, and the stable put blinkers on for the grand final, which is what they did with Artorius last year. Great price.
4. Sebonack- Bit of a spruik on him leading into the debut run and it was a good win once he pushed through and balanced up. That was 1000m and his only run, although I can't see 1200m being an issue given how strong he was late, and he's won a jumpout since. McNeil sticks with him over Semillion which is probably fair and I expect he can find a decent spot midfield, ahead of a few key rivals. Big chance, just not any value at $7 in my opinion.
5. Counttheheadlights- Another out of the Prelude where he got back and ran on well for 4th. The debut win was solid on pace, again another that didn't do heaps on the clock. Up in trip will definitely suit this horse and he'll be strong late, again likely finding a decent spot from barrier 7 behind the speed. Not the worst.
6. Jacquinot- Everything that could've gone wrong did last start in the Prelude at $2.80, missing the start badly before running into traffic most of the straight and finishing 5th, beaten 2L. I've no doubt he would have at least finished 2nd with clear air and gone close to winning. I love barrier 10 for him- it means he doesn't have to stand in the gates as long, can get to the outside as he did on debut and up to 1200m is going to suit as well. The query is him jumping but I think he'll jump much better and hopefully not end up last. The one to beat.
7. Rampant Lion- Has to be some chance here. He trialled like a jet leading into this prep and was just run down by Daumier but did run very well. He's jumped out since and won by a big margin, looking to go well at Pakenham. 1200m is going to be right up his alley and whilst he'll eventually get over 1400-1600m, I thought he could run a good race here at odds with a nice map.
8. Merchant Prince- Did start $4.80 on debut behind Philosopher which ties many of these in but failed badly. The maiden win was okay and last start was solid behind a decent horse, but I can't see that measuring up now. Will run a strong 1200m however.
9. Flashing Steel- Would need the blinkers first time to really spark some improvement. Wasn't bad two back behind Best Of Bordeaux who has won the Silver Slipper since, but Rakomelo came out of that and failed badly in the Talindert which I don't think is the right form. 
10. Hafey- Brings the completely different form, having only had one start- a Bendigo maiden win. It was visually very impressive but the time was quite poor given how good he looked, not even breaking benchmark for 2yo maiden grade at Bendigo. Has obvious upside but I'm happy to risk him.
11. Revolutionary Miss- Easily the pick of the fillies for me. The run in Sydney behind Queen Of The Ball against the pattern was solid and she backed it up in the Prelude, given a great ride and really coming away from them late. The overall time was a bit faster than the boys which definitely has to stand for something, and if she can settle a pair or two closer than Jacquinot and Lofty Strike, perhaps try to get on the back of Counttheheadlights she'd be hard to beat. Into $6 now which is short enough but she's a good hope.
12. Miss Roseiano- Tough win in the Preview and a tough run in the Prelude sitting outside the lead and giving a good kick, run down by Revolutionary Miss. I've got queries with her at 1200m given she was all out late and even if they do take a sit I think that will just hurt her chances. Happy to be against.
13. Kiki Express- Okay effort in the fillies prelude but well held by the winner and had a good run. The form out of her win hasn't stood up and I can't see her winning.
14. English Riviera- Like Miss Roseiano, the 1200m is the query. She was against the fence in the Prelude which was a disadvantage so you can definitely bonus her for that, and she did start $1.90 against Lofty Strike at Flemington when running 2nd which reads well. She too has the option to take a sit but I think she's that quick early she'll end up in front, and with the extra pressure of a group 1 at 1200m I think a few will get her late.
15. Waltz On By- Had every chance in the Preview on debut and ran okay before the same story in the Talindert last week which I think is inferior form. Would need the fence to be hot and a lot of luck, happy to leave out.
16. Seven Sisters- Did make some ground in the Prelude behind Revolutionary Miss and seemed to appreciate being ridden colder. Her splits home were nearly identical to that horse and her last 200m was actually better, so she has to have some case. 1200m looks good, she's just drawn to get a long way back and have to make her run with a horse like Jacquinot. Still, she's a big price and I'd definitely have her in exotics and could entertain a small bet if she was 50-1 on betfair.
Jacquinot on top, Daumier should be half his price, Rampant Lion will relish 1200m and Seven Sisters the absolute blowout of the fillies.

Selections
(6) Jacquinot- $5.00 at Sportsbet
(3) Daumier- $17.00/4.80 at Bet365
 7) Rampant Lion- $21.00/6.00 at TopSport
(16) Seven Sisters- $34.00/9.00 at TAB
Betting strategy: 1.5 units WIN Jacquinot, 0.3/0.7 units E/W Daumier, 0.25/0.5 units E/W Rampant Lion, 0.2/0.3 units E/W Seven Sisters (BSP)