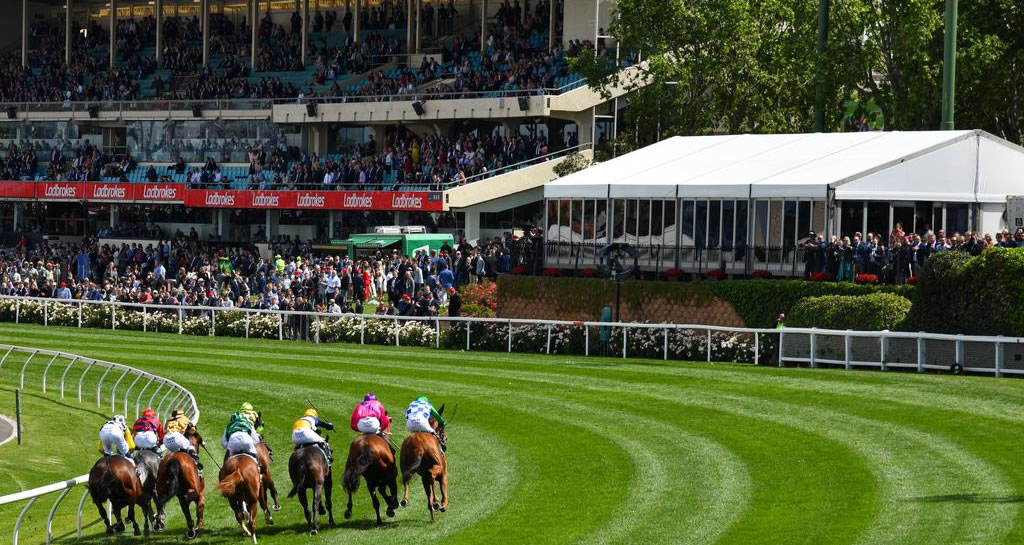 [tps_header]
[/tps_header]
Australia's weight-for-age championship is the Cox Plate. 
It's a cracking field of 10 runners at this stage with quality throughout. 
Trent Crebbin has analysed the chances of every runner in the field in his Cox Plate preview below. 

Speed Map
 Callsign Mav has been right on speed over shorter trips in NZ and has the pace to lead but the stable have indicated they may take a sit. I think Captivant will hunt up and try to land leader's back from barrier 1. Mo'unga or Dalasan might try to get the 1-1, Gold Trip (if he's here) is likely 3 back the fence, State Of Rest probably goes back but not sure, Verry Elleegant looking to slot in from Probabeel and Anamoe who I think will have to go back.
Runners
(1) Zaaki
He's been the dominant favourite for this race for months but isn't exactly coming into it in best form. The Doomben Cup win last prep was elite but I don't think he's gotten back to that level. If he brings that, it's game over, they won't beat him, but since then he's won a Tramway against Aramayo, won an Underwood in slightly underwhelming fashion, and been beaten on his merits at $1.28 in the Might And Power. Plenty of excuses have been made for him, I think the only one that holds any merit is the tempo. Expect Jmac to take up the running if they aren't going fast enough and try to break their hearts. Like I said, if he gets back to the Doomben Cup win (which was 4th up) he'll win, but off his form since then he'd be a $6 chance and I'm prepared to take him on.
ZAAKI WINS THE GROUP 1 UNDERWOOD STAKES.

Thoughts on the win? pic.twitter.com/WTrSOORXkm

— 7HorseRacing 🐎 (@7horseracing) September 25, 2021
(2) Dalasan 
Going as well as ever the South Aussie. He was good from the back in the Rupert Clarke and elevated off that to go very close in the Epsom with 55kg. He's not as well in compared to Mo'unga, who he meets 3.5kg worse but he does get a nice map, potentially landing 1-1 from barrier 3. Last time at 2000m he led the Queen Elizabeth at a slow tempo and stuck on well for 3rd, only beaten half a length by Verry Elleegant, but I do think he was flattered that day. Doubt he has the class here.
Private Eye has won the Group 1 Epsom Handicap! @reganbayliss@bluebetau pic.twitter.com/MkYtCZTELZ

— 7HorseRacing 🐎 (@7horseracing) October 2, 2021
(3) Gold Trip
Could be wasted words here with the vet scan and lameness issues that have come about on Thursday. The stable and jockey seem to think he's fine, and on his overseas form, if he's here, he's a big player. I actually prefer him at 2000m despite most of his form being over 2400m, which I'm not sure he 110% sees out. His only run on a good track was 3rd in a French group 1 to Mogul, who has won a HK Vase, and of course he does have a very good 4th in an Arc on heavy ground. He's got the best overall form in the race in my opinion, if he's here and brings something near that he'll be very competitive.
(4) Callsign Mav
Has some speed given most of his form is over 1400-1600m. His one go at 2000m he was beaten fair and square, and by no means were they world beaters. His win last start at the mile was tough but I just can't see him running top 4 at 2040m in a Cox Plate. Think he finishes last.
Callsign Mav hangs on to claim the Group 1 Windsor Park Plate! Next stop, Cox Plate! pic.twitter.com/AElBPtzvMQ

— SKY Racing (@SkyRacingAU) October 2, 2021
(5) Mo'unga
Clearly come back a proper WFA horse this prep after promising plenty as a 3yo. The run in the Makybe Diva was very good, running Incentivise to a narrow margin, but I do think all the others were flattered in that race given how slow they went in front. The Epsom run was excellent with 57kg racing wide for most of the event and still getting within 1.6L of the winner. I think he's looking for 2000m now 4th up, gets a solid map from the barrier, Bowman knows a thing or two about Cox Plates and he has to be a live chance. The price is short enough now, the $21 shopped earlier was probably a bet but $13 is getting skinny.
INCENTIVISE WINS THE MAKYBE DIVA STAKES!

Welcome to the GROUP 1 club! pic.twitter.com/a8FGKQRkTK

— 7HorseRacing 🐎 (@7horseracing) September 11, 2021
(6) Verry Elleegant
Thought she was on track off her first two runs- the Winx Stakes run behind Mo'unga was very good when wide, carting the winner into it. Yes she only beat Riodini in the Chipping Norton but it was a good win, however her Turnbull run was disappointing for mine. She was close to the brutal tempo but loomed into it and couldn't absorb that pressure. My other query is The Valley- her one go here was awful in the 2019 Cox Plate. She's definitely improved lengths since then but I do think she'd really need to find a wet track to be a betting proposition here which she may get.
"A NEW GROUP 1 STAR."

INCENTIVISE WINS THE GROUP 1 TURNBULL STAKES. pic.twitter.com/C5DHDCzemA

— 7HorseRacing 🐎 (@7horseracing) October 2, 2021
(7) Probabeel
She's the opposite to Verry Elleegant- she needs this dry to be a factor. She mostly ticked the 2000m box last start beating Zaaki although it wasn't a fast tempo, but the key was a dry track. If the rain misses and this is a good track she's a big chance with the right run- potentially on the back of Verry Elleegant. She's a complete wait and see with the track conditions.
PROBABEEL KNOCKS OFF ZAAKI IN THE GROUP 1 MIGHT AND POWER STAKES… pic.twitter.com/naomjd1rA1

— 7HorseRacing 🐎 (@7horseracing) October 9, 2021
(8) State Of Rest
Easily the hardest horse to line up, coming off a Saratoga Derby win in the USA. Visually it was a nice win coming from midfield to get up by a length but I have no idea how that measures up. His form in the UK prior wasn't great, beaten in weaker races but key to note that they were over shorter trips which may not have suited, and one go behind Mac Swiney who is a good 3yo was on a heavy track. I think he's another that would really prefer it dry, and even then I'm not sure if he has the form to win this, despite the obvious x-factor.
🏆Saratoga Derby (G1)
1900m, 1.000.000 USD, for 3yo
🇺🇸Saratoga

State Of Rest (IRE)
(3C Starspangledbanner – Repose, by Quiet American)
J : John R. Velazquez 
T : Joseph Patrick O'Brien
O :Teme Valley
B : Tinnakill Bloodstock Ltd pic.twitter.com/vewOwEomym

— 𝙒𝙤𝙧𝙡𝙙𝙍𝙖𝙘𝙞𝙣𝙜 (@WorldRacing1) August 7, 2021
(9) Anamoe
He's the horse coming in with the least knocks in my opinion. I think he's been half a run behind all prep- he missed some work and a trial, still won the Run To The Rose over the Golden Rose winner, probably should've won the Golden Rose on a fairer track in a fast race, which he didn't have a platform for. He then bounced out of that into the fastest run Caulfield Guineas in history and was too strong, backed into $2.10. The margin was narrow but he was soft on the line and to me it looked like a run that was ready for 2000m. On breeding I have no issue with it- his dam Anamato was a 2000m horse and his grandsire was Street Cry who of course sired Winx. The 49.5kg is incredibly attractive here- I would've loved a slightly better draw but I think there will be horses making their runs early at the 800m- if Willo can tag Verry Elleegant or Probabeel into the race, peel off their back at the 400m and sprint with the featherweight, he can win this, he just needs to get moving early as he did on Castelvecchio in 2019.
WHAT A COLT!

👏 ANAMOE WINS THE 2021 CAULFIELD GUINEAS 👏@bluebetau pic.twitter.com/q2gqmQuMMT

— 7HorseRacing 🐎 (@7horseracing) October 9, 2021
(10) Captivant
Plenty of commentary saying if you give Anamoe a chance you have to give Captivant a chance given the narrow margin in the guineas which I can see, however I think Anamoe was pulling right away through the line. Captivant also had a better platform being 4th up at a mile and Anamoe smashed him in the Golden Rose and Sires Produce. Anamoe also started $2.10 to Captivant's $26 last start and now they're $4 and $18. The big positive for Captivant is he can settle closer from barrier 1. I think they'll use him up to try and hold leader's back and look for an early gap in the straight to take off and play catch me if you can. If he gets that gap at the right time and leaves some of these out of the race, he's not hopeless, but all things somewhere near equal I think Anamoe is a 3L better horse at least.
Selections
Anamoe on top. He's ready to peak 4th up coming out of two fast run races, I think he's looking for 2000m now, Willo rides at 49.5kg and he handles all tracks. Draw isn't ideal but if he can get on the back of the right one he'll be flying home. Zaaki will win if he produces his Doomben Cup win, but since then he's just been a very good WFA horse- no superstar. Mo'unga can run a big race at double figures and if Gold Trip is here, which is seeming more unlikely by the minute, he's got better UK form than Sir Dragonet last year and is a massive chance.
Betting Strategy
(9) Anamoe $4.20 at Bet365
(3) Gold Trip $14.00 at TAB
(5) Mo'unga $13.00 at Bet365
2.5 units WIN Anamoe, 0.25 units WIN Mo'unga