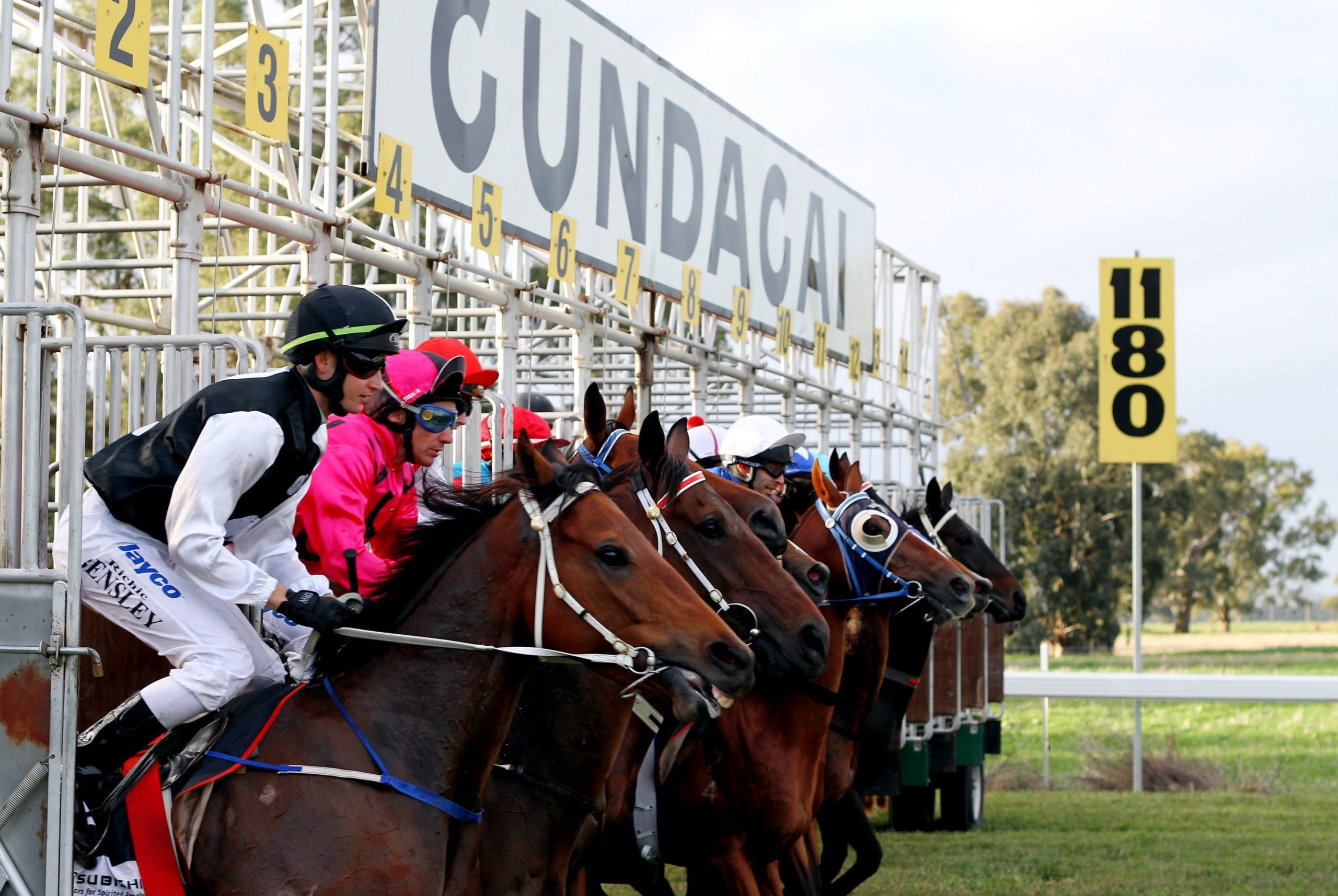 Race 1
Elders Showcase Mdn Hcp (1180m)
1:25pm (AEDT)
Race 1

Elders Showcase Mdn Hcp (1180m)
1:25pm (AEDT)

1. Six Atee Ate

(8)

J: Shaun Guymer

(59kg)

T: D A Williams

2. Nic's Hero

(14)

J: Tyler Schiller

(58.5kg)

T: G J Colvin

11
11
13.2
11

3. Enth

(4)

J: Brendan Ward

(58kg)

T: D P Blundell

71
81
101
81

4. Big Steve

(6)

J: Aaron Sweeney

(57.5kg)

T: Anita Walder

3
3.5
3.1
3.2

5. Zar Iz Nomore

(2)

J: Simon Miller

(57.5kg)

T: W G Carroll

7
7
6.1
6.5

6. Loving Cilla

(9)

J: Unknown

(57kg)

T: Joseph Ible

7. Defiant Award

(7)

J: Blake Spriggs

(56.5kg)

T: W G Carroll

81
151
131
126

8. Butterfingers

(16)

J: Chad Lever

(55.5kg)

T: R J Nutman

27
31
25
34

9. Annual

(10)

J: Ms Ellen Hennessy

(55kg)

T: M Petrovic

10
10
9.2
10

10. Blue Glass

(1)

J: Michael Travers

(55kg)

T: Michael Gatty

27
31
35
26

11. One Aye

(11)

J: Ms Winona Costin

(55kg)

T: B Joseph & P & M Jones

17
16
13
14

12. Poetic Power

(15)

J: Blaike Mcdougall

(55kg)

T: K R Dryden

3
3.1
2.75
3

13. Sugarplum Mary

(12)

J: Bradley Vale

(55kg)

T: J W Scobie

35
41
36
41

14. Victory Idol

(3)

J: Unknown

(55kg)

T: G J Colvin

15. Moss Road

(13)

J: Unknown

(55kg)

T: D A Williams

35
34
33
51

16. Curioso

(5)

J: Unknown

(55kg)

T: D P Blundell
Odds Last Updated: November 14, 2020, 12:51am (AEDT)
Race 2
Tooheys Extra Dry Country Mdn (1100m)
2:00pm (AEDT)
Race 2

Tooheys Extra Dry Country Mdn (1100m)
2:00pm (AEDT)

1. Budderoo Blitz

(5)

J: Ms Winona Costin

(59kg)

T: Joseph Ible

8
8
7.4
8

2. Deemed Corrupt

(6)

J: Ms Megan Creed

(59kg)

T: K P Weir

61
61
63
51

3. Hey Dugee

(15)

J: Aaron Sweeney

(59kg)

T: Anita Walder

31
31
28
31

4. Defiant Heart

(3)

J: Adrian Layt

(57.5kg)

T: W G Carroll

9.5
11
8.9
10

5. Bella Days

(4)

J: Ms Chelsea Ings

(57kg)

T: Peter Kirby

46
61
69
51

6. Haven

(8)

J: Blake Spriggs

(57kg)

T: Stephen O'halloran

7. Intuitive

(10)

J: Chad Lever

(57kg)

T: G Backhouse

27
26
23.5
26

8. She's Cherry Ripe

(12)

J: Simon Miller

(57kg)

T: B Joseph & P & M Jones

101
101
131
126

9. Distillate

(16)

J: Blaike Mcdougall

(55.5kg)

T: Matthew Dale

2.35
2.5
2.3
2.5

10. Evanora

(13)

J: Ms Kayla Nisbet

(55.5kg)

T: Luke Pepper

18
16
18.2
16

11. Karlaina

(1)

J: Shaun Guymer

(55.5kg)

T: D A Williams

5.5
5.5
5.6
4.8

12. Victory Idol

(2)

J: Tyler Schiller

(55.5kg)

T: G J Colvin

13. Kalks

(14)

J: Unknown

(59kg)

T: N J Osborne

14. Danish Hussar

(11)

J: Unknown

(59kg)

T: A L Mcrae

15. Sugarplum Mary

(7)

J: Unknown

(57kg)

T: J W Scobie

16. Capalise

(9)

J: Unknown

(55.5kg)

T: K R Dryden
Odds Last Updated: November 14, 2020, 12:51am (AEDT)
Race 3
Rsm Australia Hcp (C1) (1100m)
2:35pm (AEDT)
Race 3

Rsm Australia Hcp (C1) (1100m)
2:35pm (AEDT)

1. Nuremburg Castle

(13)

J: Blaike Mcdougall

(59.5kg)

T: Matthew Dale

3
3.2
2.8
3.1

2. Premier Award

(12)

J: Ms Kayla Nisbet

(58kg)

T: Kurt Goldman

11
12
12.2
11

3. Fat Gecko

(15)

J: Tyler Schiller

(57.5kg)

T: Danielle Seib

9.5
12
9.2
11

4. Add On

(9)

J: Aaron Sweeney

(56kg)

T: Andrew Sheahan

18
15
14.6
15

5. Crocodile Cod

(1)

J: Brendan Ward

(56kg)

T: K P Weir

41
51
53
41

6. Fountain Of Youth

(11)

J: Shaun Guymer

(56kg)

T: M D Kelley

14
15
16
15

7. Grace Bay

(6)

J: Chad Lever

(55kg)

T: Claire Lever

3.2
3.4
3.2
3.3

8. Rosy Dawn

(7)

J: Mathew Cahill

(55kg)

T: N F Gardner

10
10
9.1
9

9. Riverina Demand

(3)

J: Jordan Mallyon

(55kg)

T: G Backhouse

61
81
83
71

10. Smartkap

(5)

J: Simon Miller

(55kg)

T: B Joseph & P & M Jones

34
34
28.5
31

11. Ile De Re

(14)

J: Ms Jess Taylor

(55kg)

T: Natalie Jarvis

31
34
35
31

12. Tiz War Bro

(10)

J: Blake Spriggs

(55kg)

T: P J Facoory

13. Who Told Ya

(8)

J: Bradley Vale

(55kg)

T: Shilleagh Meyervale

31
26
32
26

14. Rewarded Princess

(2)

J: Unknown

(55kg)

T: Ms D Prest

15. Nanga

(4)

J: Unknown

(55kg)

T: Ms D Prest
Odds Last Updated: November 15, 2020, 12:52am (AEDT)
Race 4
Elouera Hire Hcp (C1) (1400m)
3:10pm (AEDT)
Race 4

Elouera Hire Hcp (C1) (1400m)
3:10pm (AEDT)

1. Judicator

(9)

J: Ms Amy Mclucas

(60kg)

T: E & L Longmire

10
11
9.3
11

2. Francisco Pizaro

(3)

J: Unknown

(57.5kg)

T: Joseph Ible

3. The View

(5)

J: Blaike Mcdougall

(57.5kg)

T: R P Wellington

5.5
6
5.5
6

4. Certain Shaft

(10)

J: Mathew Cahill

(56.5kg)

T: P J Morgan

8
8
7.4
8

5. Spring Season

(2)

J: Ms Kayla Nisbet

(56.5kg)

T: J W Marzol

10
10
10.2
9

6. Costa Chin Chin

(16)

J: Simon Miller

(56kg)

T: Rob Potter

7.5
8.5
7
8

7. Watch Me Sizzle

(4)

J: Tyler Schiller

(55.5kg)

T: N J Olive

14
16
12.8
14

8. Bob's Angel

(1)

J: Brendan Ward

(55kg)

T: Mark Gee

6
5.5
6.1
5.5

9. Pay The Deeler

(15)

J: Shaun Guymer

(55kg)

T: Andrew Dale

10. Sacred Spice

(11)

J: Simon Miller

(55kg)

T: B Joseph & P & M Jones

11. Foreverede

(6)

J: Aaron Sweeney

(55kg)

T: Steven Cummins

26
26
26.5
23

12. Namarari

(8)

J: Ms Winona Costin

(55kg)

T: Kurt Goldman

7.5
7.5
6.9
7.5

13. Glamour Cruise

(7)

J: Ms Jess Taylor

(55kg)

T: Michael Gatty

10
11
8.9
9.5

14. Brunela

(14)

J: Unknown

(55kg)

T: M C Lynch

15. Post Free

(12)

J: Unknown

(55kg)

T: D A Williams

16. Sun Wu

(13)

J: Michael Heagney

(55kg)

T: Fiona Schneiders

27
31
28
31
Odds Last Updated: November 14, 2020, 12:51am (AEDT)
Race 5
Tumblong Hills Hcp (C3) (1180m)
3:50pm (AEDT)
Race 5

Tumblong Hills Hcp (C3) (1180m)
3:50pm (AEDT)

1. Cock Match

(6)

J: Chad Lever

(62kg)

T: D A Williams

4.2
3.9
4.25
3.9

2. Banger

(9)

J: Blaike Mcdougall

(60.5kg)

T: Matthew Dale

5.5
5.5
5.6
6

3. Blitzar

(13)

J: Michael Travers

(58.5kg)

T: C Heywood

3.6
3.7
3.65
3.5

4. Invincible Dash

(3)

J: Brendan Ward

(58.5kg)

T: N J Olive

20
26
19.4
23

5. Mad As Zariz

(15)

J: Ms Kayla Nisbet

(57kg)

T: R Weston & J Nisbet

6
6
5.2
6

6. Zarsnip

(8)

J: Jordan Mallyon

(57kg)

T: G J Colvin

17
18
21.5
16

7. Designer Maid

(12)

J: Richard Bensley

(55.5kg)

T: Blake Fitzpatrick

8. Chap's Dream

(4)

J: Shaun Guymer

(55kg)

T: Mitchell Beer

15
16
13.8
15

9. Kathaire

(5)

J: Ms Winona Costin

(55kg)

T: Joseph Ible

10. Tully Toff

(2)

J: Adrian Layt

(55kg)

T: G J Colvin

26
31
27.5
31

11. Full Of Fire

(7)

J: Tyler Schiller

(55kg)

T: Danielle Seib

13
16
13
15

12. Honeysuckle Choice

(14)

J: Unknown

(55kg)

T: Todd Smart

13. Gorush Lightning

(16)

J: Ms Jess Del Frari

(55kg)

T: Michael Gatty

35
41
37
41

14. Eurosay

(11)

J: Simon Miller

(55kg)

T: Todd Smart

15. Romeo Vella

(1)

J: Unknown

(55kg)

T: G P Vella

16. Sam

(10)

J: Unknown

(55kg)

T: R W Steiner

91
151
141
151
Odds Last Updated: November 14, 2020, 12:51am (AEDT)
Race 6
Tab Country Magic (Bm58) (1400m)
4:30pm (AEDT)
Race 6

Tab Country Magic (Bm58) (1400m)
4:30pm (AEDT)

1. Lead Choreographer

(15)

J: Ms Madison Waters

(63.5kg)

T: Ms S Murray-Leslie

21
21
26.5
26

2. Derby Star

(12)

J: Brendan Ward

(63kg)

T: P S Clancy

17
18
17.2
17

3. Dinner Lake

(6)

J: Ms Amy Mclucas

(63kg)

T: E & L Longmire

35
41
36
41

4. Landmine

(16)

J: Richard Bensley

(62.5kg)

T: C Heywood

46
51
53
51

5. Imitation Game

(5)

J: Hannah Williams

(62kg)

T: Doug Gorrel

23
26
26.5
23

6. Kapover

(11)

J: Jordan Mallyon

(62kg)

T: G M Duryea

17
20
17.4
19

7. Ons Vier

(10)

J: Ms Ellen Hennessy

(62kg)

T: Joseph Ible

13
14
14.2
13

8. Fashion Tip

(8)

J: Blaike Mcdougall

(61.5kg)

T: W G Carroll

3.9
4
3.8
4

9. Purple Cup

(7)

J: Ms Nyssa Burrells

(60.5kg)

T: G D Yorke

41
61
51
61

10. Exotic Deel

(14)

J: Shaun Guymer

(59kg)

T: N J Olive

2.35
2.35
2.25
2.4

11. Il Professionale

(9)

J: Chad Lever

(59kg)

T: K R Dryden

12
11
10.2
11

12. Designer Dance

(2)

J: Tyler Schiller

(58.5kg)

T: E & L Longmire

14
16
15.2
11

13. Dezzy

(3)

J: Ms Winona Costin

(60.5kg)

T: Ms D Wise

14. High Advice

(1)

J: Simon Miller

(60kg)

T: Ms D Scott

15. Fly Like An Eagle

(4)

J: Unknown

(59.5kg)

T: M D Sparrow

16. Flight Commander

(13)

J: Unknown

(59.5kg)

T: N J Olive
Odds Last Updated: November 14, 2020, 12:51am (AEDT)
Race 7
Xxxx Gold Snake Gully Cup (1400m)
5:10pm (AEDT)
Race 7

Xxxx Gold Snake Gully Cup (1400m)
5:10pm (AEDT)

1. Spunlago

(3)

J: Adrian Layt

(62.5kg)

T: R T Stubbs

35
51
47
41

2. Irish Songs

(11)

J: Ms Kayla Nisbet

(59kg)

T: Kurt Goldman

5.5
5.5
5.6
5.5

3. Regal Stage

(1)

J: Ms Winona Costin

(57kg)

T: G Waterhouse & A Bott

4.6
4.4
4.2
4.4

4. Demonstrate

(15)

J: Mathew Cahill

(56.5kg)

T: G G Kirkup

18
18
15.8
17

5. Mount Horeb

(10)

J: Brendan Ward

(56.5kg)

T: G A Osborne

11
10
10
11

6. Sausedge

(7)

J: Blaike Mcdougall

(56kg)

T: Matthew Dale

3.5
3.6
3.3
3.4

7. Greek Hero

(13)

J: Blake Spriggs

(55kg)

T: R & M Freedman

8. Airfree

(12)

J: Ms Jess Taylor

(55kg)

T: Natalie Jarvis

81
81
111
81

9. Sky Call

(6)

J: Jordan Mallyon

(55kg)

T: Mitchell Beer

15
18
15.2
17

10. Howlowcanyougo

(4)

J: Chad Lever

(55kg)

T: A D Bourke

11. The Doctor's Son

(16)

J: Ms Ellen Hennessy

(55kg)

T: J D Whitelaw

23
26
20.5
21

12. Ruthless Agent

(9)

J: Simon Miller

(55kg)

T: Kurt Goldman

26
31
23
26

13. Supreme Polarity

(5)

J: Tyler Schiller

(55kg)

T: N J Olive

9
9.5
8.6
9.5

14. Petaluma

(2)

J: Shaun Guymer

(55kg)

T: D A Williams

16
21
17.4
21

15. Girls Are Ready

(8)

J: Ms Jess Taylor

(55kg)

T: J M Cleary

16. My Blue Jeans

(14)

J: Unknown

(55kg)

T: D A Williams
Odds Last Updated: November 14, 2020, 12:51am (AEDT)
There is a great field of runners, sixteen of them, battling out to take the Snake Gully Cup. Plenty of leading chances! The top weight (1) Spunlago has raced in listed company but isn't the horse he once was. Also needs to lug the 62.5kg which is going to be a tough assignment.
(2) Irish Songs has been racing in good company more recently, and was 10th when taking on Classique Legend in a Group 2 at Randwick. He is a pretty classy horse but mixes form. If it was wet, not a Good 3, than he would probably be tighter in the market.
The Waterhouse horse (3) Regal Stage looks to be one of the favourites in the field after a first in a bm72 at Randwick, although it was not super convincing. Goes up in grade here which gives me some concern.
The favourite is the Matt Dale runner from Canberra (6) Sausedge who has placed fourth in a similar quality race to Regal Stage, but that was at the end of a preparation (and he tends to lose form). He was also racing in listed grade last preparation and has some pretty handy second-up statistics—three starts for two wins. His from on good tracks is also hard to fault. He has been a touch off the boil, but at best, should have them covered.
Another winner is (4) Demonstrate who looks for the third in a row. Up in class, and taking on tougher company, so this may be a stretch – but still capable.
(14) Petaluma paid for my Chinese meals for many weeks after a consistent run of wins, but is now really taking on the quality runners. Can again come down the outside late, but might be one for the exotics.
Of all the runners it looks like Sausedge is set for this race first-up. Has the class if ready – and by all accounts he should be.
Tip: (6) Sausedge $4.00 Sportsbet
Also backing: (2) Irish Songs $7.00 Sportsbet
Race 8
Martin Hay Snake Gully Hcp (1000m)
5:50pm (AEDT)
Race 8

Martin Hay Snake Gully Hcp (1000m)
5:50pm (AEDT)

1. Up Trumpz

(1)

J: Blaike Mcdougall

(60kg)

T: J M Cleary

8.5
9.5
9.1
7.5

2. Mossman Gorge

(10)

J: Chad Lever

(59kg)

T: Matthew Dale

8
8.5
7.5
8

3. Sheriff

(13)

J: Adrian Layt

(59kg)

T: Steven Wilson

4. Bulala

(4)

J: Mathew Cahill

(58kg)

T: P J Morgan

7.5
8.5
8.1
8

5. Cash Crisis

(12)

J: Shaun Guymer

(56.5kg)

T: R T Stubbs

20
20
19
21

6. Caccini

(9)

J: Ms Jess Taylor

(56kg)

T: N F Gardner

51
67
69
71

7. Straover

(3)

J: Jordan Mallyon

(55.5kg)

T: G M Duryea

9.5
9.5
8.9
10

8. Eve's Miss

(5)

J: Tyler Schiller

(55kg)

T: K R Dryden

16
14
14.6
18

9. Forever Newyork

(7)

J: Blake Spriggs

(55kg)

T: G J Colvin

13
14
12
14

10. Just A Flash

(14)

J: Brendan Ward

(55kg)

T: A M Molloy

8.5
8
7.8
9

11. Look Only

(8)

J: Ms Kayla Nisbet

(55kg)

T: F Azzopardi

9.5
8.5
8.4
8.5

12. Shores Of Avalon

(6)

J: Ms Ellen Hennessy

(55kg)

T: K R Dryden

4.2
4.6
3.95
4.2

13. Newtown Is Coming

(16)

J: Unknown

(55kg)

T: E & L Longmire

14. Akeed

(2)

J: Ms Amy Mclucas

(55kg)

T: Jamie Stewart

19
19
23.5
19

15. Cattledog Cod

(15)

J: Simon Miller

(55kg)

T: K P Weir

16. Nevada Dane

(11)

J: Ms Winona Costin

(55kg)

T: R P Wellington
Odds Last Updated: November 14, 2020, 12:51am (AEDT)
Another large field for the handicap – led by (12) Shores Of Avalon who gains favouritism after a win at Canberra, albeit in a lower grade. She has a pretty enviable record, nine starts for four wins. She has been well placed in CL1, CL2 and bm60 rated races. She loves the Good track, so she will not have any excuses today.
Matt Dale has another one in this race (2) Mossman Gorge who showed some potential in metro races before trailing off with form. His first-up statistics are great, three wins from five starts. It feels like another Matt Dale set-up to perform here first-up today. At the odds, he looks like a good each-way play.
(1) Up Trumpz has good first-up stats also, and drops in grade after some good runs in metro company also. A second to Dirty Work first-up last preparation looks great form for this! (4) Bulala is not the worst either.
Comfortable to play according to the speed map—with plenty of speed runners. The 1000 metres will be over quick, and Up Trumpz looks to get the sticky inside draw, as he falls back. Shores Of Avalon gets the good draw mid-field, while Mossman George will attempt to come across and sit alongside her. In the battle to the line, Shores gets a clear weight advantage and might be tough to get past. Happy to play both.
Tip: (12) Shores Of Avalon $3.60 Sportsbet
Also backing: (2) Mossman Gorge $8.50 Sportsbet