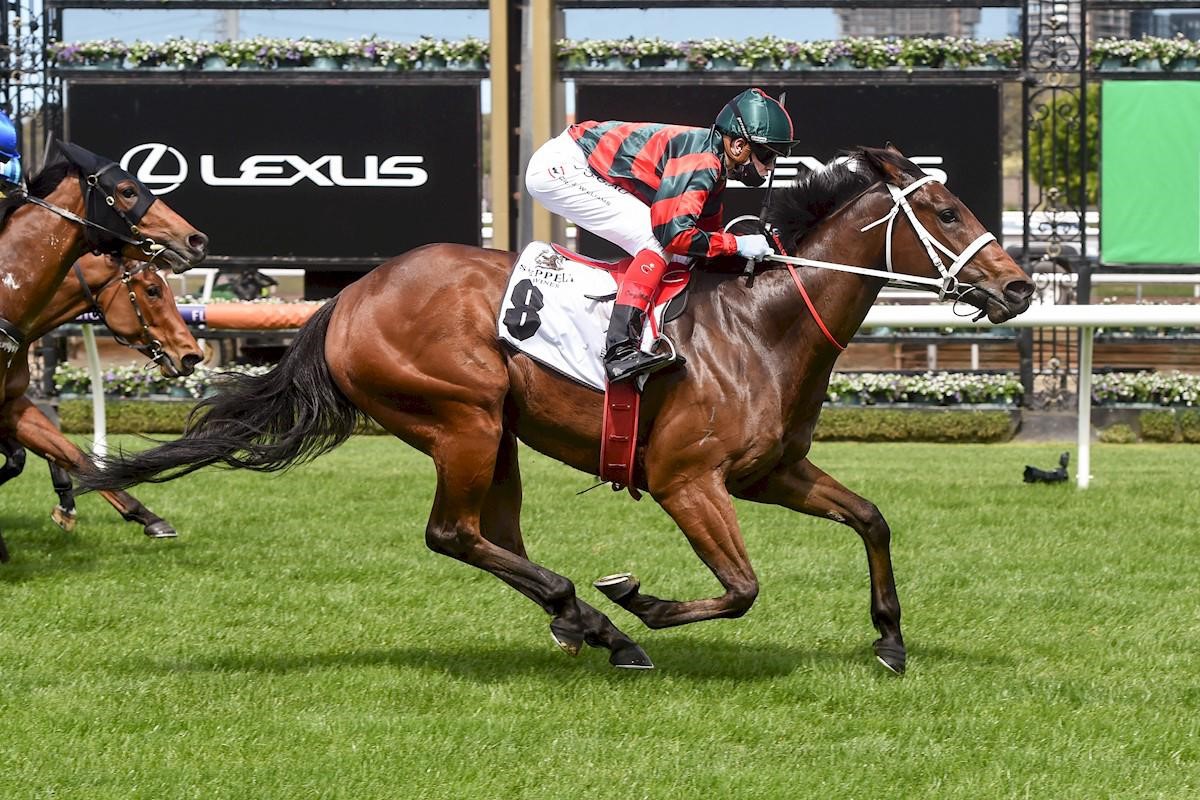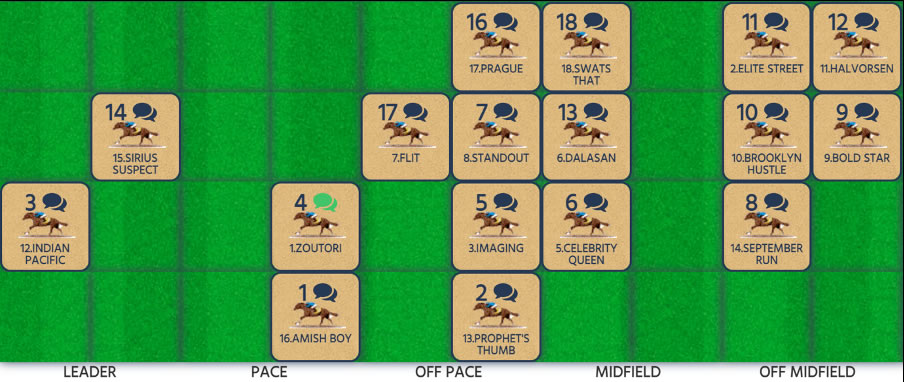 A big field down the straight which is always difficult to map. It wouldn't shock if they split completely. Indian Pacific definitely looks the leader from Sirius Suspect. Zoutori and Flit look to get nice runs with Standout behind the speed. Celebrity Queen midfield, potentially with September Run following her near the back. Swats That drawn wide might look for cover with Elite Street and Brooklyn Hustle going back.
Horse-by-horse Analysis
1. Zoutori
Super consistent horse who loves the Flemington 1200m. He had every chance in the Oakleigh Plate and will again carry topweight but was only beaten 1.1L and should improve getting to the straight. Surprised Kah has jumped off but Currie is a good replacement, and he maps for a lovely run, likely on the back of the leader. A definite chance and probably a big price at $21.
2. Elite Street
Was too bad to be true in the Lightning, and the vet confirmed that after he pulled up with EIPH- a clear forgive. He's one of the only group 1 winners in the field and has a very good record with 5 wins (6 before DQ) from 9 starts. He was spec'd in betting in that race, starting $15 and I definitely think he's better suited at 1200m given his Winterbottom win. Drawn in the right part of the track I thought he was a big chance if he's recovered from the EIPH, and the jumpout since was very good.
3. Imaging
Ran a big race in the Orr Stakes where he probably beats Streets Of Avalon with a kinder run in transit. Interesting placement to drop him back to 1200m here though- he's had one run at the trip and was only 1.9L off Eduardo, but that was on a very heavy track and he was fresh which suited him better. On a fast deck I thought he'd find a few too sharp at the trip.
5. Celebrity Queen
Big run to dead heat in the Oakleigh Plate and she's got an outstanding overall record, with 11 quinella finishes from 13 starts. Her run behind Elite Street in the Winterbottom was very good, and with a bit of room earlier she goes very close to winning. I do note she started $12 to his $31 there, although Elite Street meets her 1.5kg better off despite beating her home. She's another suited at 1200m and will run well, but I think she's about her right price at $13.
6. Dalasan
Not sure what to make of him. He's clearly got talent, but they haven't really worked out what his best distance is. Some of his best runs have come at sprint trips, including a 1.8L 2nd to Behemoth first up last prep and a win at this T/D as a 3yo in the Danehill, but I'd have to think this is too short for him.
7. Flit
Didn't do much first up behind Savatiano although she did pull up with a poor recovery, which can sometimes mean very little. She's been kept fresh for this but I'm just not sure if she's good enough. The 2nd to Eduardo in the Missile is good enough to be competitive, but she's a hard horse to catch and I'm prepared to risk. Does draw out wide and Olly takes the ride so if you like her, she's not the worst.
8. Standout
A bit poor in the Oakleigh Plate when getting a long way back and wide, effectively out of the race. I would've liked to see him hit the line better, and he finished 2nd last beaten 4.1L. If he got back to his best form, the highlight a 2nd to Classique Legend in The Shorts, he'd go very close, and he does get in better at the weights here, although loses Olly. He gets blinkers on and the $61 is probably overs given he's one of the better sprinters we have at his best and he draws well with 54.5kg.
9. Bold Star
Expected better from him in the Oakleigh Plate when just fair, beaten 2.8L in the bunched finish. The first up run was good in the day's fastest closing splits, and he does race well at Flemington, but he's not particularly well in with 54kg, going up 1.5kg, and I was happy enough to be against.
10. Brooklyn Hustle
Should've gone very close in the Oakleigh Plate if she'd gotten out 50m earlier, and she was huge late when savaging the line. She's clearly come back very well and although her record at Flemington and at 1200m is poor, she did finish 5th in the red hot Coolmore won by Exceedance in 2019. I think she's come back better than last prep where she was only 2.7L off Hey Doc and 2L off Trekking in a Manikato, and a repeat of that run would see her in the finish here.
11. Halvorsen
Loves the straight and probably suited stepping up to 1200m but started $151 and was beaten 7L by September Run in the Lightning. The first up run was solid without being great behind Fabergino, but I just don't think he's good enough to win a Newmarket.
12. Indian Pacific
Interesting runner on the 7 day back up, where he ran 2nd over 1000m to Fabergino here. That straight track experience should do him a world of good, and if this were 1000m again I'd be seriously considering him, but 1200m is right on the edge of his limit and he was beaten 5.4L in the Winterbottom behind Elite Street in a fast race. The positive is he likely gets an easy lead and can dictate the tempo, but I think they'll get to him in the last 100m.
13. Prophet's Thumb
Won the Rubiton first up defeating Bold Star and was solid late in the Oakleigh Plate although others were definitely better. Her 1200m record leaves a bit to be desired and barrier 2 probably isn't ideal. Happy to leave her alone.
14. September Run
Stamped herself as the horse to beat here in the Lightning Stakes with a huge final 200m to get very close to Nature Strip. Her straight track record is outstanding- that was her first run here she didn't win, and she should be suited stepping up to 1200m where she won the Coolmore very impressively last prep. Barrier 8 looks okay, she just needs to get clear air to be exceptionally hard to beat and if she brings what she did in the Lightning she simply wins.
15. Sirius Suspect
Good straight tracker coming off two strong wins, the latest at this T/D in the Standish but this is a big step up in class and I thought he was under the odds. Kah chooses to stick with him, and he'll be right up on speed, but he's beaten Tavisan and Albumin in his two starts and that just doesn't look strong enough.
16. Amish Boy
Last two runs have been solid in 3yo company over 1400m, but I don't think he's as suited here, and this is much harder. His 1200m form is okay but not great, although he did run well behind Doubtland in a Danehill last year, although that wasn't a particularly strong race. Barrier 1 is a query, and I don't think he's up to these at 1200m.
17. Prague
Quite liked his run in Sydney first up when caught back and wide behind Peltzer and he probably should have finished closer. Draws for a good run out wide although a firm deck could be against him. Was beaten fair and square by Amish Boy in the Danehill and I don't think he's good enough at 1200m.
18. Swats That
One of the biggest dangers to September Run, coming off a 3rd placing in the Lightning and meets that filly 2kg better at the weights for a 1.25L defeat last start and a 1.8L defeat in the Coolmore. Both times she's been given windburn late by her, but she does draw out wide which could be very beneficial if the favourite finds trouble. She could've just gassed out late after running the fastest 600-400 split in the Lightning and I'd expect 1200m to suit better too. She's finished the placing behind September Run on 3 occasions now and quite honestly, I think she might be running for 2nd again with even luck across the board.
Selections
(14) September Run is clearly on top. I was surprised at how well she went in the Lightning when I was against, but that run has converted me. Her closing speed behind Nature Strip was world class and she's just a prototype straight track horse with a huge turn of foot. If she gets clear running from barrier 8 I don't think they'll beat her. (2) Elite Street is one I want to have something on. He started $15 in the Lightning and was a clear forgive yet is 12x the price of September Run here and has jumped out very nicely since. I think the Lightning is the right form line over the bunched finish of the Oakleigh Plate, but I will have something tiny on (8) Standout hoping for 100s BSP because his best is good enough, he gets in well at the weights and gets blinkers on. No knock on (18) Swats That but September Run has gone straight past her every time they've met and I can't see the 2kg swing being enough to stop it happening again.
Tip: (14) September Run – $2.20 at Bet365
Also Backing: (2) Elite Street – $27.00 at Sportsbet
Value: (8) Standout – $61.00 at Sportsbet
Betting Strategy: 4 units WIN September Run, 0.25 units WIN Elite Street, 0.25 units WIN Standout