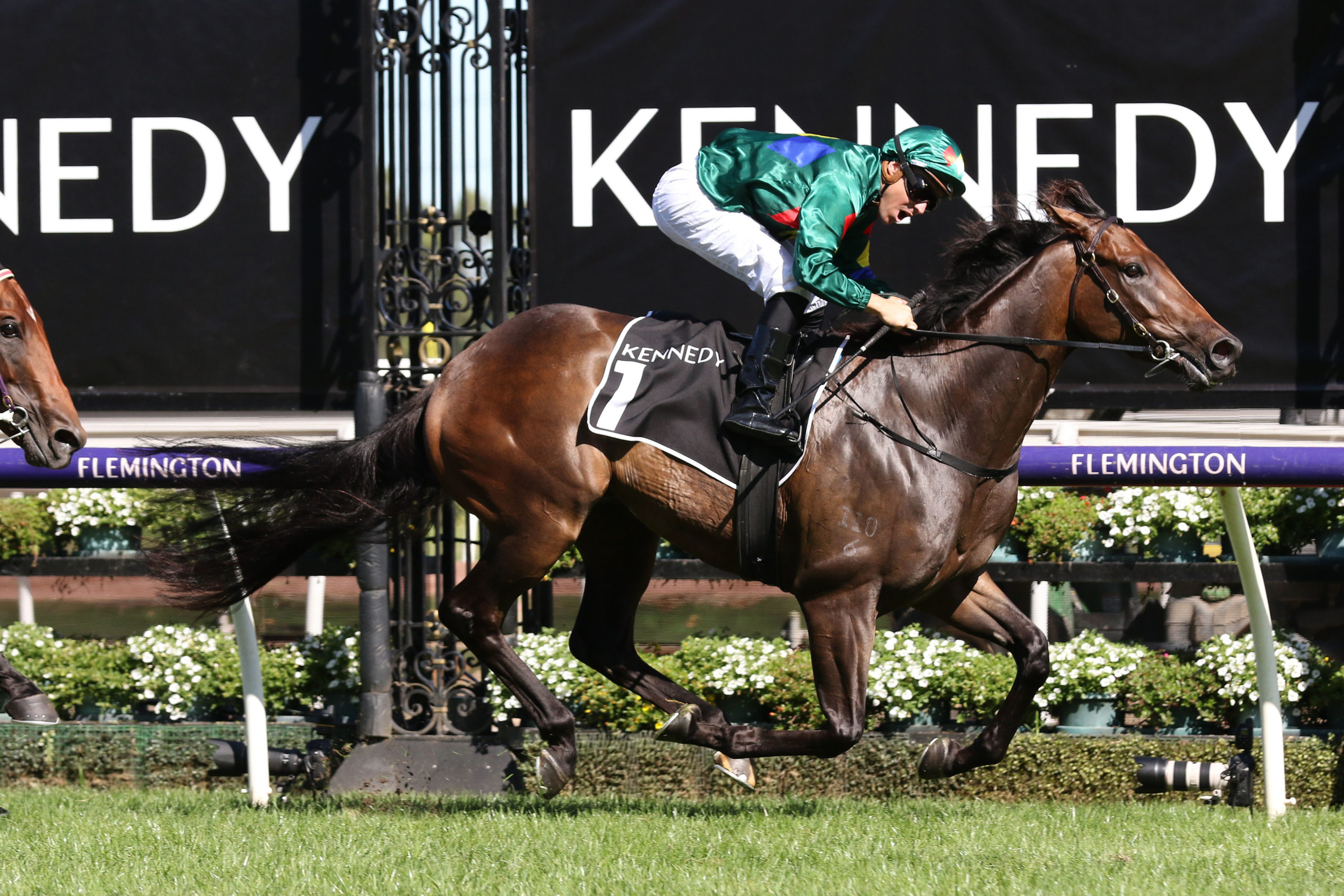 We've got a full field of 16 three year olds at Flemington– 15 boys vs the 1 lone filly over 1600m. It promises to be a cracking Group One contest and Trent Crebbin has analysed the chances of every runner. Get his speed map, selections and betting strategy here.
Speed Map

Not exactly sure who leads out of Zou Dancer, Tagaloa and Grandslam who I think has to go forward from out wide. I've got the filly taking it up, but Grandslam and Tagaloa could be forced to work a bit early. Jet Propulsion can go forward but could struggle to find a spot. Dom To Shoot looks to map well midfield, with Ole Kirk likely getting a long way back and Cherry Tortoni forced to settle at the back.
Analysis
1. Ole Kirk
Not sure what to make of him. He was good late first up over 1200m in an easier race which can be excused, but I'd have liked to see more from him late in the Futurity at WFA level. I know he was in the worst ground, but he dropped out and was beaten 6.5L, which is not the ideal run heading into a Group 1. He was the #1 3yo in the Spring and beat most of these in the Caulfield Guineas, but he maps back and wide and hasn't really shown he's recaptured that form.
2. Tagaloa
Very impressive winner of the CS Hayes over 1400m where he went fast early and did it at both ends, still running the 2nd fastest last 200m of the race. He conceded them all weight there and meets some of these 3.5kg better off. Given how fast they went there I can't imagine the 1600m being a huge issue, it's just how much he has to work from barrier 10. The key to this horse is a fast tempo which should suit, but if he's caught wide early, he might be a sitting duck at the end of a fast mile. If he lobs 1-1 early it might be game over, and I do think he'll start shorter off the very fast run last start.
3. Aysar
Looked to have Tagaloa cold last start, and looked to have Portland Sky cold first up, and looked to have Crosshaven cold before a spell. He just doesn't attack the line as well as some horses and maybe you can put it down to fitness in the last two runs but he had every chance last start and meets Tagaloa 3.5kg worse. I think the 1600m will definitely suit and he maps for an economical run, but I won't be with him.
4. Cherry Tortoni
The barrier draw has really hurt him. I loved the run first up behind Tagaloa where he got back, sliced his way through the field with a sizzling 10.91 400-200m split (meeting fastest) before just peaking on his run late to finish 4th. From yard reports he's really furnished and come on from last prep and the 1600m definitely suits 2nd up, it's just how far back he gets from the carpark draw. 2nd up last prep at 1600m he finished 2nd to Glenfiddich, who would've started close to favourite in the Caulfield Guineas had he run. If they go out hard, which I think they will, he'll be the one steaming home late. It might be too much ground to make up, but with a good ride I want to have him on side.
5. Dom To Shoot
Another of the better runs in the CS Hayes- he got a long way back and tried to circle the field, running the race fastest last 1000/800/600m. I really like the draw for him because for most of last prep he drew wide and went back. The one time he drew a good barrier was in the Group 1 Kingston Town Stakes, where he was put into the race and finished 3rd to Truly Great and Inspirational Girl. He gets Pike on here from barrier 7, so should get a lovely run midfield off a hot tempo, and he's one to include at double figures.
6. Lunar Fox
Wasn't too bad in the Caulfield Guineas last prep but was still beaten 3.5L by Ole Kirk and Aysar, and his run in the CS Hayes was awful. Genuine $151 chance.
7. Grandslam
They rode him cold in the CS Hayes which clearly didn't work. His best run was in the Caulfield Guineas when leading at a very fast tempo and he stuck on very well for 3rd. From the wide barrier they surely go forward and make it a race which should ensure a good gallop. He's not completely hopeless but I think a 6th-3rd placing is his go.
8. Poland
Brings different form out of the brutally run Autumn Stakes where he sat quite close to the speed but won nicely over 1400m. The market has been hard against horses out of that race so far, so it'll be interesting to see how it reacts 3 weeks after. If he's recovered from that he's not hopeless, and he probably box seats from barrier one. He does have a win over Grandslam at 1400m but failed sitting outside the tempo in the Caulfield Guineas. Good win first up but looks a touch short.
9. Beltoro
Wasn't bad in the CS Hayes first up and will be fitter for it. The map is sticky from barrier 3 and he hasn't beaten much- the first proper horse he faced, Ayrton, beat him by 4.3L. A strong tempo should suit but he's an outsider.
10. Embolism
He was really disappointing in the CS Hayes. I gave him a really good chance off a nice jumpout, and his form ties in with a few of these. He was beaten nearly 12L there and although he improves it's hard to see him winning off that effort.
11. It'sourtime
Surprised he's here on the 7 day backup out of a 1200m race. The step up probably suits but he was beaten fair and square by Poland over 1400m two back. I think he's a talented horse doing very well in his first prep but the map is very sticky and he's just had an odd prep to tackle the 1600m.
12. Jet Propulsion
Another that comes out of the Poland race and I didn't mind the run. Like most he was chasing a long way from home and to do that first up at 1400m isn't easy. He stuck on well for 4th, beaten 2.6L and his final 200m was the 3rd fastest of the race after looking to be struggling at the 400m. The 3 weeks between runs definitely helps, and I thought he trialled very well leading in. He's only had 4 starts and did run 3rd to Mo'unga in the Dulcify and 3rd to Peltzer in the Stan Fox which brings a bit of different form. The map isn't great because he'd probably want a spot forward of midfield, but I think you'll get a bigger price and he's a decent roughie.
13. Cambourne
Just fair in the CS Hayes when more or less holding his ground late. I think he's come back dourer than some of these and might want further than the 1600m in time. He's run well against these horses in the past, but they've by and large had his measure, so I'm happy to play around him.
14. Ironedge
Coming off a maiden win at Ballarat which doesn't look to be strong enough here. He did run 5th to Crosshaven one day which was a solid effort, but he'd have needed to really dominate the maiden field to be given a serious chance here.
15. Here To Shock
Went awfully in the CS Hayes when leading at a fast tempo and he couldn't handle the pressure. I'd expect they take a sit here from barrier 4 but a strong 1600m would have to be a big query off that and his big win two back was in much weaker grade.
16. Zou Dancer
The lone filly of the field who comes here off two straight wins, the latest by 5L over Personal in fast time. It was over the same T/D on the same day as the CS Hayes and overall the CS Hayes was much stronger late, so I'd have my reservations on her. She'll go forward and potentially even lead, but the horses she beat last start besides Personal who clearly needed further/wasn't fit, aren't any good so she was made to look good. I think the $5.50 about her is very short against the boys and I'd happily back 4-5 of them over her.
17. Lofty Star
Can't win if he does make the field but is a speedy horse that would set up an even faster tempo drawn out wide, so I hope something does come out and we really get a brutal tempo which will some of these proven 1600m+ horses.
Selections
Tagaloa is the horse to beat out of the very fast CS Hayes win when conceding them weight. He'll have to work a bit early but does like fast races- it just depends on whether he can find a nice spot and run a strong 1600m close to the speed. Cherry Tortoni can turn the tables, but the draw makes it tough. He'll need them to really go out hard and fall in a hole late, because he'll be the strongest late and has come back very well. Dom To Shoot can settle closer from a good barrier and the last time that happened he was G1 WFA placed. Jet Propulsion could be the best roughie- I liked the run first up and he's still got stacks of upside.
Tip: (4) Cherry Tortoni- $13.00 at Bet365
Also Backing: (5) Dom To Shoot- $12.00 at Sportsbet
Value: (12) Jet Propulsion- $26.00 at Sportsbet
Betting Strategy- 0.75 units WIN Cherry Tortoni, 0.5 units WIN Dom To Shoot, 0.25 units WIN Jet Propulsion