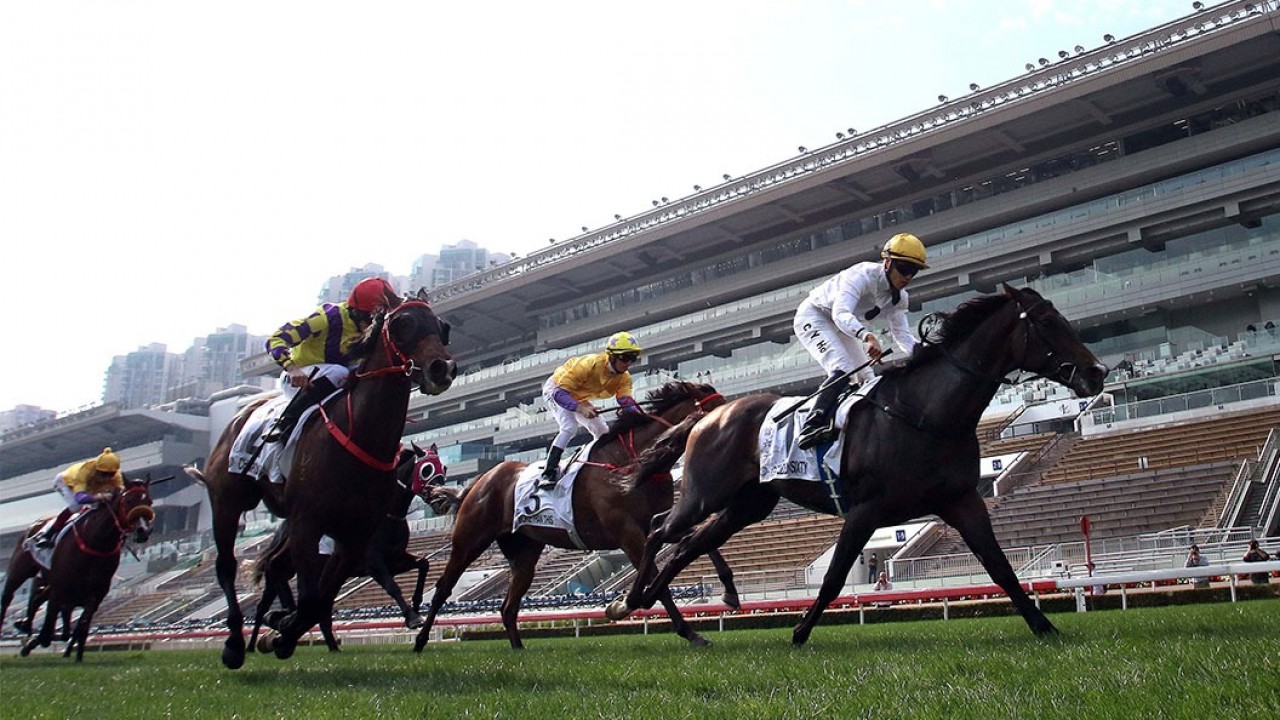 Race 1
Tin Sam Hcp (C5) (2000m)
3:45pm (AEDT)
Race 1

Tin Sam Hcp (C5) (2000m)
3:45pm (AEDT)

1. Sky Gem

(11)

J: J Moreira

(60.5kg)

T: C Fownes

2. Hay Run

(3)

J: K C Leung

(59kg)

T: L Ho

3. Home Win

(1)

J: B Shinn

(59kg)

T: C W Chang

4. You Have My Word

(6)

J: C Schofield

(59kg)

T: T P Yung

5. Amazing Agility

(10)

J: K Teetan

(56.5kg)

T: L Ho

6. Enjoyable Success

(8)

J: N Callan

(56.5kg)

T: C W Chang

7. Fortune Patrol

(7)

J: A Hamelin

(56.5kg)

T: A T Millard

8. Strapping Bauhinia

(9)

J: C Y Ho

(55.5kg)

T: Y S Tsui

9. Joy N Fun Legend

(5)

J: H T Mo

(53kg)

T: T P Yung

10. Proud Sky

(2)

J: M L Yeung

(52kg)

T: L Ho

11. Young Glory

(4)

J: H N Wong

(51.5kg)

T: D Ferraris
Odds Last Updated: October 19, 2020, 12:52am (AEDT)
Race 2
Siu Lek Yuen Hcp (C4) (1400m)
4:15pm (AEDT)
Race 2

Siu Lek Yuen Hcp (C4) (1400m)
4:15pm (AEDT)

1. Merrygowin

(12)

J: Z Purton

(60.5kg)

T: P D O'sullivan

2. Bundle Of Delight

(1)

J: M Chadwick

(60kg)

T: D J Hall

3. Care Free Prince

(6)

J: A K Chan

(60kg)

T: K L Man

4. Hang's Decision

(3)

J: M F Poon

(59.5kg)

T: W Y So

5. More Than Enough

(7)

J: N Callan

(59kg)

T: A S Cruz

6. Marvelous Fans

(8)

J: C Y Ho

(56.5kg)

T: J J Size

7. All Joyful

(13)

J: C Schofield

(55.5kg)

T: T P Yung

8. Colonel

(5)

J: K C Leung

(55kg)

T: P Yiu

9. Fortune Triple

(4)

J: H N Wong

(54.5kg)

T: Y S Tsui

10. Perfect To Play

(10)

J: C Wong

(54.5kg)

T: C Fownes

11. Centenary Ibis

(11)

J: M L Yeung

(53kg)

T: D Whyte

12. Athena

(2)

J: K Teetan

(52.5kg)

T: C H Yip

13. Wonder Express

(14)

J: A Badel

(52.5kg)

T: K H Ting

14. Copartner Era

(9)

J: J Moreira

(51.5kg)

T: W Y So
Odds Last Updated: October 19, 2020, 12:52am (AEDT)
Race 3
The Premier Bowl (1200m)
4:45pm (AEDT)
Race 3

The Premier Bowl (1200m)
4:45pm (AEDT)

1. Hot King Prawn

(6)

J: J Moreira

(60.5kg)

T: J J Size

2. Voyage Warrior

(2)

J: C Y Ho

(57.5kg)

T: P Yiu

3. Wishful Thinker

(1)

J: K C Leung

(54.5kg)

T: C H Yip

4. Big Party

(5)

J: Z Purton

(54kg)

T: F C Lor

5. Rattan

(3)

J: A Hamelin

(54kg)

T: Richard Gibson

6. Computer Patch

(7)

J: K Teetan

(53kg)

T: A S Cruz

7. Perfect Match

(4)

J: A Badel

(53kg)

T: C S Shum
Odds Last Updated: October 19, 2020, 12:52am (AEDT)
Race 4
Tai Wai Hcp (C4) (1600m)
5:15pm (AEDT)
Race 4

Tai Wai Hcp (C4) (1600m)
5:15pm (AEDT)

1. Decisive Action

(12)

J: Z Purton

(60.5kg)

T: C S Shum

2. Ezra

(9)

J: A Hamelin

(60.5kg)

T: A T Millard

3. Leading Fortune

(4)

J: M Chadwick

(60kg)

T: J J Size

4. Methane

(1)

J: N Callan

(60kg)

T: D Ferraris

5. Seaweed Fortune

(6)

J: C Y Ho

(57.5kg)

T: K W Lui

6. Fast Pace

(11)

J: J Moreira

(56kg)

T: C Fownes

7. Indigenous Star

(10)

J: B Shinn

(55.5kg)

T: C W Chang

8. Kungfumaster Panda

(2)

J: K C Leung

(55kg)

T: P D O'sullivan

9. Alloy Star

(5)

J: C Schofield

(54.5kg)

T: T P Yung

10. Pretty Bauhinia

(8)

J: H T Mo

(54kg)

T: Y S Tsui

11. Salto Olimpico

(13)

J: H N Wong

(53.5kg)

T: D J Hall

12. Bulletproof

(7)

J: V Borges

(52kg)

T: P Yiu

13. Circuit Number One

(3)

J: K Teetan

(52kg)

T: A S Cruz

14. Happy Win Win

(14)

J: A Badel

(52kg)

T: C H Yip
Odds Last Updated: October 19, 2020, 12:52am (AEDT)
Race 5
Sha Tin Wai Hcp (C4) (1200m)
6:05pm (AEDT)
Race 5

Sha Tin Wai Hcp (C4) (1200m)
6:05pm (AEDT)

1. Triple Triple

(3)

J: Z Purton

(60.5kg)

T: F C Lor

2. Gratwick

(12)

J: H T Mo

(60kg)

T: T P Yung

3. Honest Way

(13)

J: M L Yeung

(59kg)

T: K L Man

4. Above All

(10)

J: A Hamelin

(56.5kg)

T: A T Millard

5. Cheerful Days

(5)

J: C Y Ho

(56.5kg)

T: K W Lui

6. Red Majesty

(6)

J: B Shinn

(56.5kg)

T: D A Hayes

7. Sparky Star

(2)

J: J Moreira

(56.5kg)

T: D J Hall

8. Winning Steed

(9)

J: K Teetan

(56.5kg)

T: K H Ting

9. Rhapsody

(7)

J: C Schofield

(55.5kg)

T: J J Size

10. Diamond Pegasus

(11)

J: M Chadwick

(54.5kg)

T: A S Cruz

11. One Happy Star

(1)

J: M F Poon

(53kg)

T: C H Yip

12. Super Red Dragon

(4)

J: A Badel

(54kg)

T: W Y So

13. Righteous Win

(8)

J: V Borges

(53.5kg)

T: P Yiu

14. Shanghai Power

(14)

J: C Wong

(51.5kg)

T: Y S Tsui
Odds Last Updated: October 19, 2020, 12:52am (AEDT)
Race 6
Shing Mun River Channel (C4) (1200m)
6:40pm (AEDT)
Race 6

Shing Mun River Channel (C4) (1200m)
6:40pm (AEDT)

1. Fortune Happiness

(5)

J: J Moreira

(59kg)

T: K W Lui

2. Striking Mr C

(3)

J: B Shinn

(59kg)

T: T P Yung

3. Goodluck Goodluck

(1)

J: K C Leung

(58.5kg)

T: W Y So

4. Super Alliances

(10)

J: M Chadwick

(57kg)

T: J J Size

5. Speed To Exceed

(12)

J: M F Poon

(56.5kg)

T: D J Hall

6. Dollar Reward

(2)

J: A Hamelin

(56kg)

T: C S Shum

7. Sunny And Gold

(8)

J: Z Purton

(56kg)

T: C H Yip

8. Hero Star

(7)

J: N Callan

(55kg)

T: K L Man

9. Resolute

(6)

J: K Teetan

(53.5kg)

T: A T Millard

10. Star Superior

(9)

J: C Y Ho

(53.5kg)

T: C W Chang

11. Super Kin

(4)

J: C Schofield

(53.5kg)

T: C Fownes

12. Go Ballistic

(11)

J: Alex Lai

(51.5kg)

T: D Ferraris
Odds Last Updated: October 19, 2020, 12:52am (AEDT)
Race 7
Oriental Watch Sha Tin Trophy (1600m)
7:10pm (AEDT)
Race 7

Oriental Watch Sha Tin Trophy (1600m)
7:10pm (AEDT)

1. Beauty Generation

(5)

J: Z Purton

(60.5kg)

T: D A Hayes

2. Southern Legend

(9)

J: K Teetan

(58kg)

T: C Fownes

3. Ka Ying Star

(1)

J: C Schofield

(57kg)

T: A S Cruz

4. Golden Sixty

(6)

J: C Y Ho

(56kg)

T: K W Lui

5. Furore

(11)

J: K C Leung

(55.5kg)

T: A S Cruz

6. Dances With Dragon

(4)

J: M L Yeung

(52.5kg)

T: C Fownes

7. Harmony Victory

(7)

J: V Borges

(52kg)

T: C S Shum

8. Champion's Way

(3)

J: J Moreira

(51.5kg)

T: J J Size

9. Fast Most Furious

(12)

J: M F Poon

(51.5kg)

T: D J Hall

10. Playa Del Puente

(8)

J: A Badel

(51.5kg)

T: C S Shum

11. Singapore Sling

(10)

J: H T Mo

(51.5kg)

T: A T Millard

12. Chefano

(2)

J: M Chadwick

(51.5kg)

T: D A Hayes
Odds Last Updated: October 19, 2020, 12:52am (AEDT)
The day's feature event is the Group 3 Oriental Watch Sha Tin Trophy, where we have another clash of the titans between (1) Beauty Generation and (4) Golden Sixty.
Beauty Generation has won 20 of his 39 career starts, while his younger opponent has suffered defeat just once in 12 outings. They met first up in the Group 3 Celebration Cup where Golden Sixty reigned supreme, scoring by 1.8L from Beauty Generation and (8) Champion's Way, who dead heated for 2nd.
Golden Sixty carried just 52.5kg on that occasion, meaning Beauty Generation had to give him 8kgs in weight, but today Golden Sixty rises to 56kg, bridging the weight difference to just 4.5kg. Champion's Way drops to 51.5kg having carried 52.5kg last start, so he ends up with a 4.5kg weight swing on Golden Sixty.
It looms as another fascinating contest, with Beauty Generation likely to be ridden more aggressively after encountering some trouble in the straight first up. He has an outstanding second up record, with four wins from five starts, and it would be silly to write him off here.
With that said, Golden Sixty is building quite the impressive record and even a rise in the weights might not be enough for the ageing Beauty Generation to reverse the result. Champion's Way with the featherweight can round out the top three once again.
Hard to have a confident bet here given Golden Sixty is a $1.50 chance and while the $5.50 for Beauty Generation does appeal, it's a matter of whether he's actually going to be able to win. Perhaps a small play on the quinella (although it won't pay much) would be the best way to go.
Top pick: (4) Golden Sixty $1.50 Sportsbet
Race 8
Fo Tan Hcp (C2) (1200m)
7:40pm (AEDT)
Race 8

Fo Tan Hcp (C2) (1200m)
7:40pm (AEDT)

1. Kings Shield

(10)

J: K C Leung

(60.5kg)

T: F C Lor

2. Red Desert

(5)

J: C Schofield

(57.5kg)

T: J J Size

3. Encore Boy

(9)

J: A K Chan

(55.5kg)

T: P Yiu

4. Will Power

(12)

J: K Teetan

(55.5kg)

T: D Whyte

5. Highly Proactive

(6)

J: Z Purton

(55kg)

T: K W Lui

6. Mega Heart

(8)

J: M L Yeung

(54.5kg)

T: C W Chang

7. Ugly Warrior

(4)

J: J Moreira

(54.5kg)

T: Y S Tsui

8. Sunny Boy

(3)

J: M Chadwick

(53.5kg)

T: W Y So

9. Utopia Life

(11)

J: C Wong

(53kg)

T: K L Man

10. Bear Slam

(7)

J: V Borges

(52kg)

T: D Ferraris

11. California Concord

(1)

J: A Badel

(52kg)

T: A S Cruz

12. Racing Fighter

(2)

J: M F Poon

(52kg)

T: C H Yip
Odds Last Updated: October 19, 2020, 12:52am (AEDT)
Race 9
Pai Tau Hcp (C3) (1200m)
8:15pm (AEDT)
Race 9

Pai Tau Hcp (C3) (1200m)
8:15pm (AEDT)

1. Circuit Six

(6)

J: K C Leung

(60.5kg)

T: K L Man

2. Transcendent

(1)

J: K Teetan

(60kg)

T: A S Cruz

3. Winning Dreamer

(9)

J: C Y Ho

(60kg)

T: F C Lor

4. Orion Patch

(7)

J: M L Yeung

(57.5kg)

T: K W Lui

5. Awe

(5)

J: B Shinn

(56kg)

T: D A Hayes

6. Chicken Dance

(3)

J: Z Purton

(56kg)

T: P D O'sullivan

7. Shouson

(8)

J: C Wong

(56kg)

T: A T Millard

8. Glorified Fire

(10)

J: A Hamelin

(55kg)

T: D Whyte

9. Starz Hero

(14)

J: Alex Lai

(55kg)

T: Y S Tsui

10. Scores Of Fun

(12)

J: J Moreira

(53kg)

T: J J Size

11. Happy Warrior

(11)

J: H T Mo

(52.5kg)

T: C Fownes

12. Moeraki

(2)

J: M Chadwick

(52.5kg)

T: K H Ting

13. Bright Vision

(13)

J: M F Poon

(51.5kg)

T: P Yiu

14. Master Albert

(4)

J: V Borges

(51.5kg)

T: W Y So
Odds Last Updated: October 19, 2020, 12:52am (AEDT)
Race 10
Sha Tin Hoi Hcp (C3) (1400m)
8:50pm (AEDT)
Race 10

Sha Tin Hoi Hcp (C3) (1400m)
8:50pm (AEDT)

1. A A Agility

(9)

J: H T Mo

(58kg)

T: L Ho

2. Gift Of Lifeline

(10)

J: A Hamelin

(58kg)

T: A T Millard

3. Taking Aim

(11)

J: C Schofield

(58kg)

T: D Whyte

4. Smart Patch

(5)

J: Alex Lai

(57kg)

T: K L Man

5. The Hulk

(6)

J: J Moreira

(57kg)

T: C Fownes

6. Circuit Hassler

(13)

J: M Chadwick

(56.5kg)

T: A S Cruz

7. Emerald Spur

(1)

J: C Y Ho

(53kg)

T: P Yiu

8. President's Choice

(7)

J: Z Purton

(56kg)

T: C W Chang

9. Heza Beauty

(12)

J: N Callan

(55kg)

T: J J Size

10. Telecom Elite

(3)

J: M L Yeung

(55kg)

T: P D O'sullivan

11. Top Score

(4)

J: M F Poon

(55kg)

T: K W Lui

12. Romantic Combo

(14)

J: V Borges

(54kg)

T: C S Shum

13. Armor Star

(2)

J: K Teetan

(53.5kg)

T: F C Lor

14. Charizard

(8)

J: A Badel

(53kg)

T: D Ferraris
Odds Last Updated: October 19, 2020, 12:52am (AEDT)