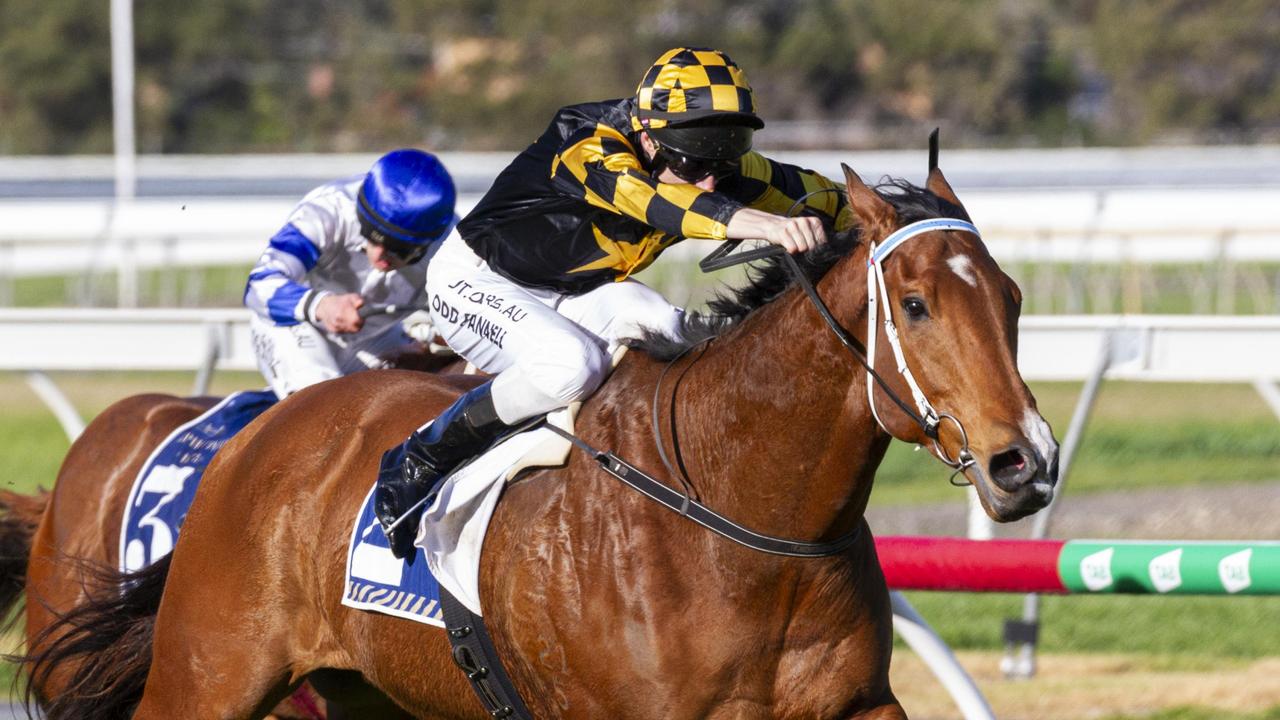 An outstanding field has been assembled for the Rupert Clarke Stakes on Saturday at Caulfield.
Trent Crebbin has assessed the chances of every runner in the field and provided his thoughts in our runner by runner preview.
Speed Map
Plenty of speed here as you'd expect for a full field. Buffalo River likes to go fast and from barrier 4 I think he can hold the front if he wants. Groundswell probably sits outside from barrier 9, Streets Of Avalon has to cross from 14 but looks cast. Beau Rossa could hold leader's back from 1, Behemoth maybe holds his spot outside Beau Rossa, Probabeel has tactical speed but I think she ends up a pair further back, potentially on the rails. Amish Boy has to go back and if I'm Thunderstruck can make the field, he'll be snicked back from out wide.

Runners
1. Behemoth- He's just a genuine Group 1, 1400m horse. He notched up his 3rd major in the Memsie last start, his 3rd at the Caulfield 1400m, partly due to a brilliant Brett Prebble ride to pocket Tofane and take off early. The comment was he was perhaps a touch underdone, and if that's the case, any improvement will make him very hard to beat. He won an easier edition of this race last year with 60kg (under COVID weight scale) and deserves the full 59kg here. He also loves fast tempos which he should find here, and is impossible to knock with Willo again taking the ride.
2. Probabeel- Star mare who ticks so many boxes here. Her 2nd up record is nearly flawless, with 4 wins and a second from 5 starts. She's unbeaten at Caulfield and her win in the Futurity at this T/D 2nd up last prep was exceptional, holding off Arcadia Queen and Behemoth. She'll have to break a mare's weight carrying record here, but she's very hard to knock. Prebble hops on which is very interesting and with luck from the barrier she'll be right in the finish.
3. Streets Of Avalon- Not a whole lot has gone right this prep but he does get back to his ideal T/D, but it's hard to see him turning the tables on a few of these from the Memsie, despite settling well off speed. Gets a bit of weight relief at 56kg but the draw is horrible and he'll have to do a mountain of work.
4. Dalasan- Classy horse on his day and the first up run over an unsuitable 1200m wasn't bad, but this does look another prep run. Behemoth has typically been far too strong for him in their SA clashes at this sort of trip, and drawn wide, he'll get back and hit the line. Not the worst exotic hope, but a win would shock.
5. Beau Rossa- This race has looked tailor-made for him all prep. He's finished 2nd by incredibly narrow margins to Behemoth at his last two, including a win stripped on protest. He doesn't get in as light as once thought with the handicap rating a bit up in the air, but he still gets 3.5kg off Behemoth which is significant. With a bit more luck I think he probably wins the Memsie, and even if Behemoth has a length of improvement to come, the weight swing is enough for him to get the nod. I would've preferred him drawn out a touch more after getting the inside again, but horses down in the weights have a great record in this race and any rain on the day will be to his liking.
6. Buffalo River- One of my boyfriends, no doubt, but this is a tough Group 1. He's got a great first up record and loves to bowl along in front, but I think Group 1 level, especially on a good track, finds him out. If we were on a wet track I'd have something on him, but he gets down to 52.5kg, maps beautifully, and if it's on speed he will give them something to chase.
7. Sierra Sue- I like her back to 1400m because I think that's her pet distance, however in saying that she was desperately unlucky in the Feehan over a mile last start when blocked for a run. Her win in the Lawrence at this T/D was good, given a great ride, and no doubt this is much harder, but she's down in the weights and will be charging late. Not sure she's quite classy enough but won't run poorly whatsoever.
8. Groundswell- Tricky horse because he can implode when he doesn't find the front, and drawn outside Buffalo River will make it hard to lead. The win two back at Flemington had some merit over King Magnus and Red Can Man, but he failed when sitting off them here last start. Another that can give a bit of cheek, but I can't see Buffalo River handing up, so he'll have to work.
9. Aysar- Perhaps up to 1400m will help him, but I just don't think he's good enough. He wasn't bad last start behind Express Pass and the run in the CS Hayes behind Tagaloa puts him in the mix for a race like this, given how well that horse ran in this race last year, but the draw is very sticky and I'm happy to risk.
10. Irish Flame- Huge run first up over 1200m, beating home Aysar, and definitely going to appreciate a rise in distance, but realistically his best form is over 2000m and 2nd up with the freshness out of his legs, in a much stronger race, he's going to struggle. Does map well and can be followed out of the race.
11. Romancer- Going okay in easier races and 1400m is his pet distance, but he's much better at Flemington with 3 unplaced efforts here at Caulfield. Can't have him coming out of open handicap grade against a few genuine group 1 WFA horses.
12. Samizdat- Interesting acceptance over from WA, he's got a big finish on his day and some of his form would make him somewhat competitive here, including a win fresh over Indian Pacific who ran 2nd in a Newmarket and a close up 5th in the Railway to Regal Power. Not the worst roughie.
13. Amish Boy- Very good run first up when unlucky behind Masked Crusader, and despite not winning at the trip, I do think 1400m is probably his best distance. His run behind Apache Chase and Ayrton at 1400m reads very well, he's just been dealt no favours with the wide draw. Can he give the big three 5-6L on the turn and run them down? I'm saying no, but he can definitely run a place.
14. Dice Roll- Had a big boom on him through the winter but hasn't had everything go his way the last two runs. He's got a very good first up record and clearly likes 1400m, but with the big gap between runs into a high pressure, quality group 1 has to be a query. The horses he's been beating, whilst good horses, aren't in the level of some of these. He'd need to have improved a few lengths at least.
15. Regardsmaree- Another that's had this race in mind for a while, but I think he's been found out a bit this prep. Perhaps he can improve with a quieter ride as he was winning through winter, and the run last week certainly wasn't bad at Flemington. Loves it here at Caulfield, the draw is sticky but I think they go back and ride for cover. If he gets on the back of the right one, perhaps Sierra Sue, he can be somewhere in the finish.
16. Poland- Solid run first up behind Masked Crusader and will appreciate getting to 1400m. His win in the Autumn Stakes at this T/D off one of the fastest speeds I've seen certainly holds him in stead to handle any tempo here, and he did beat I'm Thunderstruck that day (who has clearly improved a lot since then). The draw isn't ideal because he'd like to be just behind the speed.
17. I'm Thunderstruck- They'll be praying for a scratching, and it wouldn't shock to see OTI Racing pull Romancer out to allow him to make the field. Has enormous talent and upside, and his last two wins have been very good. He fits the profile of the lightly weighted 4yo that will relish a fast tempo and charge late, which he'll have to do because the draw means he's likely to be snicked back. Very wary if he makes the field, and I'm almost hoping he doesn't from a betting point of view. If he does, he's easily the most likely horse to upset the big 3.
Selections
What an outstanding race, especially if I'm Thunderstruck makes the field. Regardless, you could firmly be in the camp of Behemoth, Probabeel or Beau Rossa. I'm siding with the latter- he arguably should've beaten Behemoth in the Memsie with even luck and the 3.5kg weight swing is enough for me. He'll need a bit of luck again from barrier 1, but if the field breaks up and Meech can find a gap early, he's going to be hard to beat.
(5) Beau Rossa – $4.80 at PlayUp
 Betting Strategy: 1 Unit WIN Beau Rossa