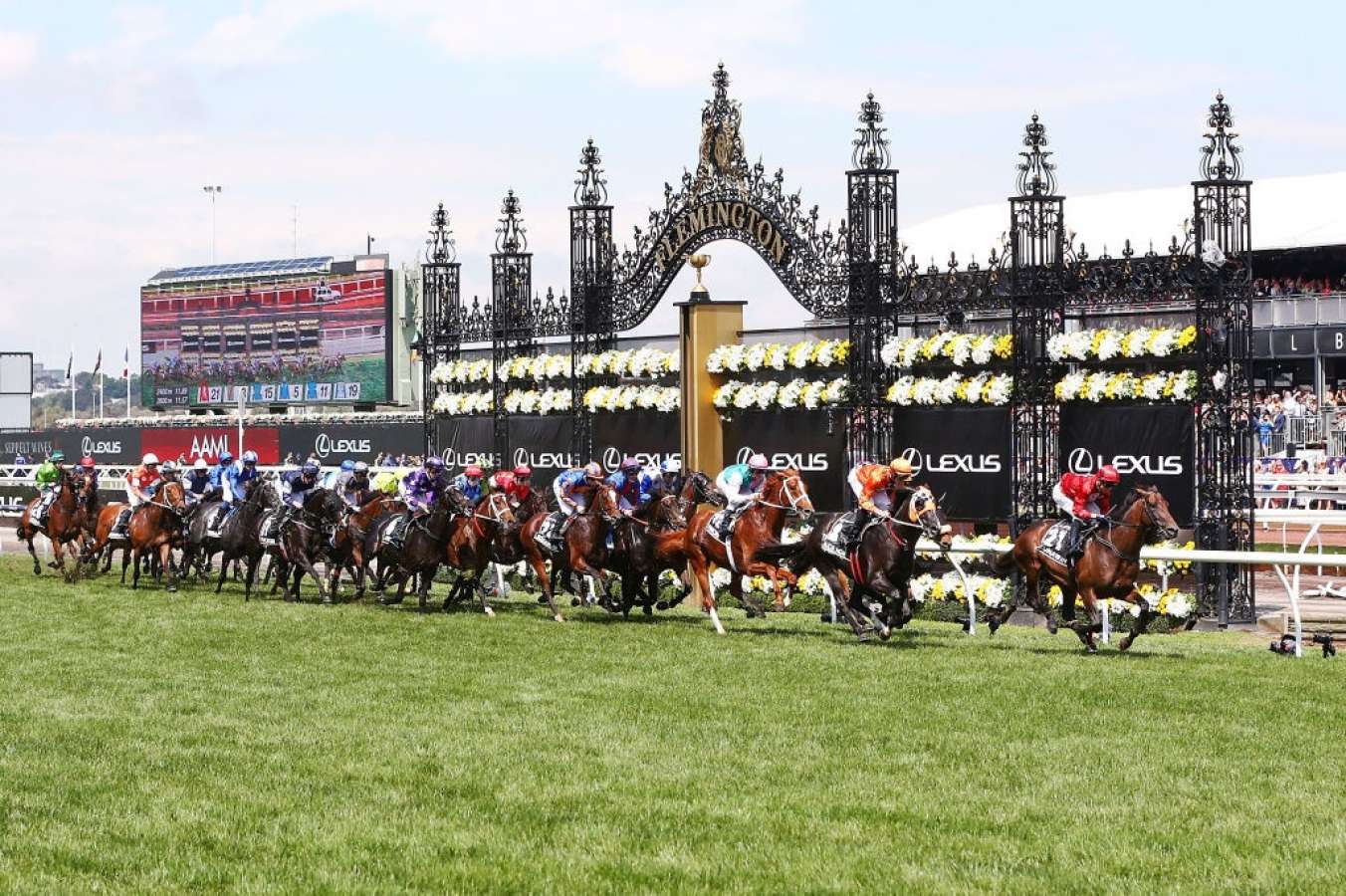 2021/22 Australian Feature Horse Races
There are a total of 606 feature races on the 2021/22 Australian horse racing calendar, which fall into four different class categories.
Group 1 races are the highest rated races, followed by Group 2, Group 3 and Listed class.
Of the 606 feature races in Australia this season, 74 are at Group 1 level, 94 are at Group 2 level, 166 at Group 3, and 272 Listed races.
The three biggest races on the Australian racing calendar are the Melbourne Cup, Caulfield Cup and Cox Plate. You can find our Melbourne Cup tips, Caulfield Cup tips and Cox Plate tips HERE, along with a host of other feature race previews throughout the season!
Scroll down to see the full list of feature races for the upcoming racing season below, broken down into their respective classes.
Group 1 Races
| | | | | | | | | | |
| --- | --- | --- | --- | --- | --- | --- | --- | --- | --- |
| Date | Group | State | Venue | Current Race Name (2021/22) | Distance | Prizemoney     | Age | Sex | Race Type |
| 21/08/21 | 1 | NSW | RAND | WINX STAKES | 1400 | $500,000 | 3YO&Up | Open | WFA |
| 28/08/21 | 1 | VIC | CAUL | MEMSIE STAKES | 1400 | $750,000 | 3YO&Up | Open | WFA |
| 11/09/21 | 1 | VIC | FLEM | MAKYBE DIVA STAKES | 1600 | $750,000 | Open | Open | WFA |
| 18/09/21 | 1 | NSW | RAND | GEORGE MAIN STAKES | 1600 | $500,000 | 3YO&Up | Open | WFA |
| 18/09/21 | 1 | VIC | CAUL | SIR RUPERT CLARKE STAKES | 1400 | $750,000 | Open | Open | Hcp |
| 24/09/21 | 1 | VIC | THE VALLEY | MOIR STAKES | 1000 | $1,000,000 | Open | Open | WFA |
| 25/09/21 | 1 | NSW | RHIL | GOLDEN ROSE STAKES | 1400 | $1,000,000 | 3-Y-O | Open | SW |
| 26/09/21 | 1 | VIC | SANH | UNDERWOOD STAKES | 1800 | $750,000 | 3YO&Up | Open | WFA |
| 2/10/21 | 1 | NSW | RAND | EPSOM HCP | 1600 | $1,500,000 | 3YO&Up | Open | Hcp |
| 2/10/21 | 1 | NSW | RAND | FLIGHT STAKES | 1600 | $750,000 | 3-Y-O | F | SW |
| 2/10/21 | 1 | NSW | RAND | THE METROPOLITAN | 2400 | $750,000 | 3YO&Up | Open | Hcp |
| 2/10/21 | 1 | VIC | FLEM | TURNBULL STAKES | 2000 | $750,000 | 4YO&Up | Open | SWP |
| 9/10/21 | 1 | NSW | RAND | SPRING CHAMPION STAKES | 2000 | $1,000,000 | 3-Y-O | Open | SW |
| 9/10/21 | 1 | VIC | CAUL | CAULFIELD GUINEAS | 1600 | $2,000,000 | 3-Y-O | Open | SW |
| 9/10/21 | 1 | VIC | CAUL | MIGHT AND POWER STAKES | 2000 | $1,000,000 | 3YO&Up | Open | WFA |
| 9/10/21 | 1 | VIC | CAUL | TOORAK HANDICAP | 1600 | $1,000,000 | Open | Open | Hcp |
| 13/10/21 | 1 | VIC | CAUL | THOUSAND GUINEAS | 1600 | $1,000,000 | 3-Y-O | F | SW |
| 16/10/21 | 1 | VIC | CAUL | CAULFIELD CUP | 2400 | $5,000,000 | Open | Open | Hcp |
| 22/10/21 | 1 | VIC | THE VALLEY | MANIKATO STAKES | 1200 | $1,000,000 | Open | Open | WFA |
| 23/10/21 | 1 | VIC | THE VALLEY | COX PLATE | 2040 | $5,000,000 | 3YO&Up | Open | WFA |
| 30/10/21 | 1 | VIC | FLEM | CANTALA STAKES | 1600 | $2,000,000 | Open | Open | Qlty |
| 30/10/21 | 1 | VIC | FLEM | VICTORIA DERBY | 2500 | $2,000,000 | 3-Y-O | Open | SW |
| 30/10/21 | 1 | VIC | FLEM | COOLMORE STUD STAKES | 1200 | $1,500,000 | 3-Y-O | Open | SW |
| 30/10/21 | 1 | VIC | FLEM | EMPIRE ROSE STAKES | 1600 | $1,000,000 | 3YO&Up | F&M | WFA |
| 2/11/21 | 1 | VIC | FLEM | MELBOURNE CUP | 3200 | $8,000,000 | Open | Open | Hcp |
| 4/11/21 | 1 | VIC | FLEM | VRC OAKS | 2500 | $1,000,000 | 3-Y-O | F | SW |
| 6/11/21 | 1 | VIC | FLEM | MACKINNON STAKES | 2000 | $2,000,000 | Open | Open | WFA |
| 6/11/21 | 1 | VIC | FLEM | VRC SPRINT CLASSIC | 1200 | $2,000,000 | Open | Open | WFA |
| 20/11/21 | 1 | WA | ASCT | RAILWAY STAKES | 1600 | $1,000,000 | 3YO&Up | Open | Qlty |
| 27/11/21 | 1 | WA | ASCT | WINTERBOTTOM STAKES | 1200 | $1,000,000 | 3YO&Up | Open | WFA |
| 4/12/21 | 1 | WA | ASCT | KINGSTON TOWN CLASSIC | 1800 | $1,000,000 | 3YO&Up | Open | WFA |
| 12/02/22 | 1 | VIC | CAUL | C.F. ORR STAKES | 1400 | $750,000 | Open | Open | WFA |
| 19/02/22 | 1 | VIC | FLEM | LIGHTNING STAKES | 1000 | $1,000,000 | Open | Open | WFA |
| 26/02/22 | 1 | NSW | RAND | CHIPPING NORTON STAKES | 1600 | $600,000 | 3YO&Up | Open | WFA |
| 26/02/22 | 1 | NSW | RAND | SURROUND STAKES | 1400 | $500,000 | 3-Y-O | F | SW |
| 26/02/22 | 1 | VIC | CAUL | BLUE DIAMOND STAKES | 1200 | $1,500,000 | 2-Y-O | Open | SW |
| 26/02/22 | 1 | VIC | CAUL | FUTURITY STAKES | 1400 | $750,000 | Open | Open | WFA |
| 26/02/22 | 1 | VIC | CAUL | OAKLEIGH PLATE | 1100 | $750,000 | Open | Open | Hcp |
| 5/03/22 | 1 | NSW | RAND | RANDWICK GUINEAS | 1600 | $1,000,000 | 3-Y-O | Open | SW |
| 5/03/22 | 1 | NSW | RAND | CANTERBURY STAKES | 1300 | $500,000 | 3YO&Up | Open | WFA |
| 5/03/22 | 1 | VIC | FLEM | AUSTRALIAN GUINEAS | 1600 | $1,000,000 | 3-Y-O | Open | SW |
| 12/03/22 | 1 | NSW | RHIL | COOLMORE CLASSIC | 1500 | $600,000 | 3YO&Up | F&M | Qlty |
| 12/03/22 | 1 | VIC | FLEM | AUSTRALIAN CUP | 2000 | $1,500,000 | Open | Open | WFA |
| 12/03/22 | 1 | VIC | FLEM | NEWMARKET HANDICAP | 1200 | $1,500,000 | Open | Open | Hcp |
| 19/03/22 | 1 | NSW | RHIL | GOLDEN SLIPPER STAKES | 1200 | $3,500,000 | 2-Y-O | Open | SW |
| 19/03/22 | 1 | NSW | RHIL | GEORGE RYDER STAKES | 1500 | $1,000,000 | 3YO&Up | Open | WFA |
| 19/03/22 | 1 | NSW | RHIL | RANVET STAKES | 2000 | $700,000 | 3YO&Up | Open | WFA |
| 19/03/22 | 1 | NSW | RHIL | THE GALAXY | 1100 | $700,000 | 3YO&Up | Open | Hcp |
| 19/03/22 | 1 | NSW | RHIL | ROSEHILL GUINEAS | 2000 | $600,000 | 3-Y-O | Open | SW |
| 25/03/22 | 1 | VIC | THE VALLEY | WILLIAM REID STAKES | 1200 | $1,000,000 | Open | Open | WFA |
| 26/03/22 | 1 | NSW | RHIL | THE BMW | 2400 | $1,500,000 | 3YO&Up | Open | WFA |
| 26/03/22 | 1 | NSW | RHIL | VINERY STUD STAKES | 2000 | $500,000 | 3-Y-O | F | SW |
| 2/04/22 | 1 | NSW | RAND | DONCASTER HANDICAP | 1600 | $3,000,000 | 3YO&Up | Open | Hcp |
| 2/04/22 | 1 | NSW | RAND | T J SMITH STAKES | 1200 | $2,500,000 | Open | Open | WFA |
| 2/04/22 | 1 | NSW | RAND | ATC AUSTRALIAN DERBY | 2400 | $2,000,000 | 3-Y-O | Open | SW |
| 2/04/22 | 1 | NSW | RAND | ATC SIRES PRODUCE STAKES | 1400 | $1,000,000 | 2-Y-O | Open | SW |
| 9/04/22 | 1 | NSW | RAND | QUEEN ELIZABETH STAKES | 2000 | $4,000,000 | 3YO&Up | Open | WFA |
| 9/04/22 | 1 | NSW | RAND | SYDNEY CUP | 3200 | $2,000,000 | 3YO&Up | Open | Hcp |
| 9/04/22 | 1 | NSW | RAND | ATC OAKS | 2400 | $1,000,000 | 3-Y-O | F | SW |
| 9/04/22 | 1 | NSW | RAND | QUEEN OF THE TURF STAKES | 1600 | $1,000,000 | 3YO&Up | F&M | WFA |
| 16/04/22 | 1 | NSW | RAND | ALL AGED STAKES | 1400 | $600,000 | Open | Open | WFA |
| 16/04/22 | 1 | NSW | RAND | CHAMPAGNE STAKES | 1600 | $500,000 | 2-Y-O | Open | SW |
| 7/05/22 | 1 | SA | MORP | AUSTRALASIAN OAKS | 2000 | $502,250 | 3-Y-O | F | SW |
| 7/05/22 | 1 | SA | MORP | ROBERT SANGSTER STAKES | 1200 | $502,250 | Open | F&M | WFA |
| 14/05/22 | 1 | QLD | DOOM | DOOMBEN 10,000 | 1200 | $1,000,000 | Open | Open | WFA |
| 14/05/22 | 1 | SA | MORP | SOUTH AUSTRALIAN DERBY | 2500 | $502,250 | 3-Y-O | Open | SW |
| 21/05/22 | 1 | QLD | DOOM | DOOMBEN CUP | 2000 | $1,000,000 | 3YO&Up | Open | WFA |
| 21/05/22 | 1 | SA | MORP | THE GOODWOOD | 1200 | $502,250 | Open | Open | SWP |
| 28/05/22 | 1 | QLD | E FM | KINGSFORD-SMITH CUP | 1300 | $700,000 | Open | Open | WFA |
| 28/05/22 | 1 | QLD | E FM | QUEENSLAND DERBY | 2400 | $600,000 | 3-Y-O | Open | SW |
| 4/06/22 | 1 | QLD | E FM | QUEENSLAND OAKS | 2200 | $500,000 | 3-Y-O | F | SW |
| 11/06/22 | 1 | QLD | E FM | STRADBROKE HANDICAP | 1400 | $1,500,000 | Open | Open | Qlty |
| 11/06/22 | 1 | QLD | E FM | J.J. ATKINS | 1600 | $1,000,000 | 2-Y-O | Open | SW |
| 25/06/22 | 1 | QLD | E FM | TATTERSALL'S TIARA | 1400 | $500,000 | Open | F&M | WFA |
Group 2 Races
| | | | | | | | | | |
| --- | --- | --- | --- | --- | --- | --- | --- | --- | --- |
| Date | Group | State | Venue | Current Race Name (2021/22) | Distance | Prizemoney     | Age | Sex | Race Type |
| 7/08/21 | 2 | NSW | RHIL | MISSILE STAKES | 1200 | $200,000 | 3YO&Up | Open | SWP |
| 14/08/21 | 2 | VIC | CAUL | P.B. LAWRENCE STAKES | 1400 | $300,000 | 3YO&Up | Open | WFA |
| 21/08/21 | 2 | NSW | RAND | SILVER SHADOW STAKES | 1200 | $200,000 | 3-Y-O | F | SWP |
| 4/09/21 | 2 | NSW | RAND | CHELMSFORD STAKES | 1600 | $250,000 | 3YO&Up | Open | WFA |
| 4/09/21 | 2 | NSW | RAND | FURIOUS STAKES | 1200 | $200,000 | 3-Y-O | F | SW |
| 4/09/21 | 2 | NSW | RAND | TRAMWAY STAKES | 1400 | $200,000 | 3YO&Up | Open | SWP |
| 4/09/21 | 2 | VIC | THE VALLEY | FEEHAN STAKES | 1600 | $500,000 | Open | Open | WFA |
| 4/09/21 | 2 | VIC | THE VALLEY | MCEWEN STAKES | 1000 | $300,000 | Open | Open | WFA |
| 11/09/21 | 2 | NSW | RHIL | SHERACO STAKES | 1200 | $200,000 | 3YO&Up | F&M | SWP |
| 11/09/21 | 2 | NSW | RHIL | THE RUN TO THE ROSE | 1200 | $200,000 | 3-Y-O | Open | SWP |
| 11/09/21 | 2 | NSW | RHIL | THEO MARKS STAKES | 1300 | $200,000 | 3YO&Up | Open | Qlty |
| 11/09/21 | 2 | VIC | FLEM | BOBBIE LEWIS QUALITY | 1200 | $300,000 | 4YO&Up | Open | Qlty |
| 11/09/21 | 2 | VIC | FLEM | LET'S ELOPE STAKES | 1400 | $300,000 | 4YO&Up | M | SWP |
| 18/09/21 | 2 | NSW | RAND | THE SHORTS | 1100 | $500,000 | 3YO&Up | Open | SWP |
| 18/09/21 | 2 | NSW | RAND | DARLEY TEA ROSE STAKES | 1400 | $200,000 | 3-Y-O | F | SW |
| 18/09/21 | 2 | VIC | CAUL | THOUSAND GUINEAS PRELUDE | 1400 | $300,000 | 3-Y-O | F | SWP |
| 24/09/21 | 2 | VIC | THE VALLEY | STOCKS STAKES | 1600 | $300,000 | 4YO&Up | M | WFA |
| 24/09/21 | 2 | VIC | THE VALLEY | STUTT STAKES | 1600 | $300,000 | 3-Y-O | Open | SW |
| 25/09/21 | 2 | NSW | RHIL | GOLDEN PENDANT | 1400 | $400,000 | 3YO&Up | F&M | SWP |
| 25/09/21 | 2 | NSW | RHIL | SHANNON STAKES | 1500 | $200,000 | 3YO&Up | Open | Qlty |
| 2/10/21 | 2 | NSW | RAND | HILL STAKES | 2000 | $500,000 | 3YO&Up | Open | WFA |
| 2/10/21 | 2 | NSW | RAND | PREMIERE STAKES | 1200 | $500,000 | 3YO&Up | Open | WFA |
| 2/10/21 | 2 | VIC | FLEM | DANEHILL STAKES | 1100 | $300,000 | 3-Y-O | Open | SWP |
| 2/10/21 | 2 | VIC | FLEM | EDWARD MANIFOLD STAKES | 1600 | $300,000 | 3-Y-O | F | SW |
| 2/10/21 | 2 | VIC | FLEM | GILGAI STAKES | 1200 | $300,000 | Open | Open | SWP |
| 2/10/21 | 2 | VIC | FLEM | ROSE OF KINGSTON STAKES | 1400 | $300,000 | 4YO&Up | M | SWP |
| 9/10/21 | 2 | NSW | RAND | ROMAN CONSUL STAKES | 1200 | $300,000 | 3-Y-O | Open | SW |
| 9/10/21 | 2 | NSW | RAND | STAN FOX STAKES | 1500 | $250,000 | 3-Y-O | Open | SW |
| 9/10/21 | 2 | VIC | CAUL | HERBERT POWER STAKES | 2400 | $300,000 | Open | Open | Qlty |
| 9/10/21 | 2 | VIC | CAUL | SCHILLACI STAKES | 1100 | $300,000 | 3YO&Up | Open | WFA |
| 16/10/21 | 2 | VIC | CAUL | CAULFIELD SPRINT | 1100 | $300,000 | Open | Open | Hcp |
| 16/10/21 | 2 | VIC | CAUL | TRISTARC STAKES | 1400 | $300,000 | 4YO&Up | M | SWP |
| 23/10/21 | 2 | VIC | THE VALLEY | MOONEE VALLEY GOLD CUP | 2500 | $500,000 | 4YO&Up | Open | SWP |
| 23/10/21 | 2 | VIC | THE VALLEY | CRYSTAL MILE | 1600 | $300,000 | Open | Open | WFA |
| 23/10/21 | 2 | VIC | THE VALLEY | MOONEE VALLEY FILLIES CLASSIC | 1600 | $300,000 | 3-Y-O | F | SW |
| 23/10/21 | 2 | VIC | THE VALLEY | MV VASE | 2040 | $300,000 | 3-Y-O | Open | SW |
| 30/10/21 | 2 | VIC | FLEM | LINLITHGOW STAKES | 1200 | $300,000 | Open | Open | HCP |
| 30/10/21 | 2 | VIC | FLEM | WAKEFUL STAKES | 2000 | $300,000 | 3-Y-O | F | SWP |
| 6/11/21 | 2 | NSW | RHIL | HOT DANISH STAKES | 1400 | $500,000 | 3YO&Up | F&M | SW |
| 6/11/21 | 2 | VIC | FLEM | MATRIARCH STAKES | 2000 | $300,000 | 4YO&Up | M | SWP |
| 6/11/21 | 2 | WA | ASCT | LEE STEERE STAKES | 1400 | $250,000 | 3YO&Up | Open | WFA |
| 20/11/21 | 2 | WA | ASCT | W.A. GUINEAS | 1600 | $500,000 | 3-Y-O | Open | SW |
| 27/11/21 | 2 | VIC | CAUL | ZIPPING CLASSIC | 2400 | $750,000 | Open | Open | WFA |
| 27/11/21 | 2 | VIC | CAUL | SANDOWN GUINEAS | 1600 | $300,000 | 3-Y-O | Open | SW |
| 11/12/21 | 2 | NSW | RAND | VILLIERS STAKES | 1600 | $750,000 | 3YO&Up | Open | Qlty |
| 18/12/21 | 2 | WA | ASCT | TED VAN HEEMST STAKES | 2100 | $250,000 | 3YO&Up | Open | WFA |
| 1/01/22 | 2 | WA | ASCT | PERTH CUP | 2400 | $500,000 | 3YO&Up | Open | Qlty |
| 29/01/22 | 2 | NSW | RHIL | EXPRESSWAY STAKES | 1200 | $200,000 | 3YO&Up | Open | WFA |
| 29/01/22 | 2 | VIC | THE VALLEY | AUSTRALIA STAKES | 1200 | $300,000 | Open | Open | WFA |
| 12/02/22 | 2 | NSW | RAND | APOLLO STAKES | 1400 | $250,000 | 3YO&Up | Open | WFA |
| 12/02/22 | 2 | NSW | RAND | LIGHT FINGERS STAKES | 1200 | $200,000 | 3-Y-O | F | SW |
| 12/02/22 | 2 | VIC | CAUL | AUTUMN STAKES | 1400 | $300,000 | 3-Y-O | Open | SWP |
| 12/02/22 | 2 | VIC | CAUL | BLUE DIAMOND PRELUDE (F) | 1100 | $300,000 | 2-Y-O | F | SW |
| 12/02/22 | 2 | VIC | CAUL | RUBITON STAKES | 1100 | $300,000 | Open | Open | SWP |
| 19/02/22 | 2 | NSW | RHIL | HOBARTVILLE STAKES | 1400 | $400,000 | 3-Y-O | Open | SW |
| 19/02/22 | 2 | NSW | RHIL | SILVER SLIPPER STAKES | 1100 | $250,000 | 2-Y-O | Open | SW |
| 19/02/22 | 2 | NSW | RHIL | MILLIE FOX STAKES | 1300 | $200,000 | 3YO&Up | F&M | SWP |
| 26/02/22 | 2 | NSW | RAND | GUY WALTER STAKES | 1400 | $200,000 | 4YO&Up | M | SWP |
| 26/02/22 | 2 | NSW | RAND | SKYLINE STAKES | 1200 | $200,000 | 2-Y-O | C&G | SW |
| 26/02/22 | 2 | NSW | RAND | SWEET EMBRACE STAKES | 1200 | $200,000 | 2-Y-O | F | SW |
| 26/02/22 | 2 | VIC | CAUL | ANGUS ARMANASCO STAKES | 1400 | $300,000 | 3-Y-O | F | SW |
| 26/02/22 | 2 | VIC | CAUL | CAULFIELD AUTUMN CLASSIC | 1800 | $300,000 | 3-Y-O | Open | SW |
| 26/02/22 | 2 | VIC | CAUL | PETER YOUNG STAKES | 1800 | $300,000 | Open | Open | WFA |
| 5/03/22 | 2 | NSW | RAND | CHALLENGE STAKES | 1000 | $500,000 | 3YO&Up | Open | WFA |
| 5/03/22 | 2 | NSW | RAND | REISLING STAKES | 1200 | $300,000 | 2-Y-O | F | SW |
| 5/03/22 | 2 | NSW | RAND | TODMAN STAKES | 1200 | $300,000 | 2-Y-O | C&G | SW |
| 5/03/22 | 2 | VIC | FLEM | BLAMEY STAKES | 1600 | $300,000 | 3YO&Up | Open | SWP |
| 12/03/22 | 2 | NSW | RHIL | AJAX STAKES | 1500 | $200,000 | 3YO&Up | Open | Qlty |
| 12/03/22 | 2 | NSW | RHIL | PHAR LAP STAKES | 1500 | $200,000 | 3-Y-O | Open | SW |
| 12/03/22 | 2 | VIC | FLEM | A.V KEWNEY STAKES | 1400 | $300,000 | 3-Y-O | F | SW |
| 12/03/22 | 2 | VIC | FLEM | VRC SIRES' PRODUCE STAKES | 1400 | $300,000 | 2-Y-O | Open | SW |
| 14/03/22 | 2 | SA | MORP | ADELAIDE CUP | 3200 | $302,250 | Open | Open | Hcp |
| 18/03/22 | 2 | VIC | THE VALLEY | ALISTER CLARK STAKES | 2040 | $300,000 | 3-Y-O | Open | SW |
| 25/03/22 | 2 | VIC | THE VALLEY | SUNLINE STAKES | 1600 | $300,000 | 3YO&Up | F&M | WFA |
| 26/03/22 | 2 | NSW | RHIL | EMANCIPATION STAKES | 1500 | $200,000 | 3YO&Up | F&M | SWP |
| 26/03/22 | 2 | NSW | RHIL | TULLOCH STAKES | 2000 | $200,000 | 3-Y-O | C&G | SW |
| 2/04/22 | 2 | NSW | RAND | CHAIRMAN'S HANDICAP | 2600 | $300,000 | 3YO&Up | Open | Qlty |
| 2/04/22 | 2 | WA | ASCT | KARRAKATTA PLATE | 1200 | $500,000 | 2-Y-O | Open | SW |
| 9/04/22 | 2 | NSW | RAND | ARROWFIELD 3YO SPRINT | 1200 | $1,000,000 | 3-Y-O | Open | SW |
| 9/04/22 | 2 | NSW | RAND | PERCY SYKES STAKES | 1200 | $1,000,000 | 2-Y-O | F | SWP |
| 9/04/22 | 2 | NSW | RAND | SAPPHIRE STAKES | 1200 | $300,000 | 3YO&Up | F&M | SWP |
| 9/04/22 | 2 | WA | ASCT | W.A.T.C. DERBY | 2400 | $400,000 | 3-Y-O | Open | SW |
| 30/04/22 | 2 | QLD | E FM | QUEENSLAND GUINEAS | 1600 | $350,000 | 3-Y-O | Open | SW |
| 30/04/22 | 2 | QLD | E FM | VICTORY STAKES | 1200 | $250,000 | 3YO&Up | Open | WFA |
| 7/05/22 | 2 | QLD | GCST | A D HOLLINDALE STAKES | 1800 | $500,000 | 3YO&Up | Open | WFA |
| 7/05/22 | 2 | SA | MORP | QUEEN OF THE SOUTH STAKES | 1600 | $202,250 | 3YO&Up | F&M | SWP |
| 7/05/22 | 2 | SA | MORP | TOBIN BRONZE STAKES | 1200 | $202,250 | 3-Y-O | Open | SW |
| 14/05/22 | 2 | QLD | DOOM | CHAMPAGNE CLASSIC | 1200 | $250,000 | 2-Y-O | Open | SW |
| 21/05/22 | 2 | QLD | DOOM | THE ROSES | 2000 | $250,000 | 3-Y-O | F | SW |
| 28/05/22 | 2 | QLD | E FM | BRC SIRES' PRODUCE | 1400 | $1,000,000 | 2-Y-O | Open | SW |
| 4/06/22 | 2 | QLD | E FM | MORETON CUP | 1200 | $200,000 | Open | Open | SWP |
| 11/06/22 | 2 | QLD | E FM | Q 22 | 2200 | $1,500,000 | Open | Open | WFA |
| 11/06/22 | 2 | QLD | E FM | BRISBANE CUP | 3200 | $400,000 | 3YO&Up | Open | QLTY |
| 11/06/22 | 2 | QLD | E FM | DANE RIPPER STAKES | 1300 | $200,000 | Open | F&M | SWP |
Group 3 Races
| | | | | | | | | | |
| --- | --- | --- | --- | --- | --- | --- | --- | --- | --- |
| Date | Group | State | Venue | Current Race Name (2021/22) | Distance | Prizemoney     | Age | Sex | Race Type |
| 7/08/21 | 3 | VIC | FLEM | AURIE'S STAR HANDICAP | 1200 | $200,000 | Open | Open | Hcp |
| 14/08/21 | 3 | NSW | KENS | UP AND COMING STAKES | 1300 | $160,000 | 3-Y-O | Open | Qlty |
| 14/08/21 | 3 | SA | MORP | SPRING STAKES | 1200 | $127,250 | Open | Open | WFA |
| 14/08/21 | 3 | VIC | CAUL | QUEZETTE STAKES | 1100 | $200,000 | 3-Y-O | F | SWP |
| 14/08/21 | 3 | VIC | CAUL | VAIN STAKES | 1100 | $200,000 | 3-Y-O | C&G | SWP |
| 21/08/21 | 3 | NSW | RAND | SHOW COUNTY QUALITY HCP | 1200 | $160,000 | 3YO&Up | Open | Qlty |
| 21/08/21 | 3 | NSW | RAND | TOY SHOW F-&-M QLTY HCP | 1100 | $160,000 | 3YO&Up | F&M | Qlty |
| 28/08/21 | 3 | NSW | RHIL | MING DYNASTY QUALITY HCP | 1400 | $160,000 | 3-Y-O | Open | Qlty |
| 28/08/21 | 3 | NSW | RHIL | PREMIER'S CUP | 1900 | $160,000 | 3YO&Up | Open | Qlty |
| 28/08/21 | 3 | NSW | RHIL | SAN DOMENICO STAKES | 1100 | $160,000 | 3-Y-O | Open | SWP |
| 28/08/21 | 3 | VIC | CAUL | HDF MCNEIL STAKES | 1200 | $200,000 | 3-Y-O | Open | SWP |
| 28/08/21 | 3 | VIC | CAUL | THE HEATH 1100 | 1100 | $200,000 | Open | Open | SWP |
| 28/08/21 | 3 | VIC | CAUL | W W COCKRAM STAKES | 1200 | $200,000 | 4YO&Up | M | SWP |
| 4/09/21 | 3 | NSW | RAND | CONCORDE STAKES | 1000 | $160,000 | 3YO&Up | Open | SWP |
| 17/09/21 | 3 | NSW | NCLE | NEWCASTLE GOLD CUP | 2300 | $250,000 | 3YO&Up | Open | Hcp |
| 17/09/21 | 3 | NSW | NCLE | CAMERON HCP | 1500 | $160,000 | Open | Open | Hcp |
| 17/09/21 | 3 | NSW | NCLE | TIBBIE STAKES | 1400 | $160,000 | Open | F&M | SWP |
| 18/09/21 | 3 | NSW | RAND | BILL RITCHIE HANDICAP | 1400 | $160,000 | 3YO&Up | Open | Qlty |
| 18/09/21 | 3 | NSW | RAND | KINGSTON TOWN STAKES | 2000 | $160,000 | 3YO&Up | Open | SWP |
| 18/09/21 | 3 | VIC | CAUL | CAULFIELD GUINEAS PRELUDE | 1400 | $300,000 | 3-Y-O | C&G | SWP |
| 18/09/21 | 3 | VIC | CAUL | HOW NOW STAKES | 1200 | $200,000 | 4YO&Up | M | SWP |
| 18/09/21 | 3 | VIC | CAUL | NATURALISM STAKES | 2000 | $160,000 | Open | Open | Qlty |
| 24/09/21 | 3 | VIC | THE VALLEY | JRA CUP | 2040 | $200,000 | Open | Open | Qlty |
| 24/09/21 | 3 | VIC | THE VALLEY | SCARBOROUGH STAKES | 1200 | $200,000 | 3-Y-O | F | SW |
| 25/09/21 | 3 | NSW | RHIL | GLOAMING STAKES | 1800 | $200,000 | 3-Y-O | Open | SW |
| 25/09/21 | 3 | NSW | RHIL | QUEEN'S CUP | 2400 | $160,000 | Open | Open | Qlty |
| 26/09/21 | 3 | VIC | SANH | SANDOWN STAKES | 1500 | $200,000 | Open | Open | Qlty |
| 2/10/21 | 3 | NSW | RAND | BREEDERS' PLATE | 1000 | $160,000 | 2-Y-O | C&G | SW |
| 2/10/21 | 3 | NSW | RAND | GIMCRACK STAKES | 1000 | $160,000 | 2-Y-O | F | SW |
| 2/10/21 | 3 | VIC | FLEM | THE BART CUMMINGS | 2500 | $500,000 | Open | Open | Qlty |
| 9/10/21 | 3 | NSW | RAND | ANGST STAKES | 1600 | $160,000 | 4YO&Up | M | SWP |
| 9/10/21 | 3 | VIC | CAUL | NORTHWOOD PLUME STAKES | 1200 | $200,000 | 4YO&Up | M | SWP |
| 9/10/21 | 3 | VIC | CAUL | THOROUGHBRED CLUB STAKES | 1200 | $200,000 | 3-Y-O | F | SWP |
| 13/10/21 | 3 | VIC | CAUL | BLUE SAPPHIRE STAKES | 1200 | $200,000 | 3-Y-O | Open | SW |
| 13/10/21 | 3 | VIC | CAUL | COONGY HANDICAP | 2000 | $200,000 | Open | Open | Hcp |
| 13/10/21 | 3 | VIC | CAUL | LADIES DAY VASE | 1600 | $200,000 | 4YO&Up | M | SWP |
| 16/10/21 | 3 | NSW | RAND | CRAVEN PLATE | 2000 | $750,000 | 3YO&Up | Open | WFA |
| 16/10/21 | 3 | NSW | RAND | SYDNEY STAKES | 1100 | $500,000 | 3YO&Up | Open | WFA |
| 16/10/21 | 3 | VIC | CAUL | CAULFIELD CLASSIC | 2000 | $200,000 | 3-Y-O | Open | SWP |
| 16/10/21 | 3 | VIC | CAUL | ETHEREAL STAKES | 2000 | $200,000 | 3-Y-O | F | SWP |
| 16/10/21 | 3 | VIC | CAUL | MOONGA STAKES | 1400 | $200,000 | 4YO&Up | Open | SWP |
| 16/10/21 | 3 | WA | ASCT | NORTHERLY STAKES | 1400 | $150,000 | 4YO&Up | Open | SWP |
| 20/10/21 | 3 | VIC | GEEL | GEELONG CUP | 2400 | $400,000 | Open | Open | Hcp |
| 23/10/21 | 3 | NSW | RAND | THE NIVISON | 1200 | $200,000 | 4YO&Up | M | SWP |
| 23/10/21 | 3 | VIC | THE VALLEY | RED ANCHOR STAKES | 1200 | $200,000 | 3-Y-O | Open | SWP |
| 23/10/21 | 3 | VIC | THE VALLEY | TESIO STAKES | 1600 | $200,000 | 4YO&Up | M | Hcp |
| 27/10/21 | 3 | VIC | BEND | BENDIGO CUP | 2400 | $400,000 | Open | Open | Hcp |
| 30/10/21 | 3 | VIC | FLEM | CARBINE CLUB STAKES | 1600 | $500,000 | 3-Y-O | Open | SWP |
| 30/10/21 | 3 | VIC | FLEM | LEXUS HOTHAM HANDICAP | 2500 | $300,000 | Open | Open | Qlty |
| 30/10/21 | 3 | VIC | FLEM | BEGONIA BELLE STAKES | 1100 | $200,000 | Open | M | SWP |
| 30/10/21 | 3 | WA | ASCT | ASIAN BEAU STAKES | 1400 | $150,000 | 3YO&Up | Open | Hcp |
| 30/10/21 | 3 | WA | ASCT | PRINCE OF WALES STAKES | 1000 | $150,000 | 3YO&Up | Open | WFA |
| 2/11/21 | 3 | VIC | FLEM | HKJC STAKES | 1400 | $200,000 | 4YO&Up | M | SWP |
| 2/11/21 | 3 | VIC | FLEM | MARIBYRNONG PLATE | 1000 | $200,000 | 2-Y-O | Open | SW |
| 4/11/21 | 3 | VIC | FLEM | RED ROSES STAKES | 1200 | $300,000 | 3-Y-O | F | SWP |
| 4/11/21 | 3 | VIC | FLEM | OTTAWA STAKES | 1000 | $200,000 | 2-Y-O | F | SW |
| 6/11/21 | 3 | VIC | FLEM | QUEEN ELIZABETH STAKES | 2600 | $300,000 | Open | Open | Qlty |
| 6/11/21 | 3 | VIC | FLEM | CHATHAM STAKES | 1400 | $200,000 | Open | Open | Hcp |
| 13/11/21 | 3 | NSW | NCLE | SPRING STAKES | 1600 | $160,000 | 3-Y-O | Open | SW |
| 13/11/21 | 3 | WA | ASCT | W.A. CHAMPION FILLIES ST | 1600 | $200,000 | 3-Y-O | F | SW |
| 13/11/21 | 3 | WA | ASCT | COLONEL REEVES STAKES | 1100 | $150,000 | 3YO&Up | Open | SWP |
| 13/11/21 | 3 | WA | ASCT | R.J. PETERS STAKES | 1500 | $150,000 | 3YO&Up | Open | Hcp |
| 27/11/21 | 3 | NSW | RHIL | FESTIVAL STAKES | 1500 | $160,000 | 3YO&Up | Open | Qlty |
| 27/11/21 | 3 | VIC | CAUL | ECLIPSE STAKES | 1800 | $200,000 | Open | Open | Qlty |
| 27/11/21 | 3 | VIC | CAUL | KEVIN HEFFERNAN STAKES | 1400 | $200,000 | Open | Open | WFA |
| 27/11/21 | 3 | VIC | CAUL | SUMMONED STAKES | 1600 | $200,000 | 4YO&Up | M | SWP |
| 4/12/21 | 3 | QLD | DOOM | GEORGE MOORE STAKES | 1200 | $200,000 | Open | Open | Qlty |
| 4/12/21 | 3 | WA | ASCT | A.J. SCAHILL STAKES | 1400 | $250,000 | 3YO&Up | Open | WFA |
| 26/12/21 | 3 | NSW | RAND | SUMMER CUP | 2000 | $160,000 | 3YO&Up | Open | Qlty |
| 26/12/21 | 3 | QLD | E FM | BJ MCLACHLAN STAKES | 1200 | $250,000 | 2-Y-O | Open | SW |
| 26/12/21 | 3 | QLD | E FM | GRAND PRIX STAKES | 2200 | $150,000 | 3-Y-O | Open | SW |
| 29/12/21 | 3 | NSW | GOSF | BELLE OF THE TURF STAKES | 1600 | $160,000 | 3YO&Up | F&M | Qlty |
| 1/01/22 | 3 | QLD | DOOM | VO ROGUE PLATE | 1400 | $300,000 | 3-Y-O | Open | SW |
| 1/01/22 | 3 | VIC | FLEM | STANDISH HANDICAP | 1200 | $200,000 | Open | Open | Hcp |
| 1/01/22 | 3 | WA | ASCT | LA TRICE CLASSIC | 1800 | $150,000 | 3YO&Up | F&M | SWP |
| 26/01/22 | 3 | VIC | CAUL | BLUE DIAMOND PREVIEW (F) | 1000 | $200,000 | 2-Y-O | F | SWP |
| 26/01/22 | 3 | VIC | CAUL | CHAIRMAN'S STAKES | 1100 | $200,000 | 2-Y-O | Open | SWP |
| 29/01/22 | 3 | NSW | RHIL | CANONBURY STAKES | 1100 | $160,000 | 2-Y-O | C&G | SWP |
| 29/01/22 | 3 | NSW | RHIL | WIDDEN STAKES | 1100 | $160,000 | 2-Y-O | F | SWP |
| 5/02/22 | 3 | NSW | WFARM | ESKIMO PRINCE STAKES | 1200 | $160,000 | 3-Y-O | Open | SWP |
| 5/02/22 | 3 | VIC | CAUL | MANFRED STAKES | 1200 | $200,000 | 3-Y-O | Open | SWP |
| 11/02/22 | 3 | TAS | HOB | BOW MISTRESS TROPHY | 1200 | $150,000 | 3YO&UP | F&M | WFA |
| 12/02/22 | 3 | NSW | RAND | SOUTHERN CROSS STAKES | 1200 | $160,000 | 3YO&Up | Open | Qlty |
| 12/02/22 | 3 | NSW | RAND | TRISCAY STAKES | 1200 | $160,000 | 4YO&Up | M | Qlty |
| 12/02/22 | 3 | VIC | CAUL | BLUE DIAMOND PRELUDE (C&G) | 1100 | $300,000 | 2-Y-O | C&G | SW |
| 12/02/22 | 3 | VIC | CAUL | CARLYON CUP | 1600 | $200,000 | Open | Open | SWP |
| 12/02/22 | 3 | VIC | CAUL | GEOFFREY BELMAINE STAKES | 1200 | $200,000 | 4YO&Up | M | SWP |
| 12/02/22 | 3 | VIC | CAUL | KEVIN HAYES STAKES | 1200 | $200,000 | 3-Y-O | F | SWP |
| 13/02/22 | 3 | TAS | HOB | HOBART CUP | 2400 | $250,000 | Open | Open | Hcp |
| 19/02/22 | 3 | VIC | FLEM | CS HAYES STAKES | 1400 | $200,000 | 3-Y-O | C&G | SWP |
| 19/02/22 | 3 | VIC | FLEM | THE VANITY | 1400 | $200,000 | 3-Y-O | F | SWP |
| 23/02/22 | 3 | TAS | LAUN | LAUNCESTON CUP | 2400 | $250,000 | Open | Open | Hcp |
| 23/02/22 | 3 | TAS | LAUN | VAMOS STAKES | 1400 | $150,000 | 3YO&Up | F&M | WFA |
| 25/02/22 | 3 | VIC | THE VALLEY | TYPHOON TRACY STAKES | 1200 | $200,000 | 3-Y-O | F | SWP |
| 26/02/22 | 3 | NSW | RAND | LIVERPOOL CITY CUP | 1300 | $160,000 | 3YO&Up | Open | Qlty |
| 26/02/22 | 3 | SA | MORP | LORD REIMS STAKES | 2600 | $127,250 | Open | Open | SWP |
| 26/02/22 | 3 | VIC | CAUL | MANNERISM STAKES | 1400 | $200,000 | 4YO&Up | M | SWP |
| 26/02/22 | 3 | VIC | CAUL | ZEDITAVE STAKES | 1200 | $200,000 | 3-Y-O | Open | SWP |
| 4/03/22 | 3 | NSW | NCLE | NEWCASTLE NEWMARKET HCP | 1400 | $160,000 | Open | Open | Qlty |
| 5/03/22 | 3 | NSW | RAND | ASPIRATION QUALITY | 1600 | $160,000 | 3YO&Up | F&M | Qlty |
| 5/03/22 | 3 | NSW | RAND | WENONA GIRL QUALITY | 1200 | $160,000 | 4YO&Up | M | Qlty |
| 5/03/22 | 3 | VIC | FLEM | FRANCES TRESSADY STAKES | 1400 | $200,000 | 3YO&Up | F&M | SWP |
| 5/03/22 | 3 | VIC | FLEM | SHAFTESBURY AVENUE HCP | 1400 | $200,000 | Open | Open | Hcp |
| 11/03/22 | 3 | NSW | KEMB | KEITH F NOLAN CLASSIC | 1600 | $200,000 | 3-Y-O | F | SWP |
| 12/03/22 | 3 | NSW | RHIL | SKY HIGH STAKES | 2000 | $350,000 | 3YO&Up | Open | SWP |
| 12/03/22 | 3 | NSW | RHIL | MAGIC NIGHT STAKES | 1200 | $175,000 | 2-Y-O | F | SW |
| 12/03/22 | 3 | NSW | RHIL | PAGO PAGO STAKES | 1200 | $175,000 | 2-Y-O | C&G | SW |
| 12/03/22 | 3 | NSW | RHIL | MAURICE McCARTEN STAKES | 1100 | $160,000 | 3YO&Up | Open | Qlty |
| 12/03/22 | 3 | VIC | FLEM | MATRON STAKES | 1600 | $200,000 | 3YO&Up | F&M | SWP |
| 12/03/22 | 3 | VIC | FLEM | THOROUGHBRED BREEDERS STAKES | 1200 | $200,000 | 2-Y-O | F | SWP |
| 13/03/22 | 3 | ACT | CANB | BLACK OPAL STAKES | 1200 | $250,000 | 2-Y-O | Open | SWP |
| 19/03/22 | 3 | NSW | RHIL | BIRTHDAY CARD STAKES | 1200 | $160,000 | 3YO&Up | F&M | Qlty |
| 19/03/22 | 3 | NSW | RHIL | EPONA STAKES | 1900 | $160,000 | 3YO&Up | F&M | SWP |
| 19/03/22 | 3 | NSW | RHIL | N E MANION QUALITY CUP | 2400 | $160,000 | 3YO&Up | Open | Qlty |
| 19/03/22 | 3 | WA | ASCT | GIMCRACK STKS | 1100 | $150,000 | 2-Y-O | F | SWP |
| 25/03/22 | 3 | VIC | THE VALLEY | ALEXANDRA STAKES | 1600 | $200,000 | 3-Y-O | F | SWP |
| 26/03/22 | 3 | NSW | RHIL | DONCASTER PRELUDE | 1500 | $160,000 | 3YO&Up | Open | Qlty |
| 26/03/22 | 3 | NSW | RHIL | NEVILLE SELLWOOD STAKES | 2000 | $160,000 | 4YO&Up | Open | SWP |
| 26/03/22 | 3 | NSW | RHIL | STAR KINGDOM STAKES | 1200 | $160,000 | 3YO&Up | Open | Qlty |
| 26/03/22 | 3 | NSW | RHIL | T L BAILLIEU HANDICAP | 1400 | $160,000 | 2-Y-O | Open | Qlty |
| 26/03/22 | 3 | WA | ASCT | W.A. OAKS | 2400 | $250,000 | 3-Y-O | F | SW |
| 2/04/22 | 3 | NSW | RAND | ADRIAN KNOX QLTY STAKES | 2000 | $200,000 | 3-Y-O | F | Qlty |
| 2/04/22 | 3 | NSW | RAND | CARBINE CLUB STAKES | 1600 | $200,000 | 3-Y-O | Open | SWP |
| 2/04/22 | 3 | NSW | RAND | KINDERGARTEN STAKES | 1100 | $200,000 | 2-Y-O | Open | SW |
| 2/04/22 | 3 | NSW | RAND | P J BELL STAKES | 1200 | $200,000 | 3-Y-O | F | SWP |
| 16/04/22 | 3 | NSW | RAND | FRANK PACKER PLATE | 2000 | $160,000 | 3-Y-O | Open | SW |
| 16/04/22 | 3 | NSW | RAND | HALL MARK STAKES | 1200 | $160,000 | 3YO&Up | Open | SWP |
| 16/04/22 | 3 | NSW | RAND | JAMES H B CARR STAKES | 1400 | $160,000 | 3-Y-O | F | SWP |
| 16/04/22 | 3 | NSW | RAND | JAPAN RACING ASSOC PLATE | 2000 | $160,000 | 3YO&Up | Open | Qlty |
| 16/04/22 | 3 | VIC | CAUL | EASTER CUP | 2000 | $200,000 | Open | Open | Hcp |
| 16/04/22 | 3 | VIC | CAUL | VICTORIA HANDICAP | 1400 | $200,000 | Open | Open | Hcp |
| 16/04/22 | 3 | WA | ASCT | W.A. SIRES' PRODUCE STAKES | 1400 | $200,000 | 2-Y-O | Open | SW |
| 21/04/22 | 3 | SA | MORP | AURARIA STAKES | 1800 | $127,250 | 3-Y-O | F | SWP |
| 21/04/22 | 3 | SA | MORP | R N IRWIN STAKES | 1100 | $127,250 | Open | Open | WFA |
| 30/04/22 | 3 | NSW | HAWK | HAWKESBURY GOLD CUP | 1600 | $200,000 | 3YO&Up | Open | Hcp |
| 30/04/22 | 3 | NSW | HAWK | HAWKESBURY GUINEAS | 1400 | $200,000 | 3-Y-O | Open | SWP |
| 30/04/22 | 3 | NSW | HAWK | HAWKESBURY CROWN | 1300 | $175,000 | Open | F&M | SWP |
| 30/04/22 | 3 | SA | MORP | BREEDERS' STAKES | 1200 | $127,250 | 2-Y-O | Open | SW |
| 30/04/22 | 3 | SA | MORP | CHAIRMAN'S STAKES | 2000 | $127,250 | 3-Y-O | Open | SW |
| 1/05/22 | 3 | WA | NTHM | NORTHAM STAKES | 1100 | $150,000 | 3YO&Up | Open | SWP |
| 7/05/22 | 3 | QLD | GCST | GOLD COAST GUINEAS | 1200 | $150,000 | 3-Y-O | Open | SW |
| 7/05/22 | 3 | QLD | GCST | KEN RUSSELL MEMORIAL CLASSIC | 1200 | $150,000 | Open | Open | SW |
| 7/05/22 | 3 | SA | MORP | D C MCKAY STAKES | 1100 | $127,250 | Open | Open | Qlty |
| 13/05/22 | 3 | NSW | SCNE | DARK JEWEL CLASSIC | 1400 | $200,000 | Open | F&M | Qlty |
| 14/05/22 | 3 | QLD | DOOM | ROUGH HABIT PLATE | 2000 | $250,000 | 3-Y-O | Open | SW |
| 14/05/22 | 3 | QLD | DOOM | CHAIRMAN'S HANDICAP | 2000 | $150,000 | 3YO&Up | Open | Qlty |
| 14/05/22 | 3 | SA | MORPP | SOUTH AUSTRALIAN SIRES PRODUCE STAKES | 1400 | $127,250 | 2-Y-O | Open | SW |
| 14/05/22 | 3 | WA | ASCT | ROMA CUP | 1200 | $150,000 | 2YO&Up | Open | WFA |
| 21/05/22 | 3 | QLD | DOOM | BRC SPRINT | 1350 | $175,000 | Open | Open | Qlty |
| 21/05/22 | 3 | SA | MORP | R A LEE STAKES | 1600 | $152,250 | Open | Open | SWP |
| 21/05/22 | 3 | SA | MORP | SA FILLIES CLASSIC | 2500 | $152,250 | 3-Y-O | F | SW |
| 21/05/22 | 3 | SA | MORP | DAVID COLES AM STAKES | 1200 | $127,250 | 2-Y-O | Open | SW |
| 21/05/22 | 3 | SA | MORP | PROUD MISS STAKES | 1200 | $127,250 | 3YO&Up | F&M | SWP |
| 28/05/22 | 3 | QLD | E FM | FRED BEST CLASSIC | 1400 | $200,000 | 3-Y-O | Open | SW |
| 28/05/22 | 3 | QLD | E FM | LORD MAYOR'S CUP | 1800 | $150,000 | Open | Open | SWP |
| 28/05/22 | 3 | QLD | E FM | PREMIER'S CUP | 2400 | $150,000 | Open | Open | Qlty |
| 28/05/22 | 3 | WA | BLMT | BELMONT SPRINT | 1400 | $150,000 | 2YO&Up | Open | WFA |
| 4/06/22 | 3 | QLD | E FM | PAM O'NEILL STAKES | 1600 | $500,000 | Open | F&M | WFA |
| 11/06/22 | 3 | QLD | E FM | GUNSYND CLASSIC | 1600 | $200,000 | 3-Y-O | Open | SW |
| 11/06/22 | 3 | WA | BLMT | HYPERION STAKES | 1600 | $150,000 | 3YO&Up | Open | WFA |
| 25/06/22 | 3 | QLD | E FM | TATTERSALL'S CUP | 2400 | $200,000 | Open | Open | SWP |
| 25/06/22 | 3 | QLD | E FM | W J HEALY STAKES | 1200 | $175,000 | Open | Open | Qlty |
| 25/06/22 | 3 | WA | BLMT | STRICKLAND STAKES | 2000 | $150,000 | 3YO&Up | Open | WFA |
| 2/07/22 | 3 | QLD | SCTC | WINX GUINEAS | 1600 | $175,000 | 3-Y-O | Open | SW |
| 9/07/22 | 3 | VIC | CAUL | SIR JOHN MONASH STAKES | 1100 | $200,000 | Open | Open | WFA |
| 23/07/22 | 3 | VIC | CAUL | BLETCHINGLY STAKES | 1200 | $200,000 | Open | Open | WFA |
Listed Races
Date
Group
State
Venue
Current Race Name (2021/22)
Distance
Prizemoney    
Age
Sex
Race Type
7/08/21
Listed
NSW
RHIL
THE ROSEBUD
1100
$150,000
3-Y-O
Open
Qlty
14/08/21
Listed
VIC
CAUL
REGAL ROLLER STAKES
1200
$160,000
3YO&Up
Open
Hcp
14/08/21
Listed
WA
BLMT
BELMONT NEWMARKET
1200
$100,000
3YO&Up
Open
Qlty
19/08/21
Listed
NSW
HAWK
ROWLEY MILE
1600
$185,000
3YO&Up
Open
Hcp
21/08/21
Listed
VIC
THE VALLEY
CARLYON STAKES
1000
$160,000
4YO&Up
Open
SWP
21/08/21
Listed
VIC
THE VALLEY
MITCHELL MCKENZIE STAKES
1200
$160,000
3-Y-O
C&G
SWP
27/08/21
Listed
QLD
GCST
GOLDMARKET HANDICAP
1200
$125,000
Open
Open
Qlty
28/08/21
Listed
SA
MORPP
LEON MACDONALD STAKES
1400
$107,250
Open
Open
WFA
28/08/21
Listed
VIC
CAUL
HEATHERLIE HANDICAP
1700
$160,000
Open
Open
Hcp
28/08/21
Listed
WA
BLMT
IDYLLIC PRINCE STAKES
1300
$100,000
3YO&Up
Open
WFA
3/09/21
Listed
NSW
WYNG
WYONG GOLD CUP
2100
$200,000
Open
Open
Qlty
3/09/21
Listed
NSW
WYNG
MONA LISA STAKES
1350
$140,000
Open
F&M
SWP
4/09/21
Listed
VIC
THE VALLEY
ATLANTIC JEWEL STAKES
1200
$160,000
3-Y-O
F
SWP
4/09/21
Listed
VIC
THE VALLEY
CHANDLER MACLEOD STAKES
1200
$160,000
Open
Open
HCP
11/09/21
Listed
NSW
RHIL
DULCIFY STAKES
1500
$150,000
3-Y-O
Open
SWP
11/09/21
Listed
QLD
DOOM
BRISBANE HANDICAP
1600
$125,000
Open
Open
Qlty
11/09/21
Listed
VIC
FLEM
CAP D'ANTIBES STAKES
1100
$160,000
3-Y-O
F
SWP
11/09/21
Listed
VIC
FLEM
EXFORD PLATE
1400
$160,000
3-Y-O
Open
SWP
11/09/21
Listed
VIC
FLEM
POSEIDON STAKES
1100
$160,000
C&G
Open
SWP
11/09/21
Listed
VIC
FLEM
TONTONAN STAKES
1400
$160,000
4YO&Up
Open
HCP
11/09/21
Listed
WA
BLMT
FARNLEY STAKES
1400
$100,000
3YO&Up
Open
Qlty
15/09/21
Listed
SA
BKVA
BALAKLAVA CUP
1600
$107,250
Open
Open
Qlty
18/09/21
Listed
SA
MORP
W H WYLIE HANDICAP
1100
$107,250
Open
Open
Qlty
19/09/21
Listed
WA
KALG
BOULDER CUP
2100
$100,000
3YO&Up
Open
Qlty
25/09/21
Listed
NSW
RHIL
HERITAGE STAKES
1100
$140,000
3-Y-O
Open
SWP
25/09/21
Listed
QLD
TWBA
WEETWOOD HANDICAP
1200
$125,000
Open
0
Qlty
25/09/21
Listed
VIC
MORN
R.M. ANSETT CLASSIC
2400
$160,000
Open
Open
Hcp
25/09/21
Listed
WA
BLMT
BLACK HEART BART STAKES
1200
$100,000
4YO&Up
Open
SWP
26/09/21
Listed
VIC
SANH
JIM MOLONEY STAKES
1400
$160,000
3-Y-O
F
SWP
26/09/21
Listed
VIC
SANH
TESTA ROSSA STAKES
1200
$160,000
Open
Open
Hcp
30/09/21
Listed
WA
KALG
HANNAN'S HANDICAP
1400
$120,000
3YO&Up
Open
Qlty
2/10/21
Listed
VIC
FLEM
MARIBYRNONG TRIAL STAKES
1000
$175,000
2-Y-O
Open
SW
2/10/21
Listed
VIC
FLEM
PARIS LANE STAKES
1400
$175,000
4YO&Up
Open
Hcp
2/10/21
Listed
VIC
FLEM
SUPER IMPOSE PLATE
1800
$175,000
3-Y-O
Open
SWP
2/10/21
Listed
WA
KALG
KALGOORLIE CUP
2300
$130,000
3YO&Up
Open
Qlty
9/10/21
Listed
QLD
DOOM
QUEENSLAND CUP
2200
$125,000
Open
Open
Qlty
9/10/21
Listed
SA
MORP
HILL SMITH STAKES
1800
$107,250
3-Y-O
Open
SW
9/10/21
Listed
VIC
CAUL
DEBUTANT STAKES
1000
$175,000
2-Y-O
Open
SW
9/10/21
Listed
VIC
CAUL
WEEKEND HUSSLER
1400
$175,000
Open
Open
HCP
10/10/21
Listed
VIC
BRAT
SEYMOUR CUP
1600
$200,000
Open
Open
Hcp
13/10/21
Listed
VIC
CAUL
CAULFIELD VILLAGE STAKES
1200
$175,000
Open
Open
HCP
15/10/21
Listed
SA
MBRID
MURRAY BRIDGE GOLD CUP
1600
$107,250
Open
Open
Qlty
16/10/21
Listed
NSW
RAND
REGINALD ALLEN QLTY HCP
1400
$140,000
3-Y-O
F
Qlty
16/10/21
Listed
VIC
CAUL
ALINGHI STAKES
1100
$175,000
3YO&Up
F&M
Hcp
16/10/21
Listed
VIC
CAUL
GOTHIC STAKES
1400
$175,000
3-Y-O
C&G
SWP
16/10/21
Listed
WA
ASCT
R.S. CRAWFORD STAKES
1000
$100,000
4YO&Up
Open
SWP
20/10/21
Listed
VIC
GEEL
GEELONG CLASSIC
2200
$200,000
3-Y-O
Open
SWP
20/10/21
Listed
VIC
GEEL
BLACK PEARL
1200
$160,000
3YO&Up
F&M
SWP
23/10/21
Listed
NSW
RAND
BRIAN CROWLEY STAKES
1200
$200,000
3-Y-O
Open
SWP
23/10/21
Listed
NSW
RAND
CITY TATT'S CLUB CUP
2400
$140,000
3YO&Up
Open
Qlty
23/10/21
Listed
VIC
THE VALLEY
WILLIAM CROCKETT STAKES
1200
$175,000
3-Y-O
F
SWP
23/10/21
Restricted Listed
VIC
THE VALLEY
INGLIS BANNER
1000
$400,000
2-Y-O
Open
SW
23/10/21
Listed
WA
ASCT
BELGRAVIA STAKES
1200
$100,000
3-Y-O
Open
SWP
24/10/21
Listed
VIC
SALE
SALE CUP
1600
$200,000
Open
Open
Hcp
24/10/21
Listed
WA
NTHM
NORTHAM CUP
1600
$125,000
3YO&Up
Open
Qlty
30/10/21
Listed
SA
MORP
JOHN LETTS CUP
1800
$107,250
Open
Open
SW + P
2/11/21
Listed
VIC
FLEM
BATMAN STAKES
1800
$175,000
3-Y-O
Open
Hcp
2/11/21
Listed
VIC
FLEM
DESIRABLE STAKES
1400
$175,000
3-Y-O
F
SWP
2/11/21
Listed
VIC
FLEM
MELBOURNE CUP DAY PLATE
1800
$175,000
Open
Open
Hcp
2/11/21
Listed
VIC
FLEM
MSS SECURITY SPRINT
1200
$175,000
Open
Open
Hcp
2/11/21
Listed
WA
ASCT
BURGESS QUEEN STAKES
1400
$100,000
3-Y-O
F
SWP
4/11/21
Listed
VIC
FLEM
CENTURY STAKES
1000
$175,000
Open
Open
SWP
6/11/21
Listed
VIC
FLEM
VRC SPRINGTIME STAKES
1400
$175,000
3-Y-O
Open
Hcp
6/11/21
Listed
WA
ASCT
FAIRETHA STAKES
1400
$100,000
3-Y-O
C&G
SWP
10/11/21
Listed
NSW
HAWK
LADIES DAY CUP
1400
$150,000
Open
Open
Hcp
13/11/21
Listed
QLD
DOOM
KEITH NOUD QUALITY
1200
$125,000
Open
Open
Qlty
13/11/21
Listed
VIC
BRAT
BALLARAT CUP
2000
$500,000
Open
Open
Hcp
13/11/21
Listed
VIC
CRAN
CRANBOURNE CUP
1600
$500,000
Open
Open
Hcp
13/11/21
Listed
WA
ASCT
ASCOT GOLD CUP
1800
$100,000
3YO&Up
Open
Qlty
20/11/21
Listed
WA
ASCT
CARBINE OF WA STAKES
1400
$100,000
4YO&Up
Open
SWP
20/11/21
Listed
WA
ASCT
JUNGLE MIST CLASSIC
1200
$100,000
3YO&Up
F&M
SWP
20/11/21
Listed
WA
ASCT
PLACID ARK STAKES
1200
$100,000
3-Y-O
Open
SWP
21/11/21
Listed
VIC
KILM
KILMORE CUP
1600
$160,000
Open
Open
Hcp
27/11/21
Listed
NSW
RHIL
ATC CUP
2000
$140,000
3YO&Up
Open
Qlty
27/11/21
Listed
NSW
RHIL
STARLIGHT STAKES
1100
$140,000
3YO&Up
Open
Qlty
27/11/21
Listed
QLD
DOOM
COLIN MCALPINE CLASSIC
1200
$125,000
3YO&Up
F&M
SWP
27/11/21
Listed
QLD
DOOM
RECOGNITION STAKES
1350
$125,000
Open
Open
Qlty
27/11/21
Listed
SA
MORP
CITY OF MARION STAKES
1200
$107,250
Open
Open
Qlty H
27/11/21
Listed
VIC
CAUL
DOVETON STAKES
1000
$160,000
Open
Open
Hcp
27/11/21
Listed
VIC
CAUL
MERSON COOPER STAKES
1000
$160,000
2-Y-O
Open
SW
27/11/21
Listed
VIC
CAUL
SANDOWN CUP
3200
$160,000
Open
Open
Hcp
27/11/21
Listed
VIC
CAUL
TWILIGHT GLOW STAKES
1400
$160,000
3-Y-O
F
SWP
27/11/21
Listed
WA
ASCT
JAPAN TROPHY
2100
$100,000
3YO&Up
Open
Qlty
1/12/21
Listed
TAS
LAUN
TASMANIAN NEWMARKET HCP
1200
$100,000
Open
Open
Qlty
4/12/21
Listed
QLD
DOOM
MODE STAKES
1200
$125,000
3-Y-O
F
Qlty
4/12/21
Listed
VIC
PAK
PAKENHAM CUP
2500
$300,000
Open
Open
Hcp
4/12/21
Listed
WA
ASCT
JUNGLE DAWN CLASSIC
1400
$100,000
3YO&Up
F&M
SWP
4/12/21
Listed
WA
ASCT
SIR ERNEST LEE-STEERE CL
1400
$100,000
3-Y-O
Open
SW
10/12/21
Listed
QLD
DOOM
DOOMBEN MILE
1600
$125,000
Open
Open
Qlty
11/12/21
Listed
NSW
RAND
CHRISTMAS CUP
2400
$140,000
3YO&Up
Open
Qlty
11/12/21
Listed
NSW
RAND
RAZOR SHARP HCP
1200
$140,000
3YO&Up
Open
Qlty
11/12/21
Restricted Listed
NSW
RAND
INGLIS NURSERY
1000
$500,000
2-Y-O
Open
SW
11/12/21
Listed
QLD
E FM
BRIBIE HANDICAP
1000
$125,000
Open
Open
Qlty
11/12/21
Listed
QLD
E FM
CALAWAY GAL STAKES
1000
$125,000
2-Y-O
F
SW
11/12/21
Listed
QLD
E FM
JUST NOW QUALITY
1300
$125,000
3YO&Up
Open
Qlty
11/12/21
Listed
QLD
E FM
PHELAN READY STAKES
1000
$125,000
2-Y-O
C&G
SW
11/12/21
Listed
SA
MORP
CHRISTMAS HANDICAP
1200
$107,250
Open
Open
Qlty
11/12/21
Listed
WA
ASCT
G.A. TOWTON CUP
2200
$100,000
3YO&Up
Open
Qlty
15/12/21
Restricted Listed
NSW
WYNG
MAGIC MILLIONS WYONG 2YO CLASSIC
1100
$200,000
2-Y-O
Open
SW
17/12/21
Listed
TAS
LAUN
CONQUERING STAKES
1400
$100,000
Open
Open
WFA
18/12/21
Listed
QLD
DOOM
LOUGH NEAGH STAKES
1400
$150,000
Open
Open
Qlty
18/12/21
Listed
QLD
DOOM
GOLD EDITION PLATE
1200
$125,000
3-Y-O
Open
SW
18/12/21
Listed
WA
ASCT
STARSTRUCK CLASSIC
1600
$100,000
3YO&Up
F&M
SWP
26/12/21
Listed
NSW
RAND
CHRISTMAS CLASSIC
1200
$150,000
3YO&Up
Open
Qlty
26/12/21
Listed
QLD
E FM
BERNBOROUGH HANDICAP
1600
$200,000
Open
Open
SWP
26/12/21
Listed
QLD
E FM
FALVELON QUALITY
1200
$150,000
Open
Open
Qlty
26/12/21
Listed
VIC
CAUL
CHRISTMAS STAKES
1200
$160,000
Open
Open
Hcp
26/12/21
Listed
VIC
CAUL
LORD STAKES
1700
$160,000
Open
Open
Hcp
22/12/21
Listed
WA
ASCT
A.T.A. STAKES
2200
$100,000
3UP
Open
Hcp
29/12/21
Listed
NSW
GOSF
GOSFORD GUINEAS
1200
$150,000
3-Y-O
Open
SWP
1/01/22
Listed
NSW
RAND
JANUARY CUP
2000
$150,000
3YO&Up
Open
Qlty
1/01/22
Listed
QLD
DOOM
NUDGEE QUALITY
1200
$200,000
Open
F&M
SWP
1/01/22
Listed
VIC
FLEM
BAGOT HANDICAP
2800
$200,000
Open
Open
Hcp
1/01/22
Listed
WA
ASCT
SUMMER SCORCHER
1000
$100,000
3YO&Up
Open
Qlty
7/01/22
Listed
TAS
HOB
TASMANIAN GUINEAS
1600
$100,000
3-Y-O
Open
SW
7/01/22
Listed
TAS
HOB
TASMANIAN STAKES
1600
$100,000
Open
Open
WFA
15/01/22
Restricted Listed
QLD
GCTC
MAGIC MILLIONS 2YO CLASSIC
1200
$2,000,000
2-Y-O
Open
SW
15/01/22
Restricted Listed
QLD
GCTC
MAGIC MILLIONS 3YO GUINEAS
1400
$2,000,000
3-Y-O
Open
SWP
15/01/22
Restricted Listed
QLD
GCTC
MAGIC MILLIONS CUP
1400
$1,000,000
Open
Open
Qlty
15/01/22
Listed
VIC
FLEM
CHESTER MANIFOLD STAKES
1400
$160,000
Open
Open
Hcp
15/01/22
Listed
VIC
FLEM
KENSINGTON STAKES
1000
$160,000
Open
Open
Hcp
15/01/22
Listed
WA
ASCT
MISS ANDRETTI STAKES
1100
$100,000
3YO&Up
Open
Qlty
22/01/22
Listed
NSW
RAND
CARRINGTON STAKES
1400
$150,000
3YO&Up
Open
Qlty
23/01/22
Listed
TAS
HOB
ELWICK 2YO STAKES
1100
$100,000
2-Y-O
Open
SW
26/01/22
Listed
NSW
WFARM
AUSTRALIA DAY CUP
2400
$150,000
3YO&Up
Open
Qlty
26/01/22
Listed
VIC
CAUL
BLUE DIAMOND PREVIEW (C&G)
1000
$200,000
2-Y-O
C&G
SWP
26/01/22
Listed
VIC
CAUL
JOHN DILLON STAKES
1400
$160,000
Open
Open
Hcp
28/01/22
Listed
TAS
LAUN
LAUNCESTON GUINEAS
2100
$100,000
3-Y-O
Open
SW
29/01/22
Listed
QLD
SCST
SUNSHINE COAST CUP
1400
$125,000
Open
Open
SW
29/01/22
Listed
SA
MORP
DURBRIDGE STAKES
1100
$107,250
Open
Open
WFA
29/01/22
Listed
WA
ASCT
SCENIC BLAST STAKES
1200
$100,000
3YO&Up
Open
Qlty
30/01/22
Listed
WA
PINJ
WESTERN AUSTRALIAN BREEDERS' CLASSIC
1400
$100,000
3-Y-O
Open
SWP
5/02/22
Listed
NSW
WFARM
LONHRO PLATE
1100
$140,000
2-Y-O
Open
SWP
5/02/22
Restricted Listed
NSW
WFARM
INGLIS MILLENNIUM
1200
$2,000,000
2-Y-O
Open
SW
5/02/22
Listed
VIC
CAUL
W. J. (BILL) ADAMS STAKES
1000
$160,000
Open
Open
Hcp
5/02/22
Restricted Listed
WA
PINJ
MAGIC MILLIONS WA 2YO CLASSIC
1200
$250,000
2-Y-O
Open
SW
5/02/22
Restricted Listed
WA
PINJ
MAGIC MILLIONS WA 3YO TROPHY
1200
$150,000
3-Y-O
Open
SW
6/02/22
Listed
TAS
LAUN
GOLD SOVEREIGN STAKES
1200
$150,000
2-Y-O
Open
SW
11/02/22
Listed
TAS
HOB
TASMANIAN DERBY
2200
$150,000
3-Y-O
Open
SW
11/02/22
Listed
TAS
HOB
STRUTT STAKES
2100
$100,000
3-Y-O
F
SW
12/02/22
Listed
SA
MORP
HOLDFAST INSURANCE BIRTHDAY CUP
2000
$107,250
Open
Open<