One of the biggest races of the Australian horse racing calendar will take centre stage at Moonee Valley this Saturday for the 101st running of the WS Cox Plate. It's Australia's premier weight-for-age championship with $5 million in prize money and a place in history up for grabs.
The team at SportChamps have put up some championship offerings for Moonee Valley this weekend with their fantasy betting tournaments proving more popular than Winx in 2016.
Firstly, if you're new to SportChamps then get up to speed with our Introduction to SportChamps article which explains what it's all about and how to get started.
This weekend SportChamps have a huge array of contests for Saturday's Cox Plate day. Check out these feature contests:
Gallops $10,000 prize pool / $100 entry
Moonee Valley $7,500 prize pool / $50 entry
Gallops $5,000 prize pool / $50 entry
Moonee Valley $5,000 prize pool / $2 entry
There's something for everyone, and it's hard to knock back the value offered in the $2 entry contest with a tasty $5,000 prize pool. What better way to dip your toes into the world of SportChamps?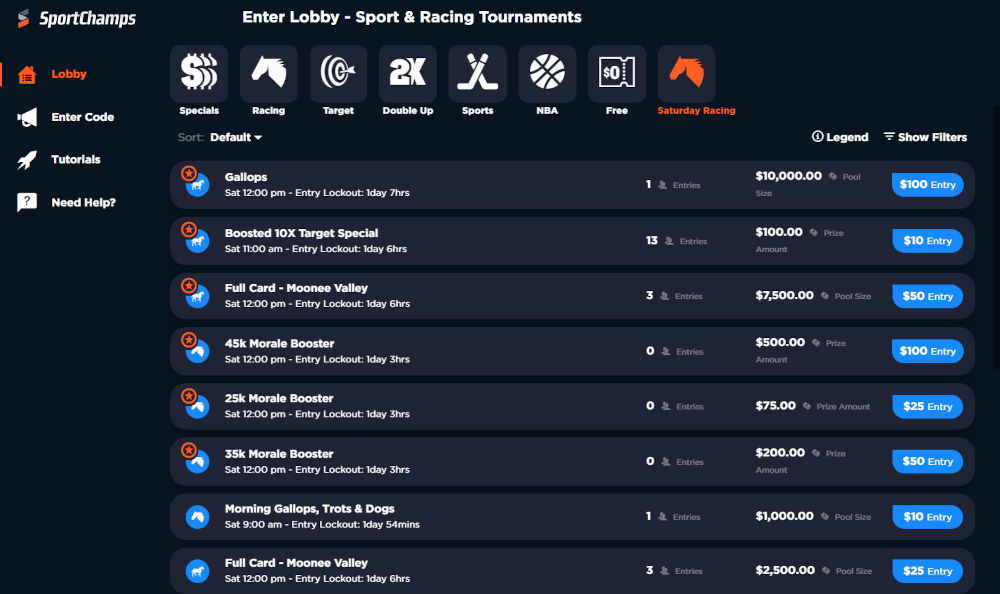 If you need a bit of help on Saturday, then Tim and Trent will have their usual previews on the RacingBet website. Trent has previewed every race at Moonee Valley on Saturday, while Tim has provided some insights in the following SportChamps Cox Plate Preview video:
Of course, there's nothing better than finding a winner in the big race of the day (and the boys nailed it in the Caulfield Cup and Everest last week!). However for the Cox Plate, they've gone in different directions.
Tim is happy to forgive Zaaki and take the odds offered after a poor run last week, while Trent is keen on Anamoe. However if you're looking for something at longer odds to try and climb the SportChamps leaderboard, then both Tim and Trent agree that Mo'unga is the best value pick of the race at double figure odds. You can read more about the field in detail with Trent's Cox Plate Runner-by-runner preview or check out Tim's set for Moonee Valley in our Premium Tips section.
Remember SportChamps contests aren't just about finding winners. You only have to do better than your opponents to win, so sometimes that might mean looking for a different betting strategy. Betting on exotics can be a great way to make a big leap up the leaderboard, while sometimes taking a place bet can be a safer way to lock in some profits. Make sure you are zigging when everyone else is zagging!
SportChamps is a great way to play all day for a small outlay, and there's no better example of that than the $2 entry contest on Saturday with a huge $5,000 prize pool to be won!
Don't miss out. Join SportChamps today and prove that you are the King of Spring!